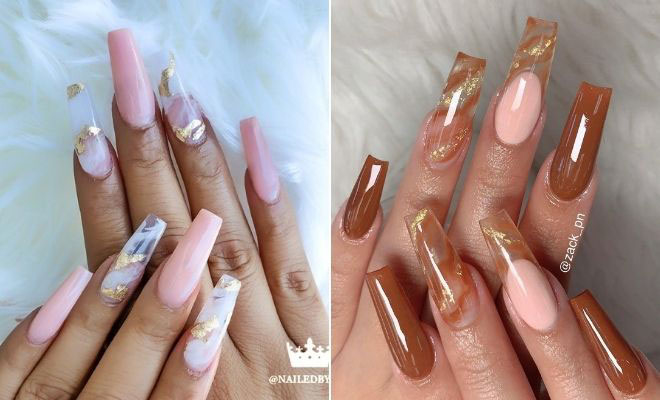 Instagram
Beauty
21 Trendy Ways to Wear Foil Nails in 2021
By
|
11. Black and Gold Coffin Nails
The next nail idea is another glam one. This time we have long coffin nails and each has a different design. Some are sparkly black, one nail is black with gold foil and the other nail is clear with gold foil. The color palette of black and gold is amazing while the clear nail is very trendy. Nails like these are perfect for a night out or special event.
12. Stylish Leopard Print Mani
Be wild and fun with your next nail design and choose leopard print. You could create something like this! For this look, the nails are pink and orange with a black leopard pattern over the top. Inside each leopard spot, gold foil has been added. This is a gorgeous design and you can find leopard nail tutorials online.
13. Marble and Foil Nail Art
Love the marble nail art? Then this is for you! Here we have super long coffin nails. Each of the nails has a gorgeous and green marble design and it is complete with gold foil. We love the green with the foil because the nails look so luxurious and beautiful. This is a stunning nail design and it will look amazing on all nail lengths and shapes.
14. Glitzy Gold Foil Design
Next, we have have another glitzy design. So, the nails have a white marble and gold foil effect and there is also an accent nail. The accent nail is a rich and dark red with added gold foil. By adding a pop of red to such an elegant design, you will make more of a statement. Recreate this or try another color instead of red but just make sure it is rich and dark to maintain the classy but bold look.
15. Statement Making Neon Mani
Make a statement with this next nail idea. For this look, the nails are long and stiletto shaped. Each one is painted in neon pink with multi colored foils added to the tips. The colors are amazing and the foil gives the mani a trendy look. If you love bright colors, then this design is perfect for you. Recreate this or try a different neon color instead of pink.
16. Short Nails with Gold Foils
Maybe you want something more chic and easy to wear? If so, you need to see this next nail design. Here we have short nails and each one is painted in dark navy. Each nail is also adorned with gold foil. The navy and gold are a stunning color combo and the nails are bold but low-key and classy so the mani will suit any occasion. Try something similar or you can opt for a silver foil.
17. Green Marble Stiletto Nails
Earlier in the post we featured a green marble design. If you liked that idea, then you need to see this one too! For this look we have green stiletto nails and each one is adorned with a dark green and gold foil marble design. This just shows another way to wear the art and how you can create different looks with a similar idea.
18. Clear Nails with Gold Foils
This next idea is another one of our favorites! Here we have trendy clear nails that are decorated with gold foil. We love this stylish idea because the clear nails look amazing and the gold foil adds glamour. Recreate this or any foil color will look amazing with the clear nails.
19. Clear Foil Nails
Love the clear nail idea? If so, check out this mani. For this look, the nails have a trendy ombre marble design. The nails are also decorated with sparkly gold foil. This combo of clear, pink and blue and gold looks amazing. Try a similar design or you can use any nail foil color. Silver would look gorgeous as well!
20. Pretty and Trendy Nail Design
Next, we have a pretty and trendy look to show you. These nails are quite short and some are pink but some have a more statement making design. The accent nails have artistic art in black, silver foil and grey colors. It is a gorgeous nail design and it allows you to try a stylish design in a low-key way.
21. White Marble with Gold Foil
The last nail design is so pretty and stylish. Here we have white marble coffin nails. Each nail is also decorated with flecks of gold and gold stars. It is such a gorgeous and glam design and the mani will be perfect for a special occasion. Recreate this look or have the gold designs as an accent nail.
We hope you have found a trendy nail design to try!