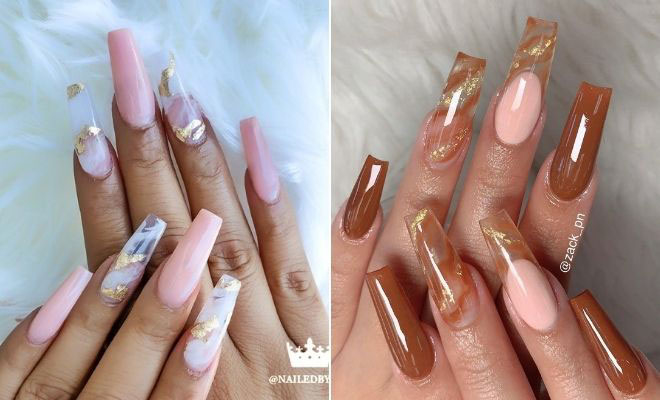 Instagram
Beauty
21 Trendy Ways to Wear Foil Nails in 2021
By
|
Looking for a way to glam up your nails? If so, you should try foil nails. Nail foils are available in any color and they can be used in so many artistic ways. The most popular colors are gold and silver and they really jazz up the simplest of nail art. Nail foils can be bought online. They are easy to apply and all you need to do is:
1. Paint your base color and allow to dry
2. Cut the foil in the desired shape and apply a layer of nail foil glue to the nail
3. Place the foil on the glue, press down and allow to dry
4. Finish off with two layers of top coat but allow each one to try in-between
So, these are easy to create and to give you some inspiration, we have found 21 ways to wear foil nails in 2021. So, have a look and choose one to try.
1. Pink and Gold Foil Nails
First up we have these pink nails with gold foil. The nails are short and only two nails have the gold foil design. This mani is easy to wear and it will suit any nail length and shape. A similar color is perfect for the summer and you can recreate the gold look or you can try silver foil because that would look stunning too.
2. Elegant Foil Nails
If you want foils that are more subtle and elegant, then this nail idea is perfect for you. Here we have chic almond shaped nails. Each nail has a white marble effect with flecks of gold foil. It is a gorgeous and trendy design that you can wear for any occasion. You can find easy to follow marble nail art tutorials online.
3. Magical Mani
This next nail idea has a magical vibe. Each nail has a beautiful design with gold foil and the artist was creating art inspired by opal gemstones. It is a beautiful idea and it is a unique way to use gold foils. Recreate this or you can try using any stone with the foils. Purple amethyst or pink rose quartz would be stunning.
4. Multi Color Foils
Like to make a statement? If so, you need to see these next nails. For this look, each nail is painted black and is decorated with multi colored foils. We love the rainbow effect and it looks so cool and stylish. You can recreate this look with different colored foils which can be bought online. Try a similar design or have all black nails with one foiled accent nail.
5. Gold Foil Coffin Nails
Next, we have another easy to wear look. This time we have long coffin nails that are stylish light pink shade. Two of the nails on each hand has a gorgeous foil design. So, the accent art features the combination of white marble and gold foil. It is beautiful, trendy and it will suit everyone. Recreate these or use a different color combination.
6. Gorgeous Gold and Black Nails
Gold and black is such a stylish color combo and here is how to wear the two in style! Here we have black matte coffin nails with two accent nails on each hand. The accent nails are clear and adorned with dark gold foils. It is such a trendy, modern and glam idea. You can try this look or you can use any color foil as all colors will compliment black.
7. Subtle Foils
The next nail idea features another more subtle foil design. For this look, the nails are brown with two types of accent nails. The accent nails are clear and complete with low-key flashes of gold foil. We love this design because the color combo is stunning, the gold looks glam and the design is artistic and unique.
8. Purple and Gold Foil Nail Design
This next nail idea is one of our favorites! Here we have clear coffin nails. All of the nails are decorated with purple marble effect and gold foils. It is a fun, unique and statement making design. Recreate this look or you can just use the foil art. You could even use the foil art just as an accent nail.
9. Trendy Gold Foil Nails
Love glam and trendy nails that make a statement? If so, this mani could be perfect! These nails are long and coffin shaped. Most of the nails have the same design which is nude with added gold foils. There is also one accent nail on each hand that is nude with gold tips. It is a stunning design and it will be perfect for parties and special occasions.
10. White Nails and Gold Foils
Next, we have another glam nail idea. For this look, some nails are white marble with gold foils and some are French ombre. We love this because the French ombre is elegant, the gold foil creates a pretty marble effect and the whole look has a glam vibe. Recreate this elegant design or you can use any color combo.