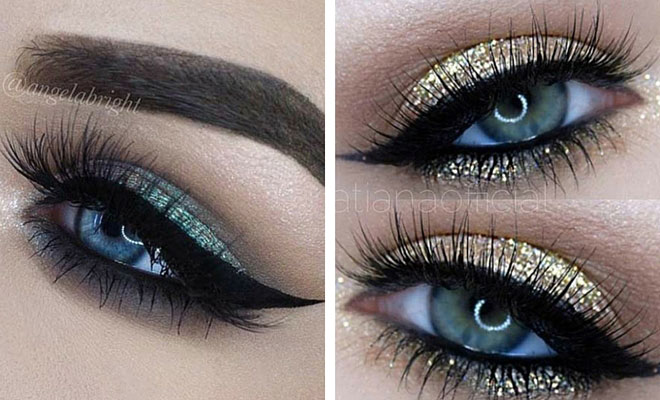 Instagram
Beauty
31 Eye Makeup Ideas for Blue Eyes
By
|
21. Rose Gold Glitter Eyes
Rose gold glitter eyes look stunning. As you can see from this photo, glitter is only on the eyelid.  I know it is hard not to get glitter everywhere but try to keep to the eyelid alone for this look.
22. Green Smokey Eye
Emerald green is a colour you can wear all year round. Make sure you have this colour in your makeup bag this season.  Wear this green smokey eye look and when the sun catches the green, you will know you look incredible. You will receive so many compliments!
23. Simple yet Gorgeous.
You don't always have to have dramatic eyes to look sexy. Going for a simple, yet affection look looks amazing.  Sometimes, less is best.  This earthy, natural look will stand out without needing the heavy eye makeup.
24. Gold Eyes + Dark Lips
We are totally feeling this look! Gold eyes and dark vampy lips looks so intense and striking.  If you are used to wearing neutral tones, go for something different.  Be bold and brave today!
25. Vibrant Makeup Look for Summer
Bright makeup is always fun to wear. Summer is all about experimenting with bright colours and it doesn't have to be just your clothing.  Go for this bright, exciting look this summer.
26. Dark Gold Smokey Eye
If you're not feeling the bright colours, go for a shade darker. This is a gorgeous dark gold smokey eyed look.  As you can see, it still looks amazing and it doesn't have to be bright.  Choosing the right colour eyeshadow depends on what you are wearing that day, your mood and the event you are going to.  Have fun choosing your shade!
27. Champagne & Purple Eye Look
Who would have thought that champagne and purple look so good together? This photo proves that they look amazing and so elegant.  People tend to blend both colours together on the eyelid but with this look, the two colours are kept separately.  Purple is on the lower lash area only and the champagne on the eyelid.  Add a touch of white to the corner of your eye to finish the look.
28. Brown & Copper Smokey Eye
These are two neutral and natural tones together. You can use any colours with the smokey effect but these two colours are recommended.  With all the new colours trending, everyone seems to forget the base colours such as brown.  Brown and copper are two peas in a pod.  You can see from the photos that they both complement one another.  The copper is used for the eyelids, whilst the brown is used for the waterline, lower lashes.  By using the colours in this order, the copper colour will open up your eyes.  Add a hint of white to the upper eye section and the corner of your eye to emphasis the colours.
29. Silver Glitter Eye Makeup Look
Everyone loves a bit of glitter! To be honest, glitter on eyelids looks dreamy.  It can add glamour and sparkle to your outfit and it can even brighten your mood.  This is understandable, who wants to be a Debbie Downer when they have gorgeous eyes!  Silver glitter takes the dreaminess to another level.  Blue and silver glitter looks romantic and sexy.
30. Cat Eye + Bright Lower Lash Line
Don't forget having cat eyes! I know we have mentioned a lot of gorgeous colours and looks in this article but don't forget about experimenting with cat eyes.  Cat eyes with a bright colour lower lash look pretty and the cat eye adds the dramatic look.  Team your cat eyes with this gorgeous purple mauve colour lipstick.  If you choose to have a matte finish lipstick with cat eyes, it will still focus on your eyes and people will be drawn to your wings.
31. Brown Smokey Eye
Brown smokey eyes are sensational. We know from above that gold, copper tones are incredible but what about the brown shades.  It's good to have a selection of colours in your makeup bag but don't forget the basic colours.  You don't have to think that just because it's a basic brown colour, that the finished look will be boring and bland.  Take a look at this photo above.  This is brown and it looks amazing.  It shows off your beautiful blue eyes.  Brown eyeshadows look incredible when you use the smokey technique.  Also, if you have a brown based eyeshadow tone, you will be able to wear any colour outfit and look great.  This works for the lipstick colour too, nudes and pink shades work so well.