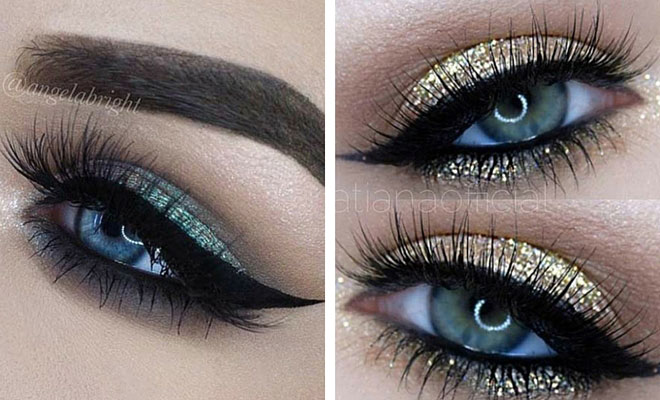 Instagram
Beauty
31 Eye Makeup Ideas for Blue Eyes
By
|
11. Light Pink Eye Makeup Look
Are you looking for an ultra girly and feminine look? This is for you.  Blue and pink are so girly, it will compliment any outfit you wear.  You could team with either a nude or a rose/pink colour lipstick to finish the look.  It is is subtle, yet so effective.
12. Cut Crease
Release your inner Goddess with this cut crease look. Cut crease is becoming an increasing popular technique choice.  It is a method in which your eyelid crease is outlined (or cut) exactly along the line and then teamed with a contrasting eyeshadow to define the cut crease.  It tends to create a dramatic look.  Kim Kardashian is a fan of the cut crease look, which has made more people aware of this technique.
13. Gold Glitter Eyes
Add sparkle and glitter to your life and outfit. Choose this stunning gold glitter look for a vibrant, shining appearance.  Add the glitter to underneath your eyes and in the corners.  Remember, you can never have enough glitter with this look so go for it girl!  By the time you know it, glitter will be in your hair, on your clothes and you will be a walking glitter girl!
14. Purple Lower Lash Line
Purple striking lower lashes look divine! Release your purple love with this gorgeous, stunning purple glitter.  The glitter is only applied to the lower lash section of your eyes so don't get carried away!  This is a subtle glitter look, we do have other looks on here that aren't so understated so you can try out both methods.
15. Bronze Smokey Eye + Light Pink Lips
Bronze smokey eyes tell a gorgeous story! Meet the bronze smokey eyes, that are teamed with light pink lipstick, they lived happily ever after!  We have so much love for this combination.  No need for a bold colour for your lips with these sensational eyes.  Let your eyes do the talking and the lips can look pretty!
16. Navy Blue Smokey Eye
Whoever said that you can't mix blue eyeshadow with blue eyes is wrong. Look at this gorgeous combo and tell me this isn't sexy!  Many people believe that having blue eyeshadow with blue eyes, will not compliment how sexy your eyes are, but we think otherwise.  This photo has the wow effect and we can see it looking amazing with a gorgeous summer dress.
17. Teal Green Smokey Eye
Smokey eyes are the best! For a sexy, elegant look, smokey eyes will not let you down.  Teal green works well with the smokey look.  Add the same colour eyeshadow to the lower lash area for more effect.  This is a simple and easy technique that will take no longer than 10 minutes to apply.  Smokey eyes are so easy to achieve, just  smudge either with your finger or an eye brush, whichever you prefer.
18. Bright Look for Spring & Summer
Bright eyes and bushy tails! Summer is fast approaching and here is the summer look for all you girlies with blue eyes.  This is a bright, fun and sexy look for you to try.  Be aware that once you do try it, you will not want to wear any other colour eyeshadow!  It is so pretty!
19. Rose Gold Smokey Eye
Rose gold and smokey eyes are a must-have this season. Rose gold is a necessity alone but smokey eyes, is also a must.  This perfect summer look will compliment your complexion and outfit.  If you don't already love rose gold, you will when you try this.  Shimmer away girls!
20. Gold Glitter Eyes Tutorial
Gold works so well with blue. It may be because gold is a neutral tone but you really cannot beat the colour to show off blue eyes.  All the other colours on here are amazing but gold really stands out.