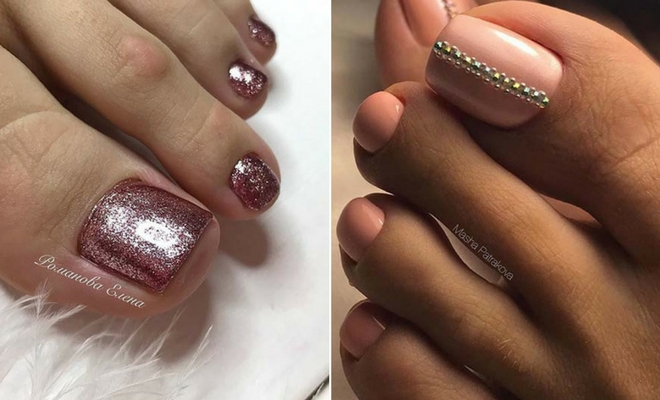 Instagram
Beauty
21 Elegant Toe Nail Designs for Spring and Summer
By
|
Spring has arrived, and summer is not far away. Now the weather is changing your fashion will too. Soon it will be time for shorts, dresses and flip flops. When wearing summery open toe shoes, you need to have beautiful toe nails. The design choices for your toes are endless. So, to give you some ideas we have found 21 elegant toe nail designs. We have floral nail art, nails with gems and more. Any of these will bring style and elegance to your spring/summer look.
1. Elegant Toe Nail Design with Gems
Our first pick are these light pink nails with a sparkly accent nail. Soft pink tones like the one used are perfect for the spring and summer. You can recreate this look with a pink polish or another color like white, light purple or orange. For the accent nail you can place your gems in any design you like but a line looks very stylish.
2. Shattered Glass Toe Nail Design
Next, we have a trendy nail idea called shattered mirror or shattered glass. You can create this stylish look with broken glass foils which you can buy online. There are so many colors you can experiment with. For a chic look, try the clear mirror foil with a light polish. There are also tutorials online to help you.
3. Elegant, French Pedicure with Sparkle
A French pedicure is a classic design for your toe nails. It is chic and suits everyone. You can jazz up the look for spring and summer by adding gems. You can add as many gems as you like in any design. Simple and sparkly nails like these would be great for a special occasion, maybe even a wedding.
4. Chic Pink Glitter Toe Nails
Pink is a must-have for the spring and summer so why not wear pink on your nails? Any pink looks great but choose a softer tone for an elegant look. You could even choose a shimmering pink like the one featured on these nails. Sparkly pink like this will suit everyone and you can also have a matching color on your fingernails too.
5. Matching Mani-Pedi Design
Speaking of matching your fingers and toes, here is a beautiful matching mani-pedi idea. The nails are a light color with gems. A mani-pedi like this would be amazing for the summer or a wedding or special occasion. You could also take inspiration from this and create your own design.
6. Beautiful Floral Toe Nail Design
Floral patterns and prints always come back into the style spotlight during the spring and summer. You can create beautiful floral designs on your nails. These toes feature a floral nail with gems, sparkly nail and the rest are dark blue. You could recreate this look in with any color palette.
7. Vibrant Spring & Summer Pedicure
Another popular color for the spring and summer is coral. Our next nail idea shows how to wear coral on your toes with silver sparkle. You can wear just coral, but we think it looks super stylish with silver glitter. This pedicure will look cute with any of your summer shoes.
8. Elegant, White Toe Nail Design with Gems
White is a staple color for the spring and summer. It is light, fresh and stylish. A great way to wear white is on your nails. You could try a white pedicure like this one. It is a simple look with a gem accent nail. We love the gems as they will sparkle in the sunshine.
9. Green Toe Nails with Glitter
Vibrant colors become very popular at this time of year. A bold green like this would look amazing on your toes for the spring and summer. To glam it up you can even add a glitter accent nail like the idea featured. Any statement color would work with silver glitter so you could experiment with different polishes.
10. Pretty Pink Pedicure with Floral Accent Nail
Next, we have a pretty pink pedicure idea. The nails are painted in a bright pink with one accent nail. The accent nail is white with a pink flower design. You can recreate a similar look with a flower design of your choice. There are stamps and stencils available to buy if you want to create the look yourself at home.
11. Elegant Rose Gold Toe Nails
Rose gold is a chic choice for you toe nails. It is also a nice alternative to other metallics like gold and silver. You could choose a glittery rose gold, chrome rose gold or something shimmery like the one featured. These would be a great idea for a matching mani-pedi too.
12. Bold Pink Pedicure
Next, we have another pink, elegant toe nail design. Some of the nails are painted vibrant pink, some light pink and two have a glitter design. This is a fun and vibrant pedicure idea. You could recreate a similar look or just choose one pink shade and one glitter shade for a look of elegance.
13. French Toe Nail Design with Gems
If you liked the French manicure with added crystals, then you may like our next idea too. Instead of having the gems at the bottom of the nail, these gems have been placed at the top around the tip. We like this idea because it is creative and unique. It is a glam design that would suit anyone.
14. Gold Glitter and White Toe Nail Design
Look glam this summer with a gold glitter and white manicure. Gold and white complement each other beautifully and look great on toes. You could recreate a similar look to this with the gold chevrons or just choose glitter and white.
15. Elegant Watercolor Flowers
Our next toe nail idea features elegant watercolor flowers. We love watercolor flowers because the finished look is soft, pretty and delicate. You can find many tutorials online to help you with the watercolor technique. Wear with glitter like the nails featured or with a light polish.
16. Pink Glitter Pedicure
Next, we have a pink glitter pedicure. On many nail designs the glitter is used at the tip of the accent nail, however on these nails the glitter is used at the bottom. We love this creative and unique idea. You can recreate a pink pedicure or choose any color palette of your choice.
17. Glam Pedicure with Sparkle
If you want glam and elegant toe nails, then this next idea could be for you. These nails have been painted in gold with one accent nail. The accent nail has gems and a beautiful design. This is a stunning idea and you can get stencils and stickers to help you create a fancy design.
18. Stylish Glitter Toe Nails
Love glitter nails? Then these nails are must-haves for the spring and summer. Two nails have been covered in glitter and the rest are painted pink with glitter tips. There are also some gems too. We love this look because it is elegant, fun and vibrant which is perfect for the upcoming seasons.
19. Silver Glitter Accent Nail
Our next nail idea is easy to recreate but very stylish. Each nail has been painted white with a silver glitter accent nail. Silver and white is a very elegant combination and will suit everyone. Nails like these will look great for any occasion, maybe even a special event like a wedding.
20. Pretty Floral Accent Toe Nail Design
Here we have another elegant floral toe nail design. Majority of the nails are pink with one floral accent nail. You can buy stencils and stickers to help you recreate a similar look. You could even experiment with different colors to create your own unique design.
21. Elegant Lace Design with Sparkle
Last on our list is this stunning lace pedicure. Lace art can be created with nail stickers and you can create any design you like. This pedicure is a great source of inspiration. It has light colors, sparkle and lace which all create an elegant look.
We hope you have been inspired by these elegant toe nail designs for the spring and summer.