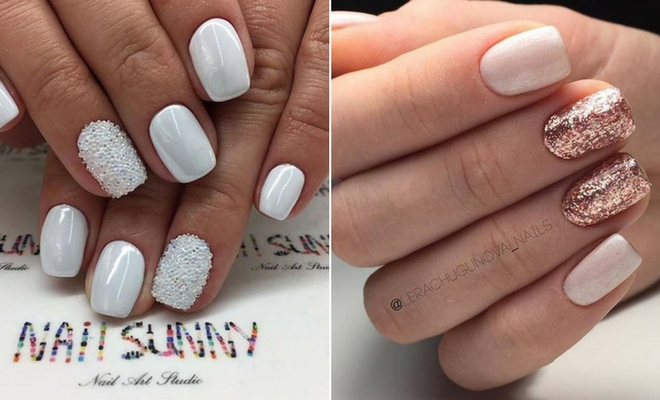 Instagram
Beauty
21 Elegant Nail Designs for Short Nails
By
|
11. Pink Manicure with Sparkly Accent Nail
Light pink polish is a pretty choice, it goes with any skin tone and looks great on short nails. Pink looks beautiful as it is but to make it extra glam add some silver gems. An accent nail like this just gives your manicure an elegant finishing touch.
12. Silver French Manicure
Liked the gold French Manicure? Then you'll love our next elegant nail art. This manicure is a silver French Manicure. It is elegant, sparkling and beautiful. Something like this can be created at home and the silver polish can be used in other designs. A silver mani like this would be perfect for a special occasion.
13. Vibrant Manicure with Sparkly Accent Nail
Our next pick is a fun and elegant design. It features vibrant nails that were created with "Where's my mojito?" by Modish Polish and the accent nail is Revlon Holographic Pearls. We love this look as it would be a great choice for summer. It is a bold manicure that could be easily created at home.
14. Delicate Feather Design
Next up we have an elegant nail design that features beautiful feathers. The nails are polished with a dark pink and two accent nails have a delicate white feather. Feathers can be created with stencils and stickers that are available online. You could recreate this look or choose a different base polish.
15. Purple Shades and Glitter
Here is another way to use silver glitter to create a pretty manicure. Each nail is painted with a different polish and has a glittery accent nail. This looks works so well because even though the colors are different they complement each other perfectly.
16. Multi Color Manicure
If you liked the manicure ideas with different polish colors and glitter, you'll love our next pick. This one features two shades of blue, white polish and silver glitter. All these colors are different but work together beautifully. Art like this is great because you can create this look or use each color individually. With a few colors the possible elegant nail designs are endless.
17. Rose Gold Glitter Nails
Rose gold is a must have for 2017. This elegant gold shade has been a must have in fashion, accessories and beauty. Now you can have it on your nails to! These nails feature short light pink nails with rose gold glitter accent nails. Nail art like this would be stunning for a night out or a wedding.
18. Pretty Glitter Design
Glitter can be used in many ways. If you want an elegant look that is trendy to this next manicure might be for you. This mani features short light nails with two accent nails. The accent nails feature a silver and sparkly triangular design. With nail art like this you get the best of both worlds. This could be recreated in any color scheme.
19. Light Manicure with Sparkly Elegant Nail Designs
Love gems? Then you'll love our next pick! This one features light short nails with two embellished nails. One features a small sparkly design while the next nail is all over gems. This is a cute look that would suit everyone. You could recreate this with both nails or just one. You'll need a pretty polish, gems and a clear top coat.
20. All Over Glitter
Next, we have a pick that can easily be created at home. These nails feature a pretty all over glitter. Glitter polishes are an easy way to give you an elegant manicure. All you need is one glitter polish. There are so many glitter shades out there so just choose your favourite!
21. Funky Glitter Nails
Last on our list is this funky glitter design. This is a great source of inspiration for your next nail art project. You could recreate this art in your own colors or just use one of the accent nails. With nail art like this you get an elegant look that is bang on trend to.
We hope you have found inspiration for you next look from our elegant nail designs.