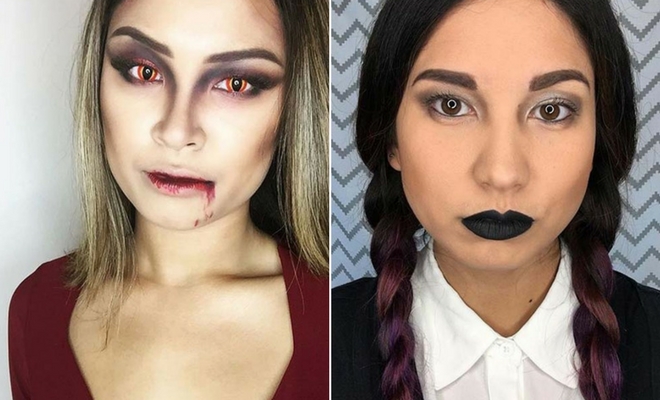 Instagram
Beauty
23 Creative and Easy Halloween Makeup Ideas
By
|
11. Spooky Skull Makeup
Here is a spooky but simple skull idea. All you need is dark eye shadows and a black pencil. Once you have mastered the mouth lines and black nose shape you can add other colors or designs. This is a great image that you could use to help you easily create a skull look.
12. Creepy Doll Makeup
Dolls are creepy making a doll costume perfect for Halloween. It is not just that dolls are creepy which makes them popular costume choices but also because the doll makeup is simple to create. You will only need makeup you may already have, it is just how you apply it that is different. The main things you will need are big looking eyes and doll lips. There are plenty of tutorials to help you with these. We love this easy Halloween makeup idea!
13. Deer Makeup
Deer makeup is a cute makeup choice for Halloween. This is perfect for the girls who want to dress up but don't want to be scary or gory. There are so many tutorials available to help you recreate the look. As you can see you don't need a lot of makeup just something pretty for your eyes with white spots and a black nose and mouth.
14. Zombie Nurse
Zombies and nurses are iconic Halloween characters. So, why not combine the two? This gives you an awesome and scary costume that is easy to create. All you will need is the outfit, light makeup for your skin, red makeup for lips and eyes and dark smokey eye shadows.
15. Pretty Kitty Makeup
Like the cat makeup ideas? Then you might like this one to. This look has a simple black nose and whiskers with glam eye makeup. It is a very easy look to recreate. It's great if you don't really want to dress up but want to join in the fun. Also, a great last-minute idea.
16. Half Glam Half Skull
Here is a unique half skull make up look. We love that one half is a scary skull and one half is a glam makeup look. With makeup like this you get the best of both worlds. You look pretty and scary to. Something like this would be simple to recreate. You could check out skull makeup tutorials online.
17. Nightmare Before Christmas Sally
The Nightmare Before Christmas is an iconic Halloween movie. One of the most loved characters is Sally. Our next pick shows you how to easily create a Sally look for Halloween. The only thing you might need to practice is the stitches. There are plenty of tutorials available for stitches.
18. Cracked Easy Halloween Makeup
Here is another half and half look. This one features an all-white face that creates a ghost look on one side and a pretty makeup look on the other. The face also has a cracked outline around the normal makeup. Something like this is creative, unique and simple to recreate. You could use any makeup colors for this.
19. Mermaid Makeup
Next on our list is a mystical mermaid makeup look. This one uses stunning light colors with glitter. Makeup like this looks hard to recreate but it's not. You can purchase a mermaid stencil to create the scaled look. Then all you will need to do is choose your colors. Use this image as inspiration.
20. Plastic Surgery Gone Wrong
Our next pick is unique and creative. Surgery, doctors and nurses are popular Halloween choices and this twist makes it different. You will stand out from the crowd and the outfit is relatively easy to create.
21. Spider Web Eyeliner
Next, we have a cute and easy Halloween makeup idea. It is just a drawn cobweb on the corner of the eyes where an eyeliner flick would go. This is subtle and simple Halloween makeup. You could wear it like this or with other dark and creepy makeup.
22. Simple Skull Makeup
Like the simple skull ideas? Then you might like this one to. This makeup has dark and pretty eye makeup with a skull mouth. You could use glam makeup that you would wear for a party and just add in the skull mouth. That way you can look beautiful and scary at the same time. There are lots of skull tutorials available online.
23. Easy Cat Halloween Makeup
Last on our list it this pretty cat makeup look. This one is very simple. You will need to wear your normal eye makeup with a black nose and whiskers. Add some ears and you're good to go. Something like this is cheap and simple. It would also be great as a last-minute costume.
We hope you have been inspired by our easy Halloween makeup ideas!