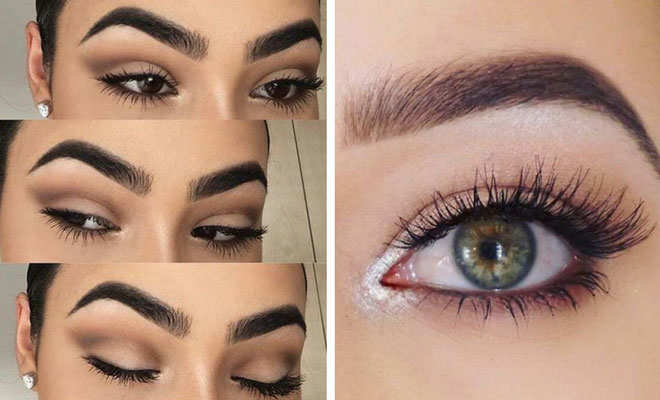 19 Easy Everyday Makeup Looks
11. Neutral Makeup
This eye makeup is very Kim Kardashian-esque, and that's definitely why we love it so. When you break the look down into simple steps, it's not as tough as you first may have thought. For those blame summer evenings, it's just perfect.
Everything can be achieved with your highlighter and contour palettes again, and make sure you get yourself a good fluffy blending brush to help with the shading around the eyelids. Another everyday makeup look that centres around the eyebrows, make sure you get in some practice on these. Your eyebrows really do define how the rest of your face looks.
12. Inner Corner Highlight
We've said it before and we'll say it again – that white eyeliner around the inner corner of the eye is a smashing idea. It helps to instantly revive your face, even when you've definitely not had enough sleep, and it takes a split second. Why aren't more of you doing it?
If you don't have white eyeliner to hand, you could use your usual highlighter – the lightest one in the palette. We've also achieved the same effect with white / light eyeshadow, and even some clear lip gloss. It will instantly make you appear more awake. Try it – you'll see.
13. Wispy Eyelashes
Do you wear false eyelashes? Sometimes it's good to leave them alone. We know you love it when you have those fluttering beauties on, but wearing them constantly isn't good for your eyelashes. You may also start to notice that your own eyelashes fall out. Later on, this may mean that you need to wear false eyelashes more often to counteract this. It's all a vicious circle.
Getting yourself a really good mascara is essential for those days when you don't want to wear eyeliner, or pack on the falsies. When you have a good mascara, you'll notice that you won't want to rely on your false lashes so much, and your lashes will start to grow much healthier and happier too!
14. Neutral Eyeshadow + Winged Liner
Getting the perfect eyeliner is hard work, and we've all been sat there for hours in the morning, desperately trying to get things just-right. If you're having a hard time getting yours right today, here's a little tip we like to think helps sometimes.
If it's not going right, leave it alone, do something else and then some back to it. When you keep doing your liner over and over again, eventually you're going to start getting angry, and that'll make you emotional, and then you'll start to shake. That won't help your plight at all. When it starts going wrong, do your eyebrows, or start sorting your foundation out, just do something else. There's a good chance, when you back to your liner, you'll have calmed down enough to salvage it.
15. Bronze Look
The bronzed look is a big one right now, and because of the likes of the Kardashian's, these easy everyday makeup looks mean your makeup routine is a lot shorter. You know what that means, don't you? More time in bed!
With the flick of a bronzed-finger, this look is achieved. To make it look like you spent longer than a minute on it, use your finger still to blend some darker shadow into the socket-line, and also add a touch of your highlighter to the inner corner of your eye.
16. Neutral Eyes and Pink Lips
In order to get the perfect neutral eyes and pink lips, you need to take care of your skin. Plenty of moisturiser is important, as is drinking plenty of water, and try to use products on your skin that are skin-friendly. There are so many products on the market that aren't friendly to your skin, often causing more problems than they solve.
Look at the ingredients list of your beauty products – you'll want to look for natural items such as coconut oil, cocoa butter, shea butter, etc. Paragons and other things are not good for your makeup routine, and won't be good for your face.
17. Grey Winged Liner
Do you own a grey liner? You should do, it's a really versatile look. We've been wearing grey eyeliner for a long time, and this is because it really does with every other colour in your palette. Pink, purple, red, green, it doesn't matter – everything goes with grey.
It adds a little something to your eyes but when you don't want to go for full black, and it's a fresh look too – very modern. We would definitely recommend replacing your regular black liner with grey. Remember you could also add some glitter sparkle to the mix too for special occasions.
18. Soft Look for Blue Eyes
The bronzed products in your makeup palette are perfect for easy everyday makeup looks. With the help of that white eyeliner we keep talking about, and a flick of a gold / bronze shade intensifying towards the outer section of the eyelid, you're pretty much good to go.
Another great tip you should never forget – a touch of highlighter just underneath the outer tail of your eyebrow, on the brow bone, will instantly open up your eyes. It only takes a quick flick of the brush or your finger.
19. Gold Eye Makeup
With a decent eyeshadow, you can build up the colour, or pigment, to give you a look that you want. With cheaper, poorer quality makeup items, the colour is packed in, making it difficult to blend. As much as we know you don't want to use your latest Urban Decay palette to practice with, it's not a bad idea. With the right tools, you won't need as much practice as you first may have thought.
With gold shadows, go for a really good one. Go for one that you can build up with the intensity with, so you can practice with slightly more muted tones, and build your way up from there as you feel and get braver. Smart, right?
With the right hints and tricks, all of your makeup could easily be easy everyday makeup looks. You just need to know the right hacks – using the white eyeliner, for example, and learning how to use your contouring and highlighter palette for so much more than just highlighting and contouring. Play around in your spare time – try to create a makeup look in under five minutes. You might just be surprised at what you can come up with when you're under pressure.