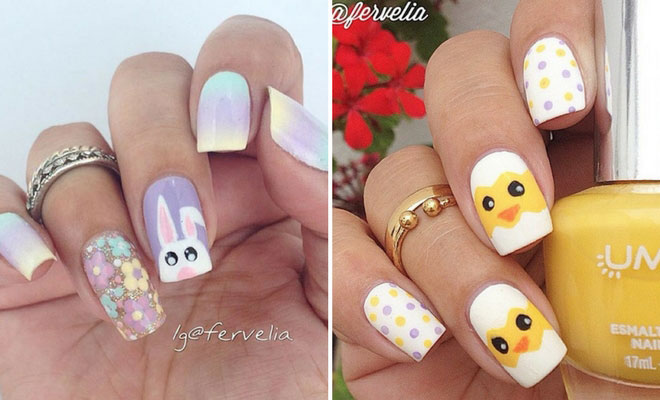 Instagram
Beauty
61 Easy and Simple Easter Nail Art Designs
By
|
51. Bunnies and Carrots
Love Easter bunnies? If so, you need to check out this next design. Some nails are simply orange, one is nude with carrots and one features a bunny with the words Hippity Hop. It is such a fun, bright and cute design. You can buy bunny and carrot nail stickers online or you can view tutorials online which can show you how to hand-paint similar art.
52. Matte Pastel Mani
Next, we have another pastel look to show you. This time the nails have a pretty and coordinating color combination of pink, purple and blue. We love the colors and this is a chic, stylish and easy to wear Easter mani idea. You can find similar colors to these online. For a bolder look, you could even add some white Easter egg patterns.
53. Adorable Easter Nail Idea
This next nail idea has got to be the cutest Easter mani ever! The design features an adorable Easter bunny and a yellow chick in an egg. There is also a flower and carrot design. It is a fun, bright and sweet mani that is perfect for the occasion. The colors used for this look are Claire's Light Yellow, OPI Mod About You, That's Hula-rious and Matte Top Coat, Sally Hansen Barracuda, Essie Virgin Snow and Good to Go. You can also view short tutorials for each design on the nail artist's page.
54. Stylish Easter Egg Gradient
If you like the must-have gradient nail art, then this idea is for you. The nails start light blue and then blend into different shades until they are pink at the tips. Each nail is also decorated with white Easter egg inspired patterns. It is a trendy and easy to wear look that will suit everyone. You can recreate this or try your own gradient colors. This mani was created with OPI Alpine Snow, Essie Bikini So Tiny, Play Date and Haute To Trot and a top coat by Seche nails. Zig Zag vinyls by Whats Up Nails was used as well.
55. Easter Chicks and Polka Dots
Love cute little Easter chicks? If so, you need to see this design. All of the nails are white with either colorful polka dots or adorable yellow chicks. It is a fun, bold and pretty idea. You can recreate neat dots like these with a dotting tool. The chicks were hand-painted and you can find tutorials for chick nail art online. All polishes used are by Essence Cosmetics.
56. Cute and Colorful Easter Nails
Next, we have another cute and colorful idea. For this look, the nails have different shades including purple, orange and more. Each nail also has a white Easter bunny. This is a fun mani and it is perfect for Easter. You can recreate the look or use similar colors and use the bunny as an accent nail.
57. Speckled Egg Nail Design
Another Easter tradition is painting and dyeing Easter eggs. This next design has been inspired by this. Each nail is painted in a different bright pastel color. All of the nails also have a black speckled effect. This nail art captures what those cute little eggs look like perfectly. Recreate a similar look or use the same color on all nails.
58. Glam Mani With a Pretty Bunny
This next nail design is so glam and pretty. All of the nails are painted in different shades of pink and some have added gold glitter too. One nail is also decorated with a beautiful white bunny with lashes and sparkly ears. This mani is perfect for those who like glitz and glamour. You could even recreate a similar look with purple instead of pink.
59. Unique and Colorful Easter Nails
Next, we have unique and colorful nail art. Each nail is different and has hearts, zig zag patterns and more. This is a more intricate version of the Easter egg patterns. You can recreate the whole mani or just use one of the designs on all nails. This nail art was created with OPI Bee Mine Forever, It's A Boy!, This Cost Me A Mint and Follow Your Bliss, Uber Chic Beauty Welcome Spring, Twinkled T Can't Even and Glow Up, Moyou London Cool Pool, Banana Ice and Hello Absinthe and Super Chic Laquer Top Coat.
60. Cute Pink Nails
If you like chevrons, different Easter art and polka dots, then this is perfect for you. All of the nails use pastel colors and the art is different. One nail has chevrons, one has polka dots, there is also a white bunny and an adorable chick. This is a stylish, pretty and fun Easter theme mani. You can recreate the whole look or just one or two of the designs.
61. Chocolatey Easter Nails
Is chocolate the best part of your Easter holiday? If so, you will love these nails. Most of the nails are painted in a chocolatey color while one nail is decorated with white art. You can create something simple like this or create more intricate chocolate art with gold foil to make the nails look like an Easter egg.
We loved these easy and simple Easter nail art designs, but we'd love to see what you wonderful and creative lot can come up with also. It's time to get your paintbrushes out, people. Let's get those spring time vibes started … maybe some super nice weather will follow.