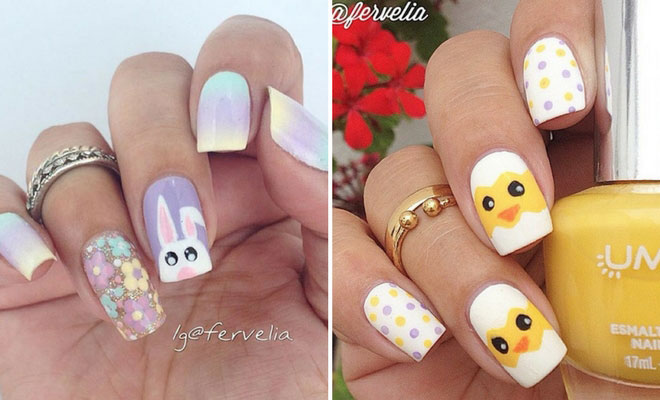 Instagram
Beauty
61 Easy and Simple Easter Nail Art Designs
By
|
11. Spring & Easter Design
Florals are always a really good idea for Easter, and spring is when all the flowers bloom so what better time really? We can't help but thing that a rhinestone would make the perfect addition for the center of a flower, with the petals coming out from around it. What do you think? And please show us if you do give it a shot!
12. Simple & Elegant
You don't need to go all-out when it comes to Easter nail art designs. These still give the game away with regards to the theme, but at the same time they're very muted and understated – nothing too bold or in-your-face. It makes them a lot easier to wear than the brighter and bolder styles, and also means you nails will have a better match with more of your closet choices.
13. Chick & Glitter Accent Nails
When using glitter on your nails, we would always recommend that you start with a decent base coat. Glitter is renowned for being really impossible to get off once you're done with it, but the base coat helps to create a barrier level between the polish itself, and your nail. When you try to get rid of it, a bit of soaking in acetone-free nail polish remover will do the trick. You know, just in case these glitter lovelies take your fancy.
14. Colorful & Eye-catching
If you want something bright, bold and eye-catching, how about colorful Easter nail art designs like these? They've got everything you need to make them Easter and spring-like – pastels, florals, bunnies, and carrots. Now if only there were chocolate in there too, they really would be a true representation of our Easter.
15. Simple Pink Design
Nobody really knows where the true origin of the word "Easter" lies, but there have been links to Latin, although that was originally derived from a translation error … For the record, over ninety million chocolate bunnies are made around the globe every year for Easter, and we plan on eating quite a few of those … How about you?
16. Bunny + Carrot
It's the carrot nail we particularly loved about these nail art designs, although you can't deny it – they're all very cute indeed. A combination of matte and gloss finishes helps to make this look stand out, that and the bright orange shade, of course.
17. Pastel Ombre Nails
Believe it or not, bunnies haven't always been associated with Easter. It's said that the association is an American thing, although first introduced by Germans, and the fables and myths date as far back as the thirteen century. Eating chocolate bunnies is a much more modern affair, as are easy and simple Easter nail art designs. We're very thankful for adorable nail designs such as these!
18. Cute Red Design
Red isn't a color that you would normally associate with spring and Easter, but as you can tell, it works rather well. This design, complete with cute bunnies and carrots, is bright and colorful, but not over-the-top. That's just one reason why we love them.
19. Bright Bunny Ears Design
If you don't want full bunnies, just add bunny ears to the tips of your nails, just like these easy and simple Easter nail art designs. Each nail has been painted a different pastel shade – another great idea for the spring time – and each one has had their own unique set of bunny ears painted on. Of course, there's nothing to stop you from using decals or transfers. We won't tell if you don't!
20. Cute Design for Short Nails
The churches are filled with flowers on Easter Sunday, and this is designed to symbolize the new life – the resurrection of Jesus Christ, if you like to follow the religious side of things. We'd love to fill our homes with flowers too, although that isn't always practical. We'll settle for beautiful floral nail designs like these instead.