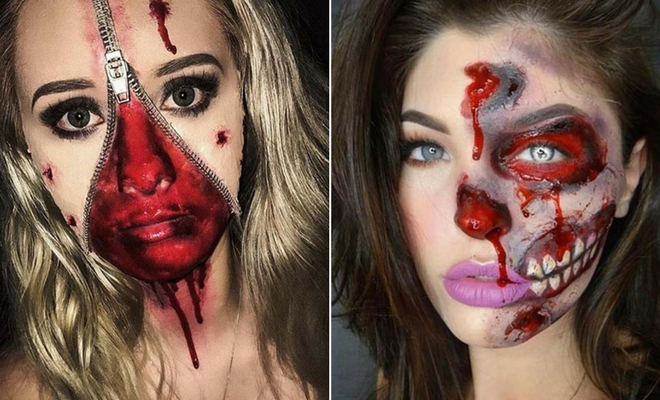 Instagram
Beauty
23 Creative DIY Halloween Makeup Ideas
By
|
11. Scary Zombie Design
We couldn't have a Halloween makeup list without featuring zombie makeup. Zombies are a classic Halloween character so are a great costume choice. This zombie makeup is different from the usual makeup and fake blood. This one has teeth fixed to the face which gives the illusion of a decayed zombie mouth. You could choose subtler makeup like this for the rest of the face or go over the top with gore.
12. Unique Glitter Makeup
Our next pick is a great source of inspiration. It uses grey contact lenses, glitter all over makeup, white lashes and more. It is a creative design that could be used for mermaid costumes, unicorn costumes and more. You could change the colors to suit your character. We love this idea and think it could be used to create a unique makeup look.
13. Pearl Skeleton Design
Create a chic Halloween look with makeup like this. This next look has used pearls and metallic colors to create a skeleton design. The design only covers half of her face which gives it a masquerade mask vibe. Makeup like this is not scary but allows you to join in the fun of Halloween. It will take time and patience to recreate but it will be worth it.
14. Gruesome Zip Face
Zip makeup is very popular for Halloween. It is scary, gruesome and gory. You could recreate this at home as there are lots of zipper makeup kits available. You could put the zipper in the same place as featured or somewhere else to make your look unique.
15. Tim Burton Inspired Makeup
Our next pick features another illusion design. This makeup makes the person wearing it look like they are straight out of a Tim Burton movie. Burton has created iconic Halloween movies and is king of things creative, Gothic and unique. You could recreate this with a few makeup colors. It will just require some practice. You could choose any Tim Burton character.
16. Red Riding Hood and Wolf Design
Little Red Riding Hood and the wolf are both popular Halloween costume choices. Why not merge them both together to create a unique Halloween costume. All you will need is some contact lenses, fake blood and makeup. This is a simple DIY makeup idea that will look awesome for any Halloween party.
17. Creepy Dummy Makeup
If you liked the ventriloquist dummy makeup from earlier in the post, then you might like this one to. This one has the same creepy vibe but it does not have the laughing mouth. This creative makeup idea is great for anyone who wants a dummy look that is quite simple to recreate.
18. Vibrant Skeleton
Next on our list is this skeleton illusion makeup. This makeup was created to make it look like her eyes are missing. This makes the skeleton design unique and scary. You could recreate the illusion with the classic white and grey skeleton or be creative like this and choose vibrant colors. There are lots of tutorials online to help you achieve the skeleton look.
19. Face Off Makeup
If you are looking for something creative that will wow, then our next pick is for you. This makeup design features skeleton makeup with a removable face mask. It creates the idea that she has removed her face. Makeup like this is gruesome and scary so is perfect for Halloween.
20. Makeup Illusion
Our next pick features an illusion design. It features multiple eyes and lips. This makeup is funky and creative. To recreate makeup like this will require practice and patience but the finished result will be worth it. You will have a unique Halloween costume that will confuse everyone!
21. The Mummy Makeup
Mummies are iconic characters of Halloween. Instead of choosing the classic bandaged mummy why not create the mummy makeup from the new movie. This fresh look will create a scary costume. You will not need a lot of makeup for this, just some dark eye makeup an eyeliner and some contacts. It is a simple but awesome makeup idea.
22. Half Pumpkin Face
We love how makeup can be used to create illusions and scary costumes. This next makeup idea makes the person wearing it look like they have half a pumpkin face. Makeup like this is a unique take on the classic pumpkin look. There are tutorials available online to help you create a scary pumpkin face.
23. Scary Halloween Makeup
Last on our list is this scary and creative Halloween makeup idea. The makeup has been used to create a large mouth with spiked teeth. It gives the illusion that this is her mouth. Makeup like this would look awesome at a party. You will be able to recreate this with practice.
We hope you have been inspired by our creative DIY Halloween makeup ideas!