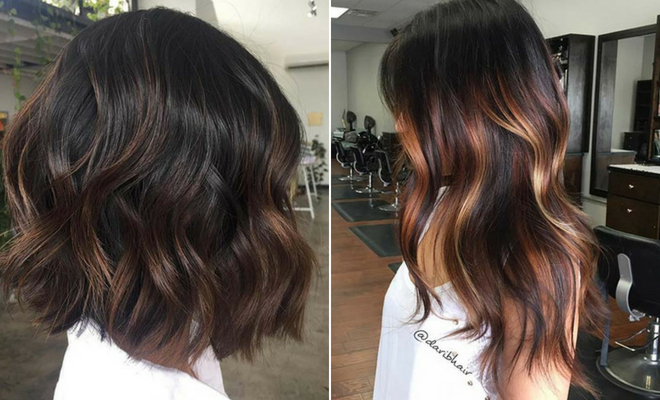 Instagram
Beauty
23 Different Ways to Rock Dark Brown Hair with Highlights
By
|
11. Chestnut Brown Highlights
Chestnut brown is such a stylish color. As you can see on this hairstyle the light brown suits dark brown beautifully. If you want a very trendy hairstyle have your hair cut into a bob like featured as it is a must-have look for the summer. It does suit long hair to though if short hair is not for you.
12. Light Silvery Highlight Idea
Looking for a unique hair color, then this next idea is for you. This dark hair has been highlighted with a light silver shade. We love this bold hair color, it is perfect for someone who wants to make a statement. You can recreate this look on long hair too.
13. Golden Toffee Cream
Next, we have a highlight idea that uses a shade called golden toffee cream. We love this rich and warm tone, it is a beautiful way to update your look. A hair color like this will suit everyone. You can have the color running through most of the hair or just have it around the tips.
14. Summer Balayage
Give your hair a sunkissed look with blonde highlights. As you can see the light blonde really lifts the hair and makes it look beach ready. You can choose a similar tone to the one featured or choose a lighter blonde. Highlights like these will suit hair of any length.
15. Multi Tone Highlights
You don't just have to choose one color when you decided to have highlights. Maybe try a multi tone look like this one. The hair starts dark brown then goes into light brown with red and blonde tones. This warm and stylish look is gorgeous and will look amazing for the summer and beyond.
16. Chocolate Highlight Idea
Our next idea features very subtle highlights. The hair is a very dark brown with chocolate highlights. Even though the highlights are barely there, they still lift and refresh the hair. You can have highlights like these on any hair length.
17. Light Blonde Highlights
If you love blonde highlights, this next idea is for you. Here we have a beautiful brunette with light and dark blonde highlights. We think this summery blonde look is gorgeous. You can recreate a similar look or choose lighter blonde tones.
18. Beautiful Almond Highlight Color Idea
Next, we have a color idea that features almond highlights. Almond highlights really lift brown hair and compliment it to. We love this color combo. You can keep the hair light like featured or add in some different shades like red to for a multi tone look. Either way you will have a stunning hairdo.
19. Caramel Highlights
Caramel is another hair color that works beautifully with brown hair. The warm tone lightens the hair but the contrast isn't as bold as it would be with brighter blondes. Hair like this would look amazing for the summer. It will suit any hair length.
20. Natural Looking Dark Brown Highlights
Our next highlight idea would work with brown and black hair. As you can see, the hair is very dark at the top and then blends into a chocolaty shade. If you wanted a bolder blend, you can add in a lighter color too. We love this hairstyle though because it looks natural and stylish.
21. Honey Blonde Highlight Idea
Honey blonde is a stylish color choice for the ladies who want a new look for the summer. The honey blonde shade is not as light as other blondes, such as platinum, so it looks more natural and sunkissed. You can have the color just at the bottom of the hair or having it running all the way through.
22. Golden Brown Highlights
Next, we have golden brown highlights. Golden brown looks stunning with dark brown hair. A color like this works best on very dark hair because it shows the contrast between the colors beautifully. Hair color like this is easy to maintain too, as it will grow out naturally.
23. Sunkissed Brown
Last on our picks list is this sunkissed brown idea. The hair looks sunkissed because the highlights are brighter than the root color. Hair like this is great for the summer. The color will suit everyone with any hair length. We love this color idea.
We hope you have found the perfect look to rock dark brown hair with highlights.