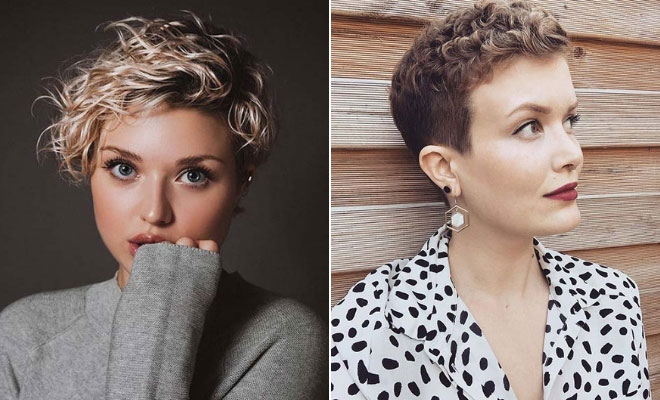 Instagram
Beauty
21 Best Curly Pixie Cut Hairstyles of 2019
By
|
Do you have beautifully curly hair and do you want to try a short and trendy cut? If so, this is the place to be! We have 21 stunning curly pixie cut hairstyles to show you. Those with curly hair might have been put off trying such a short hairstyle but all of these ladies show how gorgeous a pixie with curls can be. So, what are you waiting for?! Take a look, we have a hairstyle for everyone, from edgy styles, bold hair colors, classy cuts and more.
1. Curly Pixie Cut with Highlights
The first hair idea that we have to show you is so stylish and easy to wear. For this look, the hair is quite short and the section on top is longer and very curly. With hair like this, you get the best of both worlds. You can show off your curls beautifully but have hair that is easy to manage too. We love this trendy cut.
2. Asymmetrical Pixie Cut
Next, we have a stylish and modern hair idea. This is a cute and short pixie with an asymmetrical cut at the front. As you can see, one side is longer than the other. We love this style because it is trendy and the longer hair creates a side swept bangs look too. This is a cool hairstyle that is perfect for the trendsetting ladies.
3. Glamorous Pixie Hairstyle
Give your hair a glamorous makeover with a pixie cut like this. Here we have a stunning pixie with loose curls. The cut looks very soft and beautiful. A hairstyle like this timeless, it will keep you looking chic for any occasion and it will suit everyone. This is a gorgeous hairstyle and it is one of our favorite looks!
4. Curls and Blonde Highlights
Fed up of your hair and want to completely transform it? If so, this hair idea could be perfect for you. This hairstyle is very short around the sides and the top section of the hair is long and curly. The top section has also been dyed with stunning honey blonde highlights. We love this because the hairstyle is chic and the color makes the classic cut more statement making and daring. Recreate this look or try a similar cut in a different color.
5. Blonde Pixie Cut with Curly Bangs
The next hairstyle that we have to show you is another cute cut with bangs. This time, we have a longer pixie cut complete with curly side swept bangs. It is a beautiful and easy to wear style. A longer pixie like this is great for those who don't want to go very short. You can, of course, recreate the look with shorter hair too.
6. Modern and Edgy Hairstyle
Next, we have a trendy style. For this look, the hair has been cut very short around the back and sides with a curly longer section of hair on the top. These curls are textured and relaxed which gives the hairstyle an edgy vibe. This hairstyle is perfect for the ladies who want to swap their old hairstyle for a modern and easy to maintain cut.
7. Pixie Cut with Tight Curls
If your hair is very curly, then this idea is perfect for you. Here we have a beautiful pixie style for tighter curls. As you can see, the curls look so cute in the short style. Many women with curly hair like this can't rock shorter cuts but it looks chic and fabulous. Hair like this will suit everyone and we love it!
8. Cute Curly Pixie Hairstyle
This next hairstyle is one of our favorites! The hair is cut into a short pixie and there are long textured, loose curls on the top. Her hair also has blonde highlights. We love the blonde color, the edgy curls and the cute style. It is a stunning pixie and it will allow you to let out your inner rock chick.
9. Bold Pixie Cut
Looking for a hairstyle that will make you stand out from the crowd? If so, this could be perfect for you. Here we have a short pixie cut that is dark around the back and sides while the curly hair on top is colored in a bright shade. The vibrant color makes such a stylish statement and it allows you to show off your unique sense of style. You can recreate this or you can choose a different color for the top section of hair.
10. Short Pixie with Relaxed Curls
If you are looking for a simpler style, then you need to check this out. Here we have a short pixie with loose curls. As the curls are textured, it just gives the hair a more relaxed vibe. This is an easy to wear style, it will be easy to maintain and it will suit every hair type. It is a chic look that will never go out of style.