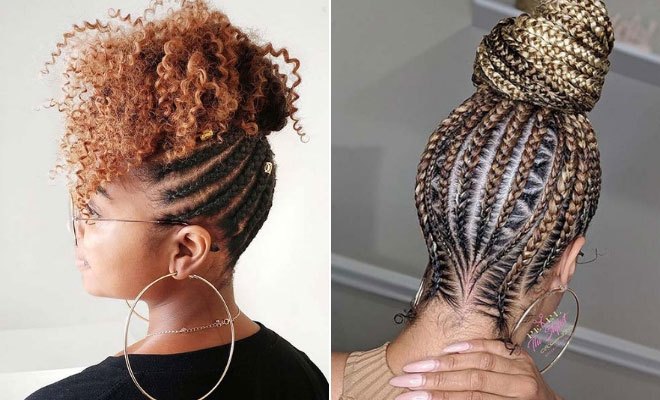 Instagram
Beauty
21 Trendy Ways to Rock a Cornrow Updo
By
|
11. High Braided Bun with Loose Braids
Like the zig zag parts? If so, check out this hair idea. Here we have another high bun where the cornrows have zig zag parts. There are also two loose braids on each side. This a pretty and stylish hair idea. You can keep the hair simple or you can add some beads to the loose braids. That would look amazing.
12. Statement Making Updo
We love this next hair idea! The hair on the head is black and is styled into a trendy braid pattern. While the hair in the bun is braided and it is a brown color. This color combo is gorgeous and statement making. The braided pattern is amazing as it is so intricate. Hair like this will wow and make you stand out the crowd in style.
13. Accessorized Updo with Curls
Next, we have one of the most amazing updos to show you. The hair is split into two sections. On the lower section the hair is styled into cornrows, while the hair on the top section is beautiful and curly. This style is finished off with gold hair clips. We love the pattern of the hair clips and the curls are so glam. This is another updo that is perfect for more special occasions or parties. You could also opt for really glitzy hair clips.
14. Thin Cornrow Bun
Different braid thicknesses will create different hairstyles. Most of the updos featured have been created with chunkier braids. This next one shows the thinner version. As you can see, the cornrows are super thin which creates such an intricate and stunning hairstyle. This is an amazing bun that will suit everyone. Recreate the style and color or try your own color combo.
15. Accessorized Cornrow Updo
If you like to accessorize, then this hair idea is perfect for you. The hair is styled into chunky cornrows with smaller braids that create a trendy pattern. All the braids are then tied up into a high bun. A variety of accessories have been used which include cuffs and dangling charms. This is a fun and unique updo. You can buy hair charms online.
16. Bold Braided Updo
Next, we have a bolder hairstyle to show you. The style features a simple cornrow pattern and the braids are in a high bun. What makes the hair stand out is the color. Each braid starts black and then blends into a bright shade. A fun color like this will really jazz up the hair. Try a similar updo or try a different color like red or blue.
17. Trendy Cornrow Bun
The next hair idea is trendy and gorgeous. For this look the hair is braided into both thick and thin cornrows. There are two loose braids and the rest of the braids are styled high. This is an easy to wear updo that will suit everyone. We love the different braid thicknesses because they create a unique pattern.
18. High Bun with Loose Braids and Beads
This updo is another one of our favorites. Again, the cornrows are styled into a high bun but this time though, there are wavy parts and two loose braids with beads. We love the beads because they make the hair more personalized and unique. This updo is perfect for the summer. You can recreate this or use beads that are different shapes or colors. Maybe choose your favorite color.
19. Double Cornrow Updo Buns
We love this next hairstyle! The hair is styled into chunky cornrows and the braids are split and tied up into two buns. This updo also features trendy gold rings. The double buns are so cute and pretty. Hair like this is perfect for the summer and festivals. You can see the back of the hair and more angles on the Instagram page below.
20. Cornrow Updo with Natural Curls
Prefer a more natural hairstyle? If so, this could be perfect for you. The hair is short and is styled into small cornrows. While the hair on the top is natural and curly. This such a pretty hairstyle and it is so easy to wear, too. An updo like this will look amazing on everyone. You can keep it simple or add some accessories.
21. Beautiful High Bun
The last hair idea features another beautiful bun. There is mix of thin and thick cornrows which create a gorgeous pattern and they are all styled high. There are even some gold accessories which really glam up the hair. An updo like this is simple enough to wear every day and you can dress it up for a special occasion.
We hope you have got some hair inspiration and have found a new updo to try!