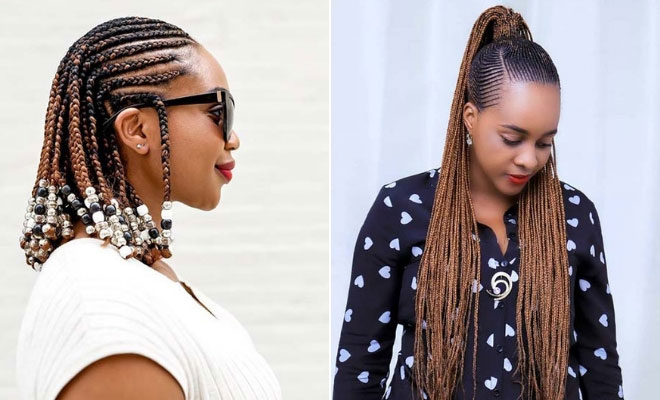 Instagram
Beauty
43 Most Beautiful Cornrow Braids That Turn Heads
By
|
21. Cornrows with a Wavy Pattern
Next, we have another cornrow idea with a wavy pattern. For this look, the braids are chunky and have a simple pattern with waves. The hairstyle also features accessories too. It is a trendsetting and easy to wear style. Recreate the accessorized look or you can opt for the braids without the accessory for a subtler and more low-key style.
22. Trendy Lemonade Cornrows
This next hair idea is so trendy and edgy. The style features long cornrows that are braided to the side. There is also a super stylish pattern too. This is an edgy, unique and gorgeous hairstyle that will suit everyone. Try this look or you could try ombre color, that would be awesome.
23. Red Lemonade Braids
The next hair idea that we have to show you is bold and beautiful. The hair is styled into chunky cornrows and the braids are a bright red shade. We love this because the simpler pattern is jazzed up by the color. This is a vivid and statement making style that is perfect for the ladies who want a daring new look.
24. Two Cornrow Braids for Summer
Next, we have a bold hair idea to show you. So, for this look, the hair is braided into two chunky cornrows. The hair also features a mix of colors as vibrant yellow and blue have been added to the braids. This color combo is trendy and statement making and it is perfect for those who like to stand out. These colors are great for the summer.
25. Chunky Cornrows with Glam Gold Accessories
If you like glam and trendy hairstyles, then this is for you! This hair idea features chunky cornrows with smaller braids and triangle parts. The look is complete with gold charms and hair cuffs. We love the accessories and the small triangles, they just really make the hair unique and stylish. Recreate this or you can try a similar look without the accessories.
26. Jumbo Grey Cornrow Braids
This next hair idea is another one of our favorites! Here we have jumbo braids that are styled into a high ponytail. What we really love about this style is the trendy grey shade that has been used for the hair. It is a gorgeous and edgy idea and it really makes a statement. Be daring and try this or the ponytail will look amazing in any hair color if the grey is not for you.
27. Double Cornrows
Two cornrows on either side of the head is a classic look. This next hair idea has stepped up the game. Instead of using one braid, there are two on each side which creates a double cornrow look. There are also some loose braids and one braid in the center parting too. This is a trendsetting and stylish idea and it will look gorgeous on everyone.
28. Cornrows with a Wave Pattern
You can use different patterns to jazz up your hair. Here is a stylish one. So, as you can see, the hair is styled into straight back cornrows. But the braids on the head are in a wave pattern and they cross over each other. It is a simple and amazing idea and it really makes the hair look unique.
29. Long Jumbo Cornrows
Next, we have a simple and gorgeous hair idea to show you. For this look, the hair is styled into long jumbo braids and eight braids have been used in total. It is a trendy hair idea and the length of the braids really makes them stand out. This is easy to wear hair that will suit everyone.
30. Elegant Braided Ponytail
Love ponytails? If so, check this out. Here we have a long sky high ponytail. The braids are quite thin and the ponytail has a stylish wrap around too. This is a chic, trendy and versatile hairstyle that can be dressed up or down to suit any occasion. You can view a YouTube video about how this hairstyle was created on the hair stylist's page below.