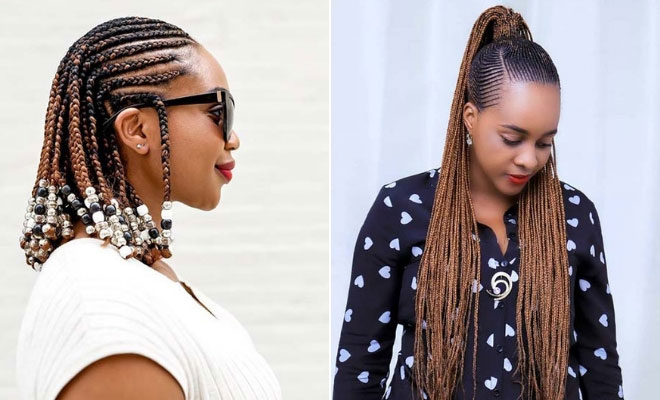 Instagram
Beauty
23 Most Beautiful Cornrow Braids That Turn Heads
By
|
11. Trendsetting Cornrow Braids
If you are looking for a trendsetting style, then this idea is for you. Here we have long cornrows with a stylish braided pattern. The pattern looks amazing and we love the design. Not only that, but the braids also change into a light shade towards the tips. It is just a gorgeous hairstyle that will show off your unique sense of style.
12. Bold Medium Braids with Beads
Earlier in the post we shared a cute Fulani braid style. If you liked that idea, then you need to see this one too. This style features longer Fulani braids that are a bright coppery shade. Each braid is also decorated with beads too. It is a bold and beautiful hairstyle that can be recreated or you can try using different colors for the beads and braids.
13. Half Up, Half Down Cornrows
The next hairstyle features very thin ombre cornrows. These cornrows are super long and they start black and change to a lighter shade. They have also been styled into a high ponytail too. This is one of our favorite hairstyles because the braid thickness looks amazing with the sky high ponytail. It is a very trendy and chic hairstyle that would be perfect for the summer season.
14. Feed In Braids with a Stylish Pattern
If you are looking for a stylish braided pattern, then you need to see this! Here we have long cornrows with a gorgeous pattern on the side of the head. We love this because usually patterns are created on top of the head but this time it is on the side. The different placement just creates a unique and statement making style. Recreate this look or you could try similar braids in a bolder color, blue would be stunning.
15. Feed In Cornrows with Curls
Next, we have a trendy braided style to show you. This time we have chunky and long cornrows and the ends of the braids are beautifully curled. The curly ends look stunning with the cornrows. You can try a similar style to this or you can make the braids a shorter length and have more loose curls. Either way, your hair will look stylish and edgy.
16. Half Up Bun
This next hair idea is one of our favorites. The style features long and thin cornrows. Half of the braids are left loose and half are styled into a very high bun. Some loose curls have also been added to the hair. We love this because you get the best of both worlds – you can have an updo and long braids too.
17. Long Ombre Cornrows
Love the ombre cornrows? If so, you need to check out this next style. Here we have long cornrows that are black and then about midway, they change into a bold blonde shade. The blonde color and braided style are such a trendy combination. You can recreate this or you can try another vivid shade for the ombre. Blue or purple would look amazing!
18. Jumbo Braid Ponytail
Give your hair a complete makeover with a hairstyle like this! This look features jumbo cornrows that have been styled into a very high ponytail. The hair is also a bright red shade and loose curls have been added to the ponytail too. It is a such a glam and gorgeous style. A ponytail like this is perfect for those who like bold hairstyles that make them stand out from the crowd.
19. Tribal Cornrow Braids
Look like a Queen with cornrows like these. The hair has been styled into long and sleek cornrows and they have been accessorized with cords and hair rings. It is just a stunning style that will keep you looking and feeling glam for any occasion. You can try this long style or a similar look would be great with shorter braids too. A bob would look gorgeous.
20. Thin and Thick Cornrows
We love this next idea because it looks so effortlessly stylish. Here we we have gorgeous cornrows and some are very thick and some are very thin. The different thicknesses look so trendy. Overall, the style is simple but does make a statement. You can recreate this look or you can try a similar style in a different color. Red or ombre would be perfect.
21. Cornrows with a Wavy Pattern
Next, we have another cornrow idea with a wavy pattern. For this look, the braids are chunky and have a simple pattern with waves. The hairstyle also features accessories too. It is a trendsetting and easy to wear style. Recreate the accessorized look or you can opt for the braids without the accessory for a subtler and more low-key style.
22. Trendy Lemonade Cornrows
This next hair idea is so trendy and edgy. The style features long cornrows that are braided to the side. There is also a super stylish pattern too. This is an edgy, unique and gorgeous hairstyle that will suit everyone. Try this look or you could try ombre color, that would be awesome.
23. Red Lemonade Braids
The last hair idea that we have to show you is bold and beautiful. The hair is styled into chunky cornrows and the braids are a bright red shade. We love this because the simpler pattern is jazzed up by the color. This is a vivid and statement making style that is perfect for the ladies who want a daring new look.
We hope you have been inspired by these cornrow braids!