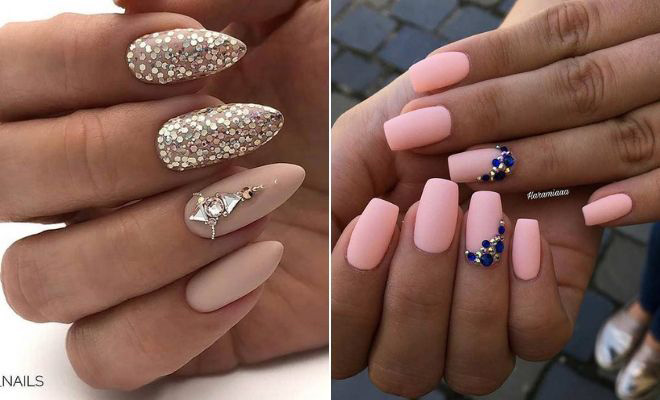 Instagram
Beauty
23 Classy Nail Designs to Inspire Your Next Manicure
By
|
11. Glam Chrome Nails
Our next idea features another gorgeous chrome look. The nails are coffin shaped and are painted in a grey shade. This manicure is stylish, classy and easy to wear. The color will suit any occasion too. This is one of our favorite looks and it will make you look classy in chrome. You can recreate a similar look on any nail length and shape.
12. Light Pink Stiletto Nails
If you prefer your nails to look more glitzy and glamorous, then check out this design. Here we have stiletto shaped nails and each one is painted in a light pink shade. There are two accent nails – one is sparkly and the other has a rhinestone design. This is a beautiful nail idea and it would be perfect for a special event. Recreate the whole look or you can try just the pink and glitter for a subtler set of nails.
13. Classy Stiletto Nails
Next, we have a gorgeous set of stiletto nails to show you. Each of the nails is painted in a matte black color. The accent nail is covered in small crystals in a matching shade. This is a very glam and classy idea. It looks chic because even though the nails are all different, they are the same color. You can try this look or try the color matching design in a different shade.
14. Matte Floral Nails
Floral nail art is very popular and with designs like this one we can see why. For this look, the nails are matte burgundy and there is one accent nail. The accent nail has stunning white flower nail art. This a beautiful nail idea and it would be perfect for a wedding because of the colors and romantic flowers. You can recreate a similar look with stencil which will help you with the floral pattern.
15. Glam and Classy Nails
Looking for glam and classy nail designs with a pop of glitter? If so, these could be perfect for you. Two of the nails are light pink, two are covered in glitter and the last nail has an ombre look. We love the color combination because it is so chic and the different shades compliment each other perfectly. A design like this is easy to recreate and it will suit all nail shapes and lengths.
16. Grey Ombre Nail Design
Earlier in the post we featured a grey ombre nail idea. If you loved that, then you may like this set of nails too. These nails have a similar grey and nude ombre design but there is an added sparkly accent nail and there are crystals on some nails too. This is just more jazzed up version and it shows how versatile the grey ombre can be.
17. Light Nails with a Glam White Accent Nail
If you love stylish and unique nail art, then you need to check out this next design. The nails are painted light pink and each nail, except for one, has a small, white dot. For the accent design, there is a beautiful white pattern that looks a little like henna. This is a classy way to wear nail art and it will suit everyone.
18. Chic Nail Design Idea
Next, we have a chic peachy nail idea with rhinestones. The nails are a beautiful and elegant shape. Each nail has been painted in a light and matte peachy shade. Two nails also have rhinestones in blue and silver colors. The rhinestones can easily be applied with nail glue. You can find tutorials online to help you apply it.
19. Classy French Ombre Nails
Our next idea features another classy ombre look. These nails have a French ombre design with a glossy finish. We love this nail idea, it is one of our favorites. It is so chic, modern and trendy. A nail design like this will suit everyone and it can be worn any nail length and shape. Nails like these would be perfect for a wedding too.
20. Beautiful Burgundy Nails
If all the light nail colors are not your thing, then you could choose a darker color like this beautiful burgundy. For this look some nails are covered in glitter, some are matte and some are glossy. The dark and rich shade is so stylish and classy. You can recreate the whole look or choose just one of the designs for all nails.
21. Classy French Tip Nails
Looking for a simple, stylish and easy to wear nail design? If so, this could be perfect for you. Here we have French tip nail design where one nail on each hand is decorated with sparkly rhinestones. You can buy crystals like these online and they can be applied with a little nail glue. It is a cute and classy design.
22. Elegant Floral Nail Art Idea
Love the floral nail designs? Then you need to see our next idea. The nails are all painted in a light shade and each hand has one accent nail. The accent nail is clear and it has delicate pink flower art. Nails like these are so chic and classy. If you want to try and recreate the design yourself, you can buy nail stickers online which will help you achieve a floral look that is a little similar to this one.
23. Matte Nude Nails
The last nail design we have to show you is trendy and modern. All of the nails are a nude shade. Most of the nails have nail art that features gold and silver sequins while one nail is covered in sparkly rhinestones. It's such a creative and unusual idea. We love this because it shows how you can create cool nail art, but keep your nails looking chic and classy too.
We hope you have been inspired by these classy nail designs!