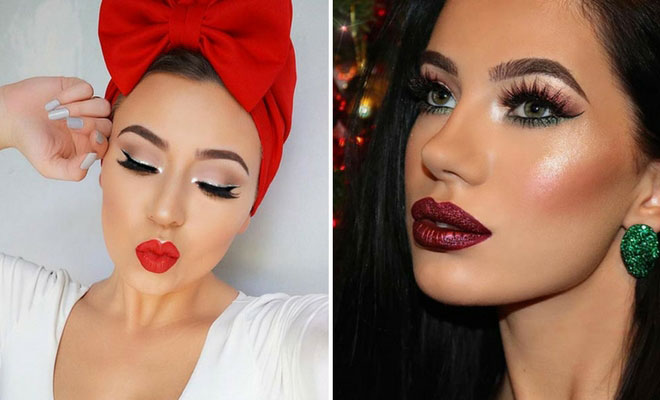 Instagram
Beauty
43 Christmas Makeup Ideas to Copy This Season
By
|
31. Matte Eyes and Lips
Maybe all the glitter and festive colors are not your thing. If so, you need to check out this next look. This makeup is super stylish but doesn't feature the classic Christmassy colors. The lips are a dark purple tone and the eyes have a similar color too. Makeup like this can be worn throughout the winter and will look gorgeous for any occasion.
32. Pretty Pink Smokey Eye with Silver Glitter
Do you wear the classic black eyeliner flick? Then this makeup idea is perfect for you. This look features the black eyeliner with neutral and pink eyeshadow, and finally there is a sweep of silver glitter. The silver glitter just shows you're feeling festive, but also allows you to wear the stylish makeup that you usually would.
33. Bold Gold, Shimmery Eyes
We couldn't have Christmas makeup without showing a beautiful gold look, and here it is! This bold, gold makeup idea is just stunning. The eyes have a stylish blend of eyeshadow with gold glitter and an eyeliner flick. This would look amazing for a festive party. You can check out all the products used to create the look on the artist's page featured below.
34. Rose Gold Eyes with Gold and Black Eyeliner
Next, we have another double liner look. The eyes have a beautiful, shimmery blend of eyeshadows that have been finished off with black and gold glitter eyeliner. This is such a pretty and elegant idea. Recreate the black and gold look or try black and a different glitter color. The look was created with Matte Black Liquid Eyeliner and Gold Glitter Eyeliner from NYX Cosmetics.
35. Dark Glitter Eyes and Red Lips
Our next idea features festive glitter and Christmassy red lips. A glittery look like this is perfect for the season as it is fun, glam and stylish. You can wear makeup like this to any holiday event. The glitter used to create the look is ilo Cosmetics Mystical Glitter and the red lips are by Covergirl Melting Pout Matte Liquid Lipstick in All Nighter. You can use these two products to create a similar look.
36. Shimmery Eye Makeup Look
Glitter can be used with any eyeshadow blend. Here is a beautiful example. These eyes feature a light to dark blend with a sweep of eyeliner and silver glitter. What we really love about this idea is the glitter underneath the eye too. This is a trendy party look and can be recreated in any sparkly color.
37. Vintage Vibe Christmas Makeup Idea
Bring some vintage glamour to your look with makeup like this. The eyes have a stunning shimmer with a classic eyeliner flick. There is also a sweep of white eyeliner on the lower lid. Not only does white eyeliner give you a vintage look, but it also makes your eyes look bigger too! We love this makeup idea!
38. Glitter Eyes and Dark Red Lips
If you love glitter and the festive season, this idea is perfect for you. This makeup includes super sparkly glitter and dark red lips. It is a stunning look that is perfect for Christmas and New Year. You can view the full list of products used on the artist's page below, but if you just want the glitter, it is by Eye Kandy Cosmetics in Marshmallow. You can use glitter like this with any makeup.
39. Silver Sparkle Eye Makeup
Next, we have this super glam look. The eyes have a beautiful silver tone with sparkles and black eyeliner. Makeup like this is a great choice for the ladies who want to try a little sparkle without being too over the top. Pair with red lips for a bold, festive look or with nude or pink lips for subtle and chic makeup. Either way, you will look stunning!
40. Smokey Brown Eye Makeup Idea
Maybe you just want to look stylish and gorgeous without all the glitter and bold colors. If this sounds like you, then check out this makeup look. The eyes are a beautiful smokey brown. These colors are warm, trendy and will look amazing for any occasion.
41. Statement Sparkly Eyes
Our next idea is super sparkly and statement making. For this look the eyes have a sweep of glitter, black eyeliner and a jewel tone eyeliner. All these different eyeliners create a stunning, stylish look. You can recreate this look or try your own color combination. A full list of the products used is available on the artist's page.
42. Gold Glitter Eyes with Bold Eyeliner
If you love the gold makeup for Christmas, then this look is perfect for you. The eyes feature beautiful, shimmering gold glitter with a wide black liner flick. Eye makeup like this is very glam and would be perfect for a party or night out. Finish off the look with red or nude lips.
43. Wintry Eyes with Red Lips
Take inspiration from the winter weather to create a beautiful makeup look like this one. The eyes are a wintry grey with subtle silver sparkle. This look has been finished off with dark red lips. It is a stunning combination of the season's colors and it will suit any special occasion.
We hope that you've found plenty of Christmas makeup ideas to copy this season, but remember to play around – you might just come up with a beautiful makeup combo that no one else has! It's always good to be a little trendsetter!