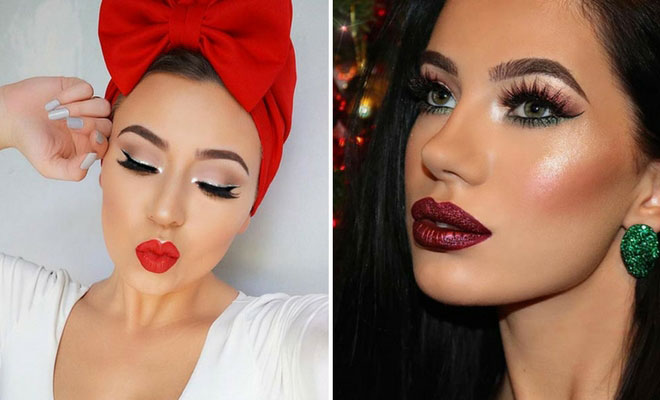 Instagram
Beauty
23 Christmas Makeup Ideas to Copy This Season
By
|
11. Silver Glitter Liner + Red Lips
For a really sparkly way to revamp your makeup for this festive season, grab your silver liner, and buy yourself a small pop of silver glitter too.
Once you've added your traditional black eyeliner, give it a little something extra by outlining the edge of it with your silver liner, applying the tiniest amount of glitter sparkle just to bring it to life. Simple, effective, and perfect for Christmas!
Lips: MAC lipstick in Como La Flor (Selena collection).
12. Emerald Smokey Eye
This dark green smokey eye has been cleverly blended with a darker brown shade in the eye socket, and this is a really simple addition if you've never tried it before. It's a look used by older women to help them look more youthful.
Once you've applied your green shade all over the eyeshadow, use your big fluffy blending brush again to blend some of the darker brown shade into the socket, blending carefully the green into the brown. You don't want to cover one colour with another, it's all about the blending.
Products used: Morphe 35N palette, ABH eyeshadows in Emerald and Rich Velvet, Makeup Geek Utopia pigment, Urban Decay eyeshadows in Cosmic and Virgin.
13. This Look Screams 'Festive'!
If you invest in just one piece of makeup equipment this year, let it be highlighter. A highlighter has the capacity to completely transform your face, and your makeup look, with just a simple swish.
Applied to the top of the cheekbones, you'll look younger and more alert because of the light reflecting properties, and you can even help to re-shape your nose by adding some to the centre, and then the tip. It's one of those beauty products you just can't live without, and is definitely essential for creating Christmas makeup ideas to copy this season just like this one.
Eyes: ABH eyeshadows in Aubergine (outer corner), Henna (lid), Intense Glaze and Party Dress (crease), and Peacock (lower lash line).
Lips: Gerard Cosmetics liquid lipstick in Ruby Slipper + Inglot pigment in 82 on top.
14. Gold and Brown Eyes
What goes better with gold than brown? Especially when you want a subtle but festive Christmas look, that doesn't use to many shades or products. It's simple a case of blending the gold (inner corner of the eye) to the darker brown shade (outer corner of the eye and eye socket).
One great tip that we learned was to practice blending on your hand first, before you move it onto your eye. It's one of those practice makes perfect situations.
Products used: Flaming Love Palette by Makeup Addiction Cosmetics & NYX Matte Black Liquid Liner.
15. Holiday Party Look
If you struggle to apply your false lashes, like so many of us do, here's a clever tip that'll make life a lot easier. Before you apply your lashes, you may find that they're a tad too straight, making them super difficult to apply. If you wrap the lashes around a makeup brush, or even your thumb, for a moment, they will take on a more curved look, and they'll be easier to apply to your curved eyelids.
These dramatic Christmas makeup looks wouldn't be complete without falsies, and hopefully that little trick will help you apply yours quicker!
Eyes: Motives Cosmetics Gem Sparkles in Citrine.
Lips: Liquid Maven Mattes liquid lipstick in Rust N Roll.
16. Matte Eyes and Lips
If you want to achieve a look as glamorous as this, you're going to need to learn how to blend your eyeshadow, and the easiest way to start doing this is to practice blending two shades together on your hand or arm first.
When working with deeper, matte shades such as the Christmas makeup ideas to copy this season you can see here, it's best to start with a little eyeshadow, and build your way up. It's easier to apply more as and when you need it than it is to take it away once it's already on your face.
Here is a link for the tutorial – Matte Cranberry Makeup.
17. Matte Brown Eyes with a Pop of Gold
And if you love the colour brown, but you want a brand new way to wear it than the plain browns, nudes and neutral shades that you're using to blending the shade with, how about gold? It doesn't take a look to complete transform the look, as you can see from this clever makeup idea.
Just a hint of gold in the inner corner of the eye is enough to not only open the eye up and make it appear brighter and wider, but also adds a shimmer to the occasion. Perfect for Christmas festivities if you ask us!
Products used: Anastasia Beverly Hills Shadow Couture Palette in shades Morocco (crease) and Fudge (lid).
18. Makeup Look for Blue Eyes
Gold looks great with blue eyes, but there are a few shades you could experiment with if this yellow-gold hue isn't quite to your liking. Rust / terracotta shades are also great for those big baby blues, and you could also add a pink / purple hue in with your gold too.
There are lots of shades to experiment with, so perhaps its about time you started? Take one of the looks you can see here as inspiration, and then make it your own – adding your own shades and hues, and even glimmer finishes if you like.
Eyes: Crease eyeshadows –  ABH Noir, Hot Chocolate, Red Earth, Fawn, Orange Soda and Soft Peach; Lid eyeshadows – ABH in Peach Sorbet and Amber; Inner corner – ABH in Gold Rush; StarCrushed Minerals glitter in Golden Ticket.
Lips: MAC lipstick in Sin.
19. Gold Glitter Eyes + Light Pink Lips
In order to get big, plump lips like these light pink lovelies, how about investing in a good plumping lip product? A primer helps to keep the look in check throughout the day, but a good glossy top coat with plumping properties could give you the pout you'd always wanted.
If you don't like the feeling of plumping lip glosses (they're often rather tingly), you could try a light-reflecting trick instead. A touch of a light, shimmery eyeshadow applied to the centre of the bottom lip will make it appear bigger, and you could also look at adding a touch of highlight to your cupids bow too.
Eyes: Makeup Geek eyeshadows
Lips: Huda Beauty liquid lipstick in Retro Coral and Milkshake.
20. Green & Brown
Beautiful, neutral shades, you might not have thought about putting green and brown together for your Christmas makeup ideas to copy this season, but as you can see, they are two shades that work together perfectly … when they have been properly blended.
If you want to become a pro at eyeshadow blending, work with the crease you've already got. Use your brush in the hollow at the top of your eyelid, just as it reaches the outer part of the socket, and use your natural lines and contours. Start from the outer corner and sweep the brush in, using light 'fluffing' motions. With the right brush, and the right technique, your eyeshadow will be blended like a pro in no time at all.
Products used: Kat Von D Mi Vida Loca Palette and Kat Von D Shade + Light Contour palette.
21. Classic Festive Makeup Look
How about a classically festive look? Gold eyes, plenty of liquid eyeliner, and a pop of red matte lips to finish it all off. It's so classic, and so very glamorous too, so you can understand why it makes to the list of Christmas makeup ideas to copy this season!
If you struggle to keep your hands steady when applying eyelashes, which are clearly essential for this wowing look, keep your elbows on a flat surface and look down into your mirror. This can help to stop the shaking that often happens when you're trying to concentrate on getting them just-so, and stability is always important for a vital part of the makeup look such as this one.
Eyes: ABH single eyeshadows in Orange Soda, Sienna, Noir and Amber.
Lips: Beauty Bakerie Makeup in Cranberry Stiletto Lip Whip.
22. Gold Eyes + Purple Lips
How do you feel about a dark purple / plum shade on the lips? It can be quite daunting to wear a really deep or rich shade, especially if this is your first time, but one thing that can definitely help is a chat with your local drug store or makeup supplier.
The people who are selling you makeup often know more than you think they do, so why not ask their opinion on which shade of deep, rich lipstick you should buy? Alternatively, do some research to see what works with your skin tone and hair colour, and try to match it from there. Not all shades will suit everybody, and it's just a case of working out which one is the most likely to be flattering for you.
Eyes: Makeup Geek eyeshadows in Cocoa Bear and Bitten (transition colors), Motives Cosmetics eyeshadows in Illusion, Antique Gold (inner corner and eyelid), and Tiramisu (outer corner), Violet Voss Glitter Goldie (mobile eyelid).
Lips: ABH lip gloss in Black Cherry.
23. Simple Christmas Makeup
If you really struggle to get your eyeliner on point, stop stressing out about it. The more you stress, the higher the chances you'll screw it up, and that'll just stress you out even more.
Work from the flick inwards – create the flick, and then use the natural sweeping motion of your hand to carry the flick on right over the eyelid, and to the inner corner. There are lots of tutorials on Youtube with lots of different ways to get your eyeliner right, and we'd suggest taking a peek. Just because you can't get along with one method, doesn't mean you won't ever find one that works for you.
Eyes: Too Faced The Power of Makeup Palette by Nikkie Tutorials, Violet Voss glitter in Don't Leaf Me.
Lips: ABH liquid lipstick in Vamp.
We hope that you've found plenty of Christmas makeup ideas to copy this season, but remember to play around – you might just come up with a beautiful makeup combo that no one else has! It's always good to be a little trendsetter!