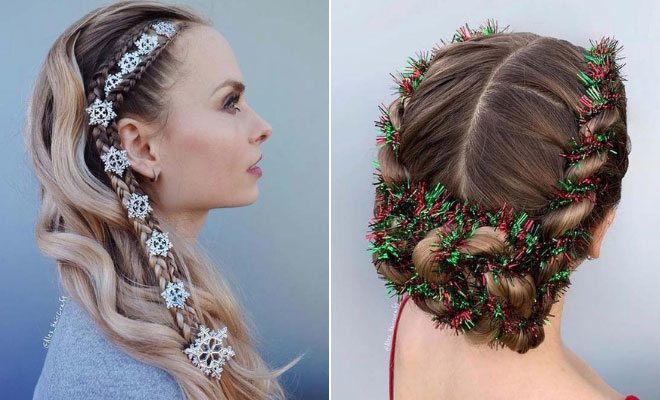 Instagram
Beauty
21 Easy Christmas Hairstyles to Wear This Holiday Season
By
|
11. Festive Halo Braid
Next, we have another festive and angelic hairstyle to show you. For this look, the hair is styled into a stunning halo braid. The braids have also been accessorized with berries and what appears to be mistletoe. It is a Christmassy and statement making style. Try this green and wintry look or you could use rhinestones to accessorize your hair. Sparkles will really make you look like an angel!
12. Half Up, Half Down Christmas Hairstyle
Love the festive styles with bows? If so, take a look at this! Here we have a simple style that features loose hair with a single braid. The half up, half down style has also been decorated with two bows – one sparkly and one orange. This is a unique and trendy style. You can easily recreate the look and you can use any bow color and design too.
13. Unique Bauble Christmas Hairstyle
This next hair idea is perfect for the statement makers who love Christmas! This style is half up and half down. The hair is beautifully curled and it is decorated with Christmas baubles! The baubles have been placed so that they create a Christmas tree shape. It is an amazing, festive and unique style. If you want to have fun, then this hairstyle is the way to do it. You can buy hair baubles online and recreate this or try your own festive hairdo.
14. Red Hair with a Festive Headband
Next, we have another festive color and style. This time the hair is dyed a beautiful, dark and rich red. The hair is finished off with a bold Christmas light headband. We love the color because it is perfect for the winter season and Christmas. The headband is so festive too! Try the color if you want to mix up your look or you can wear the headband with your own hair color. These headbands are available online and they do light up!
15. Braided Updo with Tinsel
Earlier we featured a ponytail that was decorated with tinsel. If you loved that idea, then you should check out this hairstyle too. Here we have another festive tinsel look but this time the tinsel has been weaved into braids. There are two side braids that meet into a low updo. As you can see, the tinsel looks amazing and it makes the simple style look so Christmassy. You can use any tinsel when recreating the updo.
16. Elegant Waves
Wow everyone at the Christmas party with hair like this! For this look, the hair is long and it has been styled into elegant and loose waves. The hair is finished off with a glam and gold hair accessory. A hairstyle like this is so versatile and can be worn to parties and for Christmas dinner with the family. It is another style that looks amazing with festive red lips.
17. Cute And Accessorized Updo
If you just want a cute and trendy style for the occasion, then this could be perfect for you. The hair is styled into a high bun with loose hair the front. This look is finished off with stylish silver hair clips. Hair like this is easy to wear and it will suit everyone. Recreate a similar look to this or you can use different clips. Maybe wear some with festive colors and more rhinestones.
18. Winter Wonderland Hairstyle
This next hairstyle reminds us of a winter wonderland! Here we have an updo that is decorated with glitter or snow and festive plants. As you can see, it looks amazing! Hair like this is a must-have for those who like to go all out at Christmas. The updo will suit formal events, weddings, dinners and Christmas day itself. Try this look or you can use similar plants with different updos such as buns.
19. Simple Style with a Red Bow
Add a pop of red color to your Christmas hairstyle with a bow like this! The hair is simply styled straight and it has been finished off with a big red bow. It is such a statement making idea. You can buy red bows like this or make your own bow clip if you are a little crafty. Try this simpler look or you can try the red bow with any hairstyle.
20. Black Hair With Christmassy Highlights
Next, we have another Christmassy color to show you! For this look, the hair is dark with added festive highlights. The colors used include dark green and red. This is a fun way to jazz up your hair for the holiday season. The color will easily grow out once Christmas is over.
21. Trendy Braids and Snowflakes
The last Christmas hairstyle that we have to show you is so trendy and beautiful. The hairdo features long and curly hair with stylish side braids. There are two side braids and wintry snowflakes have either been placed in-between the braids or they connect the braids together. It is a unique and festive style that will make you stand out from the crowd. You can buy snowflake hair clips online so you can recreate a similar look.
We hope you have found a Christmas hairstyle to try this holiday season!