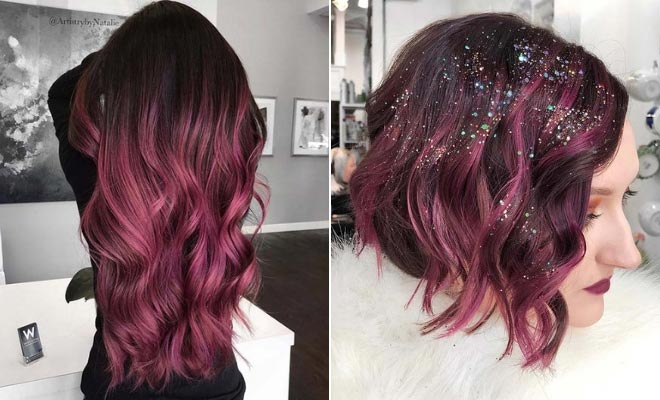 Instagram
Beauty
43 Burgundy Hair Color Ideas and Styles for 2019
By
|
31. Burgundy to Pink Ombre Hair
The next idea we have to show you is one of our favorites. For this style the hair starts off purple, then changes to burgundy and then the tips of the hair are light pink. This hairstyle shows how burgundy can be put with other colors to create a bold and unique look. Hair like this will be amazing for the summer.
32. Toned Down Burgundy Ombre
Love ombre? Then check out this next idea. This hairstyle has a dark color at the root and then midway, the hair changes to a subtle burgundy color. The burgundy is quite light and soft which gives it a more toned down look. This is perfect for the women who don't want a vivid and bold hairstyle. You can recreate the ombre or try full head color.
33. Burgundy to Light Orange Bob
Next, we have another unique color combination to share with you. Here we have short, chin length bob. The root color is black, then hair changes to burgundy and then towards the tips, the hair is light orange. We love these colors because they remind us of a sunset. Similar colors would be a great choice for anyone who wants their hair to stand out.
34. Subtle Burgundy
Our next hair idea is so trendy and chic! The hair is colored with a dark shade that has subtle burgundy tones. Then the hair changes and gradually blends until the ends of the hair almost look black. This is a stunning burgundy hair idea and it will suit everyone. It is another idea that is perfect for those who prefer low-key colors.
35. Burgundy with Purple Tones
Another beautiful color you can try is burgundy with purple tones. Here is a stunning example. At the root, the hair is a dark burgundy shade and then the hair changes into a lighter burgundy color with added purple. The purple color is gorgeous and it will definitely take your hair from drab to fab. A color like this will look amazing on any hair length and with any style.
36. Burgundy to Fiery Orange
Earlier in the post we featured a burgundy style where the hair turned red. If you loved that idea, then you may like this one too. For this, the hair starts burgundy and then changes into a fiery orange shade about midway. The colors look stunning together and they make a stylish statement.
37. Dark Burgundy Hair Idea
If you want to give your hair a lift without being too bold then consider a color like this. This is a full head color that is a dark burgundy shade. It almost looks brown but with burgundy tones. This is a subtle and super stylish look that will suit everyone. Try a similar color with a wavy style like this or on a hairstyle of your choice. It would look amazing with a bob cut.
38. Burgundy Ombre Bob
This next hairstyle features another trendy ombre look. The hair is cut into a bob. It is black at the root and then changes to dark burgundy. This is so stylish and edgy. You can recreate this look or you can try the colors on a longer style. The bob cut is a must-have though, so now is the time to try it!
39. Summery Burgundy
Prefer lighter colors? Then why not try hairstyle like this?! This hair idea features a beautiful burgundy color with added pink and orange highlights. The pink and orange really brighten up the burgundy and it looks unique too. A vibrant hairstyle like this is perfect for the summer.
40. Stylish Burgundy Waves
Just looking for a new hairstyle that is stylish and easy to wear? If so, this is for you. Here we have a simple and chic burgundy style. The hair is medium length with waves and it is colored in beautiful burgundy color with red tones. A hairstyle like this will suit everyone and it will give new life to your tired hair.
41. Purple, Burgundy to Blue
Our next idea features another amazing color combination. For this look, the hair starts purple then changes to burgundy and then finally the hair turns blue. It is such a cool and trendy hairstyle that has a gradient look. Recreate all three colors or you can try just purple and burgundy or blue and burgundy. Either way, it will wow.
42. Red and Burgundy
Next, we have a stunning red and burgundy style to show you. The hair is cut into a bob and it is a dark burgundy shade near the root and then it changes into more of a red color. This is one of our favorite looks because the hair is so vivid and vibrant. You will definitely stand out in style with hair like this.
43. Burgundy to Pastel Orange
Another cool color idea you can try is burgundy and pastel shades. Here is a stylish example. The hair is burgundy at the top and then it changes into a light, pastel orange. We love this color combo because its bright, bold and unique. The toned down pastel orange really makes the burgundy color stand out too. Recreate this or try any other pastel shade.
We hope you have found a beautiful burgundy hairstyle to try!