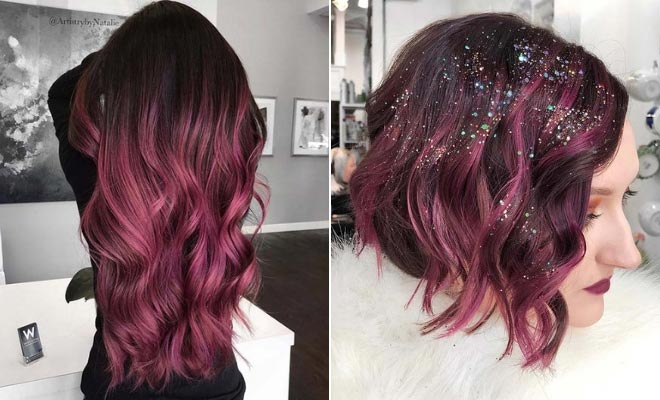 Instagram
Beauty
43 Burgundy Hair Color Ideas and Styles for 2019
By
|
11. Burgundy Chin Length Bob
Next, we have another short hairstyle to show you. Here we have a gorgeous chin length bob. The bob has a beautiful blend of burgundy and light purple tones. A hairstyle like this is perfect for the ladies who want a bold look that is fun, bright and stylish.
12. Wavy, Light Burgundy Ombre
Our next idea is a gorgeous burgundy look. The hair is mid length with waves. At the root, the hair is black and then it blends into a light burgundy color. This is a trendy look that is perfect for the ladies who love beach waves. With this, you get the best of both worlds – a stylish color and boho waves.
13. Dark Burgundy Lob
Lobs or long bobs are a must-have style. Pair this cut with burgundy and you get one amazing hairdo. Don't just take our word for it, take a look at this. The hair is longer at the front and shorter at the back creating a lob look. Also, the hair has burgundy and red tones running through it. This is a gorgeous idea that will suit everyone.
14. Stylish Burgundy Layered Cut
The next idea we have to share with you features another stylish cut. This is a gorgeous burgundy layered hairstyle. The layered cut looks amazing and gives the hair a vintage vibe. We love this idea because of the slightly vintage cut with a fresh and modern color.
15. Brown to Burgundy Ombre
Love the ombre looks? Then this is the hairstyle for you. Here we have another ombre idea. This time the hair is a beautiful dark brown shade and blends into burgundy. This is a great idea for the ladies who want to try a new color like burgundy without being too bold or having too much maintenance. The color will just easily grow out.
16. Glam Dark Burgundy Hair
Burgundy can look super glam and this stunning hairstyle shows it perfectly. The hair is long with a beautiful burgundy shade from root to tip and the style is slightly waved with volume. Hair like this would be amazing for a night out or party or on the days where you want to wow. We love this hairstyle!
17. Long, Bright Burgundy Hair
You don't have to choose a dark shade like the one above, you can go for something brighter like this. The hair is long and wavy with a light burgundy shade. It is just an amazing hairstyle that will freshen up your look and take your hair from drab to fab.
18. Short Burgundy Bob
Next, we have another gorgeous short bob. This hair has dark burgundy and purple running through it and has been finished off with beautiful curls. The bob has also been accessorized with glitter and sparkles. Try the glitter for the holiday season, but the bob cut will look stylish all year round.
19. Light Burgundy and Black Hair
Have you got black hair? Then check out this next look. This hairstyle features black hair with light and dark burgundy added to it. As you can see, these shades really lift the hair and give it a stylish and bright look. Recreate this hairstyle or try similar colors on shorter hair, too.
20. Bold Burgundy Hair
If you are searching for a bold and statement making hairstyle, then this could be perfect. Here we have a bright burgundy color that has been applied from root to tip. This is a stunning color that will make you stand out from the crowd. We love this hair idea and it is perfect for the ladies that want a fun and trendy new look.