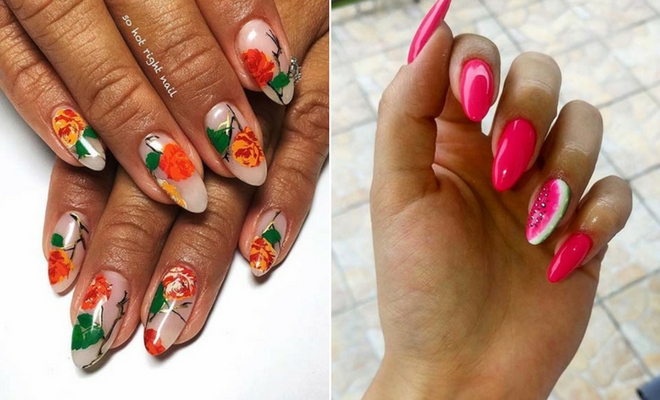 Instagram
Beauty
23 Bright, Stylish and Creative Summer Nails
By
|
11. Blue Glitter Ombre
Our next design will have your nails sparkling all summer. It features a blue glitter and white glitter that ends in a clear nail. This art creates a glitter ombre look. Ombre nail designs are bang on trend so master the technique and you'll have stylish nails all year round.
12. Butterfly Accent Nail
Butterflies are popular nail designs and with this manicure we can see why! These gorgeous vibrant pink nails feature a butterfly accent nail. You can purchase butterfly stickers and stencils to give you the perfect butterfly shape. You could recreate this any color. Pink is a good choice for summer because it is a fun and vibrant.
13. Funky Aztec Art
Aztec prints are very stylish. You can easily add this pattern to your nails with a stencil. These designs give you a lot of creative freedom as you can add many colors and even some glitter. This nail art shows how you can bring together many colors to create a trendy nail art. Turquoise and Aztec is an excellent combo as it suits the boho summer trend.
14. Pastel Yellow Summer Nails
If the bright yellow wasn't your thing then try a pastel yellow like this. It is a light and vibrant color that will suit everyone. You could wear it as one coat or as a base coat for a funky design. Yellow is the perfect color for summer. This color will work on long and short nails.
15. Orange Floral Nail Art
Orange is another must have color for summer. It is warm, vibrant and fun. Combine this color with flowers and you have stylish floral nails perfect for the season. You could create something like this with stickers or stencils. Orange would be a great choice but you could always have your favourite color if isn't your thing.
16. Zesty Orange Design
We have another zesty orange design for you. This time the nails feature an orange print. Something like this would be great on vacation or for a summer party. You could even experiment and try different fruits like lemons and maybe just have the print on one accent nail.
17. Ombre Design with Rose Accent Nail
Ombre nails will be in style season after season. Warm your ombre up for summer by using orange and purple like this one. The ombre reminds us of a summer sunset, making it perfect for the season. You could have the design with or without the rose.
18. Beach Shell Design
Going on a beach vacation? Then consider having these shell nails before you go. These capture the colors of the ocean with the nail color and gem color. The shells look like what you would see under the sea. We love these! You could recreate this with different polishes for your perfect look.
19. Summer Bee Nail Art
The bugs, insects and nature come to life in the summer time. Take inspiration from this and create nails like these. These gorgeous nails look natural and funky. A design like this would look great on long and short nails. You could have this design on an accent nail to.
20. Trendy Triangular Design
Next, we have these trendy summer nails. The bright colors look great with the triangular design accent nails. You could go bold like this or just have the triangle design with a French manicure. You could try this with any color scheme, something bright for the summer.
21. Sparkly Blue Summer Nails
Love sparkles? Then you will love this design. The beautiful blue polish has been embellished with gems and crystals. Gems like these can be bought cheaply and will create a stunning design. You could recreate this however you like the possibilities are endless. We love this sparkly look!
22. Watermelon Accent Nail
If you like the watermelon designs then this could be for you. The bright pink nails look amazing with the watermelon accent nail. There are plenty of tutorials online if you would like to know how to do create something like this.
23. Pastels with Accent Nail
Last on our list is this beautiful pastel design. The colors used to create this were Semilac 073 Caribbean Sea, 023 Banana, 050 French Vanilla, 001 Strong White. These colors work beautifully together and can be used to create other stunning designs. Each one would look beautiful on its own to.
We hope you have found the perfect summer nails!