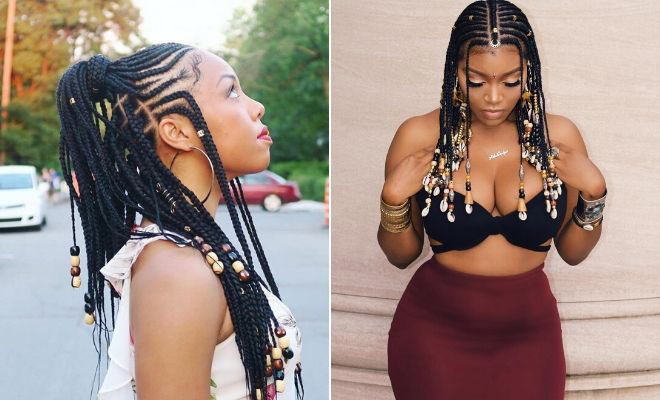 Instagram
Beauty
23 Braids with Beads We'll All Be Wearing this Summer
By
|
Looking for a way to jazz up your braided hairstyles? Well, have you thought about wearing beads? Now some ladies love to wear beads and rightly so, but some can be put off because they may be too bold or they aren't sure how to style them. That is going to change. We have found 23 stunning ways to rock braids with beads. You will find different braid types, lengths, styles and patterns that all use beads in a beautiful way. There are accessorized braids for every style and taste, as we have bold beads, subtle beads and much more. These are great for the ladies who already wear them so need some fresh hair inspo or for those who are new to beads. Take a look, you will want to wear them all the time!
1. Fulani Braids with Beads
The first hairstyle that we have to show you features beautiful Fulani style braids. For this look, there is an accessorized center braid with long and loose braids. Every braid is also decorated with lots of bold beads. This is a stunning hairstyle and that braided pattern is stylish and easy to wear. We have another article just for Fulani braids so if you like this kind of style, make sure to check it out!
2. Bold Beaded Hairstyle
You can wear beads in a subtle way or be more statement making, it is up to you. If you like to be bold with your hair, our next style will definitely inspire you. This hairstyle features mid length braids and each braid is decorated with gorgeous beads. Lots of different designs, colors and shapes have been used. A mixture like this creates such a unique and stunning braided hairdo. You can recreate a similar look or choose colors and designs that match your personal style.
3. Colorful Tribal Braids with Beads
Next, we have a colorful and fun hairstyle. This look features long tribal braids that start black and then change to lots of different colors ranging from purple to yellow. All of the braids are decorated with clear beads and we love the clear beads because they look so trendy with the vibrant colors. This is a stylish and bold hair idea that is perfect for the ladies who like to stand out. Recreate this or try using different vivid shades.
4. Gorgeous Braids with Beads and Shells
This next hairstyle is one of our favorites! Here we have another braided look with a center braid. The long braids are also adorned with beads in different sizes and colors. Not only that, but beautiful shells have been added too. We love the shell and bead combination, it is so pretty and summery. Hair like this is perfect for the summer and vacations. Try a similar look or add shells to any braided style and you can wear them with any style of beads.
5. Long Braided Ponytail
Ponytails can be simple and casual styles, but you can jazz up the classic hairstyle with some beads. You could create something like this. This hair idea features a super long braided ponytail. Each braid is also decorated with stunning wooden beads. As you can see, the ponytail would be cute without the beads but the accessories just give the style a unique and trendy edge. You can wear a similar braided ponytail with any hair color.
6. High Bun with Beaded Bangs
We love this next hairstyle! Here we have beaded empress braids that are so glam and statement making. The hair is styled into very thin braids and most of them are tied up into a high bun with a gold cord. What makes this style unique are the loose thin braids that create braided bangs. The bangs are also adorned with gorgeous gold and clear beads. Everything about this style is amazing and this updo is perfect for the ladies who like to dress to impress! This hairstyle was created by the talented celebrity hair artist Susy (@africancreature). Make sure to check out her salon if you're in NYC!
The stylist even has a YouTube tutorial to teach you how to achieve this look. Check it out down below!
7. Trendy Blonde Braids
Give your hair a trendy makeover with beaded braids like these! For this look, the hair is styled into mid length braids with clear and white beads. The hair is also a beautiful blonde color which is so stylish and summery. This is a pretty and easy to wear style. You can recreate this blonde look or try a similar version in a different blonde shade. This style would look amazing in other trendy colors too.
8. Long Braids with Bold Green Beads
When choosing beads for your braids, you can choose any color you like. The beads so far have been quite neutral in color but what if you're looking for bolder shades? If so, this hairstyle is for you. Here we have long and trendy braids. Each one is decorated with vibrant green and clear beads. As you can see, the green makes such a statement. Recreate the green look or choose a different vivid color. Pink, purple, yellow, orange and more would be great choices.
9. Beautiful Braided Bob
If you like braided bob hairstyles, then take a look at this. Here we have beautiful bob braids with two center braids. Each braid is also adorned with cute beads in warm and neutral tones. It is a pretty and easy to wear style and the blonde color at the front creates a more stylish and unique look. Hair like this will suit all ages and it will look amazing on everyone. You can recreate this bob with or without the blonde color.
10. Coppery Braids with Chic Beads
This next hairstyle is just stunning! Here we have a chic, fierce and sophisticated way to wear braids with beads. For this look, the hair is styled into a long bob and the braids are a warm coppery shade. All of the braids feature beautiful light beads with shells at the end. The colors of the beads and hair compliment each other perfectly and the overall style is trendsetting. We want this hairstyle, it will make us feel ready to take on the world every day!
Here's a YouTube tutorial by the talented Ronkeraji. Enjoy!