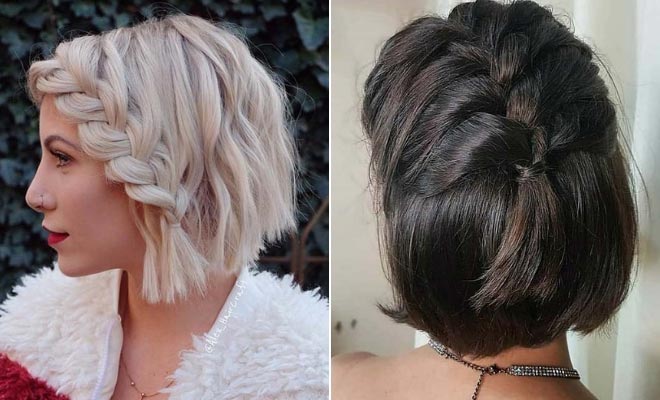 Instagram
Beauty
43 Quick and Easy Braids for Short Hair
By
|
21. Trendy Crown Braid
Braids can also work on very short pixie hair. Just take a look at our next pick. This is a very short cut and it has been styled with a cute crown braid at the front. We love this one because the sleek side swept bangs give the hair a trendy look. This is a gorgeous hair idea that can be worn day or night, for any occasion.
22. Beach Waves and Braids
The next hairstyle we have to show you is this beachy look. For this, the hair has been beautifully waved and features two small braids that meet in the middle. Hair like this will be great for the summer but it can also be used for beach, boho and summer weddings. It would be amazing for bridesmaids.
23. Half French Braid
Last on our list of top picks is this half French braid. The hair has only been braided half way and the rest of the hair is left loose. This is a such and elegant and chic hair idea. It is great if you struggle to get all of the hair into a braid and it will look glam for any occasion. We love this hairstyle! You can try it with other braid styles too.
24. Boho Braids on a Bob
Next, we have a braided style with a stylish boho look. The hair is cut into a bob and features a half up bun with a small side braid. A little texture has been added to the hair which gives it a beachy look. This hairstyle is perfect for festivals and the summer. You can recreate this style with any braid type.
25. Boxer Braids for Medium Hair
The next hairstyle is cute and very easy to wear. Here we have four boxer braids and as you can see, they look great with medium length hair. This is a brilliant hairstyle to learn as it keeps your hair out of the way but looking stylish too. These braids are perfect for the hot sunny days.
26. Chic Braid for a Pixie Cut
Even with very short hair you can rock a braid. Don't just take our word for it, check this out. This hairstyle features a short pixie cut and the hair has a small braid on the top section. It is a cute and pretty look that will suit everyone. This braid would work on every shorter hair.
27. Two Braids for Short Hair
Want to try a new hairstyle and color? If so, check this out. Here we have fiery braids! The hair is cut into a bob and is colored a spicy red shade. The top section of the hair has two Dutch braids. We love everything about this, from the braids to the color. Of course, you can try the style with any hair color.
28. Cute Braided Hairstyle
This next hair idea is another one of our favorites! The hairstyle has a beautiful, chunky Dutch braid going down the side of the head. This braid also features a beautiful sparkly hair piece. It is such a fun and pretty way to accessorize your braid. Hair like this will be great for weddings and the prom.  You can use any hair accessory so you can create a unique look that suits your personal style. The braid can be created on even shorter hair.
29. Edgy and Unique Braids
Give your hair an edgy makeover with a braid like this! Here we have a textured and sleek bob. A section of hair has been styled into two small three strand braids. This style is complete with hair slides which connect the two braids. It is such a simple but very stylish idea. You can recreate this or even add some sparkly clips.
30. Bold Braids into a Ponytail
Next, we have another bold hairstyle to show you. The hair is a stunning jewel green with a ponytail and lots of braids on the head. We love the style and color. This is perfect for those who want a complete hair transformation. You can try this style with shorter hair and with hair in a different color.