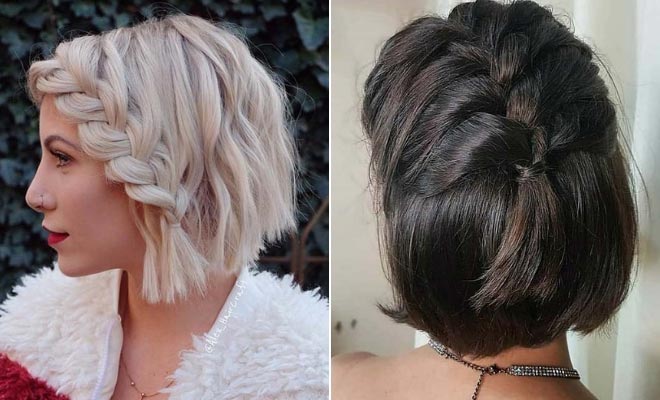 Instagram
Beauty
23 Quick and Easy Braids for Short Hair
By
|
11. Cute Side Dutch Braid
Our next idea is another side braid. The hairstyle features a short bob with subtle waves and has been finished off with a loose and relaxed side braid. This is a cute and chic hairstyle that will jazz up your every day hair. It will look amazing throughout the summer. We love this idea!
12. Crown Braid and Bangs
Love the crown braids? Then you need to check out this hairstyle. Here we have very short hair with bangs and a chunky crown braid. You can recreate this or try a thinner and subtler braid. A hairstyle like this would look pretty for special events or for the days where you just want to feel stylish and a little glam.
13. Trendy, Half Up Fishtail Braids
Hairstyles with two side braids that meet in the middle are very popular. Usually a classic three strand braid is used to create a half-up, half-down style. Our next idea is a little different. Here we have a short hairstyle that uses fishtail braids instead. By using fishtail braids, you get a trendy and unique hairstyle without hassle.
14. Messy Lob with a Dutch Braid
Our next idea features two different braids. One one image there is a neat and small braid and on the other there is a loose and pulled out braid. This just hows how braids can transform your look and can jazz up the same hairstyle. Braids like these will work on shorter hair too.
15. Mohawk Braid Top Knot for Short Hair
If you struggle to get all of your short hair in a braid, then you can try something like this. The hair has only been braided on the top of the head and the rest of the hair is loose. This is an easy to wear hairstyle that will suit all hair lengths. We love this look.
16. Elegant, Thin Braids for Short Hair
Next, we have an elegant look to show you. The hair has been beautifully curled and is a half-up style. It has been finished off with thin and subtle braids that are placed on top of the head and then meet in the middle. Hair like this will look amazing for a wedding or any other event where you want to look chic and glam.
17. Waterfall Braid
Waterfall braids are a beautiful way to style your hair. As you can see, the hair has an intricate pattern and looks delicate and elegant. There are so many tutorials online to help you achieve a waterfall braid like this one. With patience and practice, you can create stylish hair like this and dress it up or down to suit any occasion.
18. Pretty Braided Hairstyle for Short Hair
Earlier in the post we featured double side braids. Here is another way to wear that style. For this look two loose braids have been used and have been styled very close together. Even though there are two like the other hairstyle, you can see how different braids can create a different look.
19. Cute Braids for Short Hair
Our next idea is a trendy bun with braids. For this look the hair is very short, about chin length, and the hair has been styled into thin braids along top of the head. All the braids then meet into one small half-up bun. This is a cool and stylish hair idea that would be amazing for the summer and even the gym!
20. Two Cute & Simple Braids
Next, we have more cute double braids. This hair idea features two small single braids that have been styled next to each other. This kind of hairstyle makes the braids stand out and gives you a relaxed bohemian vibe. You could even accessorize little braids like these, maybe add a small feather for a festival look.
21. Trendy Crown Braid
Braids can also work on very short pixie hair. Just take a look at our next pick. This is a very short cut and it has been styled with a cute crown braid at the front. We love this one because the sleek side swept bangs give the hair a trendy look. This is a gorgeous hair idea that can be worn day or night, for any occasion.
22. Beach Waves and Braids
The next hairstyle we have to show you is this beachy look. For this, the hair has been beautifully waved and features two small braids that meet in the middle. Hair like this will be great for the summer but it can also be used for beach, boho and summer weddings. It would be amazing for bridesmaids.
23. Half French Braid
Last on our list of top picks is this half French braid. The hair has only been braided half way and the rest of the hair is left loose. This is a such and elegant and chic hair idea. It is great if you struggle to get all of the hair into a braid and it will look glam for any occasion. We love this hairstyle! You can try it with other braid styles too.
We hope you found some inspiration from our examples of braids for short hair.