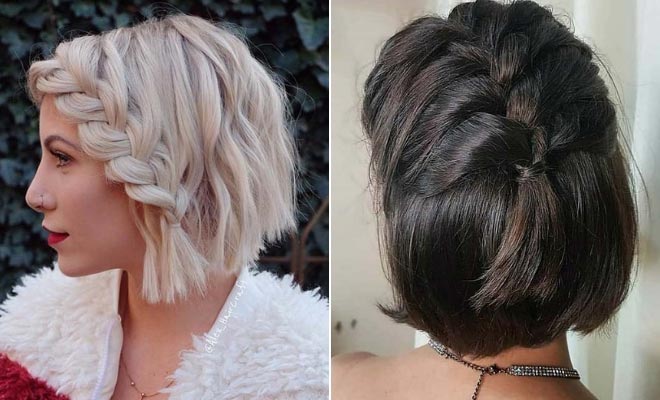 Instagram
Beauty
43 Quick and Easy Braids for Short Hair
By
|
When considering a trendy short cut, it may cross your mind about styling your new hair. You may wonder can I still have beautiful curls or stylish braids? We are here to say you absolutely can! There are so many stunning ways to style your short hair. One of our favorite ways is braids. Braids look amazing with short hair and to show you just how much, we have found 43 of the most gorgeous braids for short hair. There is something for everyone whether you want a new hairstyle or want to create a different look on the hair you already have. You will find glam hair ideas, beachy styles and more!
1. Stylish Side Braid for Short Hair
The first hair idea we have to show you is this stylish side braid. For this look the hair is quite short and some of the hair has been braided on the side to create a five strand braid. The five strand braids are harder to create but you can find tutorials online and the end result is worth it. If the five strand is too much, then try the classic braid and it will look just as trendy!
2. Two Dutch Braids
Many can be a little anxious about cutting their hair short as they worry that they can not create amazing styles in their hair anymore. One of the styles is braids like these. This is a classic and stylish look that is often seen on long hair. As you can see, the two Dutch braids look amazing on this hair length and you can even try it on shorter hair then featured, too. A hair idea like this is proof that you can still create gorgeous looks with your short hair.
3. Multi Braid Style
If you are looking for a hairstyle that is new, fresh and trendy, then this next pick is for you. Here we have a hairstyle that features two different types of braid. It is a half-up, half-down look with a loose braid along the side. At the end of the loose braid, there is a tight fishtail braid. This is such a creative and stylish idea. You can try and recreate this hair idea or use two different braids to create your own unique braided style.
4. Boho Waves and Braid
Love boho hair and beachy waves? Then this hairstyle is for you. This is another shorter hairstyle that shows how you can still create your well loved styles on short hair. The hair has been waved beautifully and has a loose side braid. A hairstyle like this can be dressed up or down. It would even look amazing for a wedding!
5. Double Side Braids for Short Hair
Instead of trying just one braid, why not try two?! Here is a great way to wear double braids. The hair is quite short and has been braided into two side braids. This is an easy to wear and stylish look. It will suit everyone and it can be worn anywhere from work to a night out.
6. Messy Braids on a Pixie Cut
Next we have a crown braid. Crown braids are a stylish choice and frame the face beautifully. Here is a gorgeous crown braid idea for short hair. We love this hairstyle it is so funky and cute. A braid like this will look amazing all year but especially so during the summer and festivals.
7. Chunky Dutch Braid
Looking for a way to jazz up your bob? Then this hairstyle is for you. This is a short bob with a chunky Dutch braid. It is a simple braid but it really glams up the style. You can recreate this look or you can use a braid of your choice. A fishtail braid would look gorgeous, too.
8. Glam, Half Up Braid for Short Hair
In need of a glam hairstyle for a special occasion? Then check out our next pick. This short hairstyle has a vintage vibe with half-up and volume on the top. There is also a beautiful side braid too. This is an elegant and pretty hairstyle. It would be amazing for date nights, weddings, proms and other special events.
9. Messy Short Hair + Subtle Side Braid
You do not need a chunky and large braid for it to make an impact. Maybe choose something subtler like this. The hair is longer on one side and is short on the other. There is also a small side braid too. This is a funky and trendy hairstyle that is perfect for letting out your inner rock chick!
10. Short Bob with French Lace Braid
Next, we have a gorgeous light blonde bob with a French lace braid. This kind of braid is styled at the front of the hair. It is a great braid for long bangs if you want to style them up, or if they are growing out. There are tutorials online to help you try this type of braid. We love this trendy look.