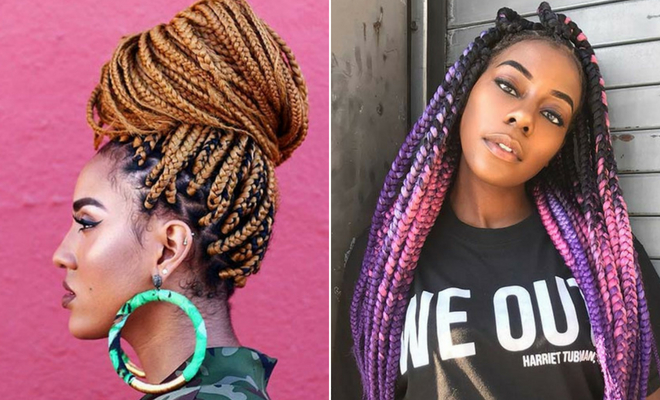 Instagram
Beauty
43 Pretty Box Braids with Color for Every Season
By
|
21. Blonde and Light Brown Box Braids
Next, we have a braid idea that uses blonde and light brown shades. Light browns and blondes compliment each other beautifully and will give a sunkissed and stylish finished look. We love these braids and this color idea would be amazing for the summer and for vacations.
22. Vibrant Blue Braids
Want a hairstyle that will wow? Then this next idea could be perfect. Here we have vibrant blue braids. The blue used in this look is very bright and bold. It is perfect for the ladies who want a complete hair makeover. A color like this will suit all braids in any length.
23. Pastel Pink and Purple Braids
Next on our list is this gorgeous pink and purple hair color idea. The colors used in this look are not as vibrant as some of the previous pink and purple hairstyles. These have more of a pastel tone. We love these colored braids as they remind us of mystical unicorns which are a big trend at the moment.
24. Bold Pink Braids
The next hair idea is pretty and pink. So, the braids are black and have pink color weaved into them. It is such a stylish color combination. Light pink like this is perfect for the spring and summer. Recreate this look or you can try a bolder and more vivid pink. Either way, your hair will look amazing.
25. Black and White Braids
Next, we have another amazing color combo. For this look, the braids are black but they have white color mixed into. It is such a cool and edgy hair idea and the black and white is stunning and statement making. A color combo like this will suit everyone and it will look great on any braided style.
26. Multi Color Hair
If you can't decide which bright color to use, then why not wear a few?! You could try a bright hairstyle like this one. As you can see, the hair has a mix of colors including purple, blue, orange and more. It is such a fun color combination and it is perfect for those who like to stand out from the crowd. The hair used for this style is Rastafri Unicorn Braids in Festival.
27. Unique Dark Yellow Braids
Maybe you are looking for a more unique color idea? If so, this hair idea is for you. Here we have long and beautiful braids that are a stylish yellow blonde shade. It is such a trendy idea and the overall style is very statement making. This hairstyle and braid color is great for the summer.
28. Blonde and Pink Hair Idea
Give your hair a bold makeover with ombre like this. For this look, the chunky braids start blonde and then the color changes to pink. It is a pretty and vibrant hairstyle and ombre is still one of the must-have looks too. Recreate something similar or you can use different pink and yellow shades.
29. Chunky Burgundy Braids
This next hair idea is another one of our favorites. Here we have burgundy braids. This dark red shade is stunning and it is perfect for those who want to try a new color without being too bold. This is an easy to wear style and color. Dark red is perfect for the fall and winter.
30. Black and Pink Ombre Braids
Next, we have another ombre style to show you. This time the braids are long. The braids start black and then change into a light pink color. This pink look is so cute, pretty and it is summery too. Hair like this is perfect for those who want a fun new style. Recreate this or try a different shade of pink.