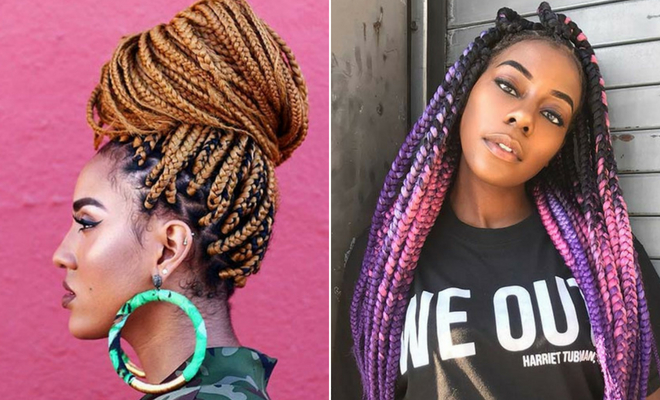 Instagram
Beauty
43 Pretty Box Braids with Color for Every Season
By
|
11. Blonde Ombre Box Braids
Our next idea is another ombre look. These box braids start off dark and then gradually turn into a light blonde. Blonde braids like this are gorgeous and will never be out of style. You can choose a light blonde like featured or go for a darker blonde. For a bold look choose a light, icy blonde.
12. Dark Red Box Braids
Looking for a trendy hair color? Then this red shade could be what you are looking for! The chunky, long braids have been created with a dark red tone. We love dark red because it always looks stylish and it will suit everyone. It is a great choice for anyone who wants to try red but not the bold and vibrant shades.
13. Big, Pink and Purple Box Braids
If you loved the pink and purple ombre from earlier in the post, then you need to see this next idea too! Instead of an ombre look these braids are just colored in pink and purple. As the braids are chunky it makes the colors really stand out. You can choose pink and purple or go for two other colors.
14. Blue Goddess Box Braids
Next, we have another multi tone idea. These braids are also blue but use different shades and they are styled in a different way. We love how the hair starts dark, blends into blue colors and then goes back to dark curls. It is a creative and unique idea that is perfect for someone who wants a vibrant hair makeover.
15. Red Copper Box Braids
Love copper colors? Then this next idea is for you. Here we have another way to wear copper but this shade has more of a red tone. This red gives the copper a bolder and more vibrant look. Hair like this is a great choice for the ladies who like bright braids.
16. Platinum Blonde Box Braids
Our next box braids have been created in a platinum blonde. Platinum blonde is a very light and bold color. It will give the braids a trendy and edgy vibe. You can choose any braid length with this color. As you can see, long braids look beautiful but you can also try short braids for a summery look.
17. Black to Blue Ombre Box Braids
Next, we have another gorgeous ombre look to show you. These braids start off in a dark color and turn into a bold blue. We love this blue tone because it is so vibrant and stylish. Hair like this would be perfect for the summer. The braids featured are quite chunky but blue ombre would look great with thinner braids too.
18. Silver Grey Box Braids
Silvery grey hair is very stylish. So, if you like to keep up with the latest trends then this could be the best hair color choice for you. As you can see, the braids in silver grey look edgy, unique and statement making. We love this hair color idea and it would suit any braid length.
19. Pretty Purple Braid Color Idea
Earlier in the post we featured a vibrant purple color idea. If you liked the purple but didn't like the brightness, this next idea could be for you. Here we have pretty box braids that are in a dark purple tone. With a dark shade like this, you still get the stylish color but it isn't as bold. We love this purple look, it would suit anyone across all ages.
20. Burgundy Box Braids Updo
Our next pick is another red hair color idea. The red used for these box braids is deep and has a beautiful wine like tone. A color like this one will suit any season, any age and any braid style. It is a hair color that will never go out of fashion.