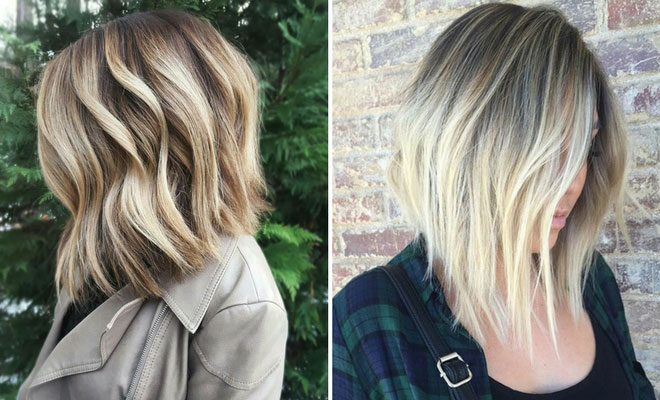 Instagram
Beauty
27 Chic Bob Hairstyles and Haircuts for 2017
By
|
11. Sandy Blonde Inverted Bob
One of the benefits to opting for these chic bob hairstyles and haircuts for 2017 is that you don't need to spend quite so much time maintaining your locks. Drying your hair will only take a fraction of the time when you don't need to worry about all the length … It might be about the right time to give your hair dryer a break. If you spend all your time using hated styling tools on your locks, they're going to suffer. While you have the benefit of a 20-minute all-natural hair-drying time, make the best possible use of it.
12. Caramel and Blonde Highlights
One of the first things you should learn when you opt for shorter looks like these chic bob hairstyles and haircuts for 2017 is that you need to give the styling products a break. Taking a step from heated styling tools is a great step, but stepping away from unnatural products entirely is a great way to put a spring back into your hair's step. If your hair could walk obviously … You won't need a lot of product for hair this short, and in some cases you might even find that you don't need any product at all. Give it a break and see what you could can achieve with some gentle tousling and air-drying. You'll be surprised at what magic may happen.
13. Curly, Cinnamon and Beige Blonde Balayage Bob
Most hairstylists would say that the bob is one of the easiest styles to both maintain and style at home. You just need to have the right products and tools to do it, and for the most part, it's none of the tools you would think you might need to use. For example, where you might have needed to use curling irons and some serious hairspray to create a curly look on long hair that would last the entire night, short hair only requires some finger-tousling and sea-salt / beach spray. Roots are instantly livened up with some upside hair-shaking because there isn't the length to weigh everything down, and in general, life is much easier. Doesn't shorter hair sound super attractive now?
14. Inverted & Asymmetrical
For when you're feeling modern and fresh, how about this inverted and asymmetrical bobbed look, one of the chic bob hairstyles and haircuts for 2017 we think means serious business? There's no hair to faff around with in the heat of the summer, which sounds like a really attractive prospect if we're being honest about things. We're loving those slightly lighter and brighter vibes towards the front and the face too. We just love it.
15. Short Choppy Bob + Blonde Highlights
One of the best things about these chic bob hairstyles and haircuts for 2017 is that they are all very versatile. You could opt for a more sleek and sophisticated look if you wanted to, combining wax or oil with your hair straighteners for a look that can hold its own. Alternatively you can opt for a messier and slightly more "un-done" look. Textured and wavy bobs for the win.
16. Cinnamon Red to Blonde
There are a lot of things to take into consideration when you opt for these chic bob hairstyles and haircuts for 2017, and one of those things is that your makeup bag might need to change. You're exposing more of your face than you would have done with your longer hair, and this may make you rethink a number of things. This is even more so the case if you are changing the colour or shade of your hair. You may find that your eyebrows no longer match.
17. Choppy Bob + Icy Blonde Ombre
You may find that you need a few more regular touch-ups with shorter hair than with longer hair, unless you leave it to take on a natural grow-out. This is definitely the case with bangs, which always seem to need cutting and trimming more often than the rest of your hair. The bob can be an easy and low-maintenance style, but in other respects it's quite a fussy and high-maintenance one too. It all depends on the kind of cut you opt for. Your hair stylist will be able to tell you the problems you are likely to encounter by going for the chop, if any.
18. Spicy, Textured Bob
Add some spice and texture to your chic bob hairstyles and haircuts for 2017 with a stacked bob – one that has shorter layers at the back and longer layers towards the front and face. Spicy highlights have been added, caramel and almost coppery-toned blondes in this case, and they look fabulous against that rich brunette shade. It's fun and fancy, and we just love it.
19. Blonde Lowlights
When you're talking about lowlights and dark hair, most hair stylists would suggest that more coppery and rose gold tones work best. You will get a hint of brassiness about the look if you're trying to go from a darker brunette to a lighter blonde, but this can work in your favour if you work things the right way. Adding ash blondes into the mix can help to counteract too much of the copper brassiness.
20. Chocolate Brown Bob & Golden Blonde Highlights
When it comes to adding highlights to your chic bob hairstyles and haircuts for 2017, do so naturally in the new balayage style that everyone is utterly obsessed with right now. To be fair, we're utterly obsessed too, and it's not very hard to understand why. Hand-painted balayage highlights add light to the places on your hair that the sun would naturally hit. This means that you have a beautiful natural sun-kissed glow about your locks, and on short hair especially, this can look absolutely stunning.