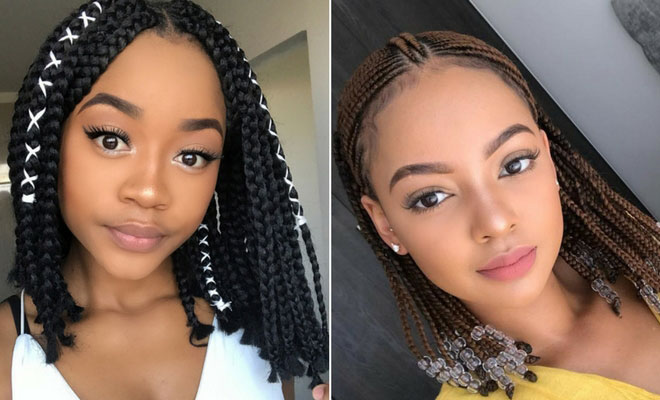 Instagram
Beauty
23 Trendy Bob Braids for African-American Women
By
|
11. Accessorized Braided Bobs
Do you have a special occasion coming up? Then consider an accessorized braided bob. This bob features a white, embellished accessory. Something like this would be perfect for a wedding, date night, night out and more. You could have any accessory, maybe a flower to give your hair a summery look.
12. Colorful Braids
Our next pick shows how stylish a bob can look with brightly colored braids. The braids have a bold blue color to them and are swept to the side. This combination is very stylish. You could recreate this with a similar color or a color that you love. Try and choose something that is different from black but also toned down to create a chic look.
13. Fulani Braided Bob
The great thing about braids is that you have a lot of freedom. You have the choice of thicknesses, colors and shape. A simple bob can have just straight braids however if you wanted something more unique you could have patterned braids like these. This style is called Fulani braids or tribal braids. We love this gorgeous, trendy look. You could try lots of different braid patterns.
14.  Dark Purple Braided Bob
Next up we have this trendy dark purple braided bob. The dark purple gives the braids a trendy and edgy vibe. A color like this is great if you want to try a bold color. A bob like this will suit every lady. Dark purple would look great with thinner braids too.
15. Red, Black and Gold Braids
Red braids look very trendy with black braids. The color combination works very well together as you can see in our next pick. These braids are super stylish and would look great as they are. This lady has stepped up her style game by adding some gold accessories. The combo of red, black and gold create a glam look so is perfect for anyone looking for a glamorous hairdo.
16. Short Braided Bob
Next, we have a short bob that sits just under the chin. This is another stylish example of how braided bobs can be longer at the front and shorter at the back. A hairstyle like this will give any girl a chic and glamorous look. Something like this would be perfect for any occasion from relaxed days to work to a special event like a wedding.
17. Honey Blonde Braids
Summer is here so you might be looking to give your hair a lift. You could go for something light like a honey blonde. This warm blonde looks beautiful with any skin tone. You could even step your style game and add some lighter braids just like the ones featured. A light bob like this is perfect for summer!
18. Bob Braids Wig
Not sure if bob braids will suit your face shape? No worries. Before committing to this style, you can rock a bob braids wig. This wig is from brand RastAfriBraid and goes by the name 'Stoney Braid Wig'. The braids look natural, right?
19. Side Part Bob
Our next pick is another awesome side part bob. This one features very thick braids that have been braided with two colors. The use of two colors creates a funky hairdo that will give any women a fresh new look. You could have any two colors in your braids so just have fun and choose the colors that you like best. Use vibrant rubber bands for an amazing summer 'do.
20. Half Up Bob
A bob can be styled in many ways. Our next braided look features thick braids. The thing that makes this style different is the simple clip that has been used. The clip has created a half up and half down look, the half up style looks beautiful in braids.
21. Medium Length Bob Braids
We don't know about you, but we are in love with these lovely braids. This medium length bob style will look gorgeous on any girl. A style like this would be great for the summer and will suit all ages. It is a versatile look that will keep you looking stylish for any occasion. If you're wondering what type of string is used on the braids – it's a sewing thread that's repeated a couple of time and that makes it stand out.
22. Layered Bob Braids
If you're a fan of layered hair, this next style could be for you. This one has longer and shorter braids that create a more voluminous look. It is just a simple and easy way to update your bob. Add some gold braid cuffs for a trendy look.
23. Fulani Braided Bob
Last on our list is this simple and stylish braided bob. As you can see, Fulani braids can be worn in endless ways, and this gorgeous bob is one of them. It is a very pretty and feminine style. Something like this will look beautiful on any girl. We love this braided bob and will definitely copy the style for summer!
We hope you have been inspired by our braided bobs!