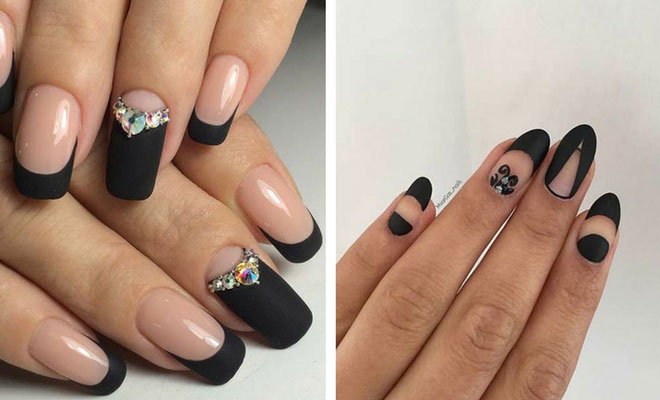 Instagram
Beauty
25 Edgy Black Nail Designs
By
|
11. Black Matte Nails with a Pop of Color
Summer colours look bright and fun on a matte black base. The vibrant colours instantly stand out and create a fun, bubbly design which everyone will love and envy.
12. Black French Tip + Rhinestone Accent Nail
Rhinestones will add the sparkle you need. Black nails can be a little harsh and dark for many people but we have come up with a solution.  Add rhinestones to one nail.  This way you will still have the dark side from the black nails but you will sparkle.  Make sure you add shiny black tips to the matte black nails for that extra touch.
13. Pop of White
If you're not feeling black nails, maybe you could add a little touch of white? This is perfect if you are wearing a white outfit.  You can team your outfit colour with your nails.
14. Matte Black Nails with Glossy Details
Wow… this is all we can say about these nails. These nails look detailed and so intricate.  Unbelievably, these nails aren't hard to achieve.  If you look closer, you can see that these nails are all based on a matte black base with added extras.  The extras are nail gems, shiny black nail polish designs and that's it!  This is simple to do yet so effective!
15. Zebra Accent Nail
Animal prints are great designs for nails. Zebra nails add that special something to your nails but in a subtle way.
16. Black Matte Nails + Lace Accent Nail
Do you want to create a softer matte black design? If you answered yes, this is the design for you.  Paint your nails matte black but keep an accent nail.  The accent nail will need to be painted a lighter contrast colour, for example an off white or ivory.  These colours work better with the black lace design.  If you aren't confident on your lace freehand skills, you can always buy a lace stencil which will have the same outcome.  Just remember to wait until your base coat is fully dry before you start on the lace.  To finish the look, add a few diamantes to your lace design.
17. Black Matte French Tip
Nude and black nails look divine. Nude base nails will show off your elegant and delicate side, whilst the matte black tips will create the intense side.  The accent nail is optional but we think it looks great.
18. Black French Tip Stiletto Nails
If you tend to have stiletto nails, maybe you could try this. This will show off your nails as well as the design.  By not painting all of your nails in a shiny black colour, you are drawing attention to the stiletto nails.
19. Half Moon Design
This works on short and long nails. Mixing matte and shiny black will show off your character and style.  Adding half-moon designs to your cuticles boost your nails and make them stand out.
20. Black Nails + White Marble Accent Nail
Accent nails will show off your design even more so. Having a contrasting accent nail looks fab!  Matte black stiletto nails with white marble accent nails look fierce.  This is screaming fashion and style.