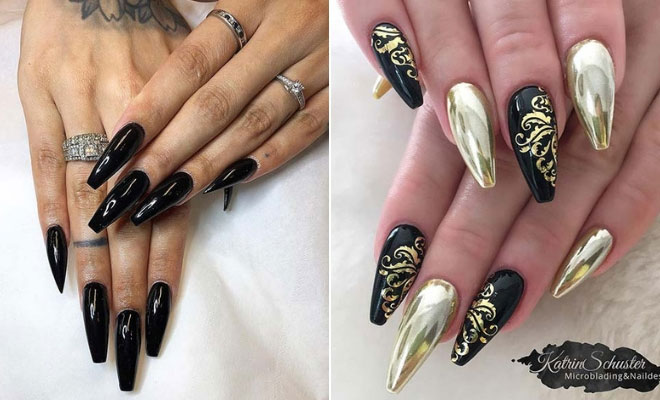 Instagram
Beauty
21 Bold and Edgy Black Coffin Nails
By
|
Black is one of the most popular nail colors. This is for many reasons but for us it is because it suits all nails shapes, all nail art and looks amazing for any occasion. Black looks especially gorgeous when paired with coffin nails. When you combine two must-have trends like this, you get one stylish manicure. With that said, we would like to share with you 21 of most beautiful black coffin nails and ideas. Our top picks are packed with glitter nails, ombre, marble art and more. So, take a look!
1. Black and Gold Coffin Nails
We want to start off with this glam nail idea. The coffin nails are glossy black with three gold nails on each hand. We love the gold because it is sparkly and stylish. There is also a hint of blue too. A nail design like this one will look amazing for special occasions, nights out and the holiday season.
2. Matte Black Coffin Nails
Next, we have these cool glossy and matte nails. All of the nails are matte black and each nail has a glossy V tip. This is such a creative and stylish way to combine the two looks. You can recreate this manicure or try glossy nails with matte tips.
3. Sparkly Black Nail Design
Black nail polish goes with any nail art. Here is a great example of how you can jazz up your black nails. These nails are all glossy with a stunning stripe and crystal. You can recreate this look with black polish and a holographic nail sheet. Just cut the sheet into strips and add it your nails. There are more in depth tutorials about nail sheets online.
4. Long Black Coffin Nails
Our next idea features a stylish, glossy set of nails. Most of the nails are a coffin shape but there is one nail on each hand that is a stiletto shape. By using one different shape you get an edgy and trendy look that is quite subtle. This is an easy to wear nail idea that will suit everyone.
5. Black and Glitter Coffin Nails
If you love the black glossy nails, then this idea is for you. These nails are glossy but there are other accent designs too. For this look a glitter and jelly nail has been included. The glitter is a grey tone and the jelly nail is black with a marble effect. We love this design because it combines a few of the latest nail trends. Recreate the whole look or try the black coffin nails with just one of the accent designs.
6. Black and Rainbow Shard Nails
Looking for bold and unique nails? Then check these out. For this look all of the nails are different. Some are black with rainbow shards, one nail has vibrant gems, one is glitter and the thumb nail is a bright blend of color. This is a trendy manicure and would be perfect for the ladies who like to stand out. The shards can be created with holographic nail sheets and you can try the whole look or just the black nails.
7. Black and Jelly Coffin Nails
Be glam with our next nail idea. These nails are black with two accent designs on each hand. One of the accent designs is gold and the other features a clear nail with sparkling crystals. Try and recreate the manicure or you can have a black nail with gems instead of the clear nail. A full gold nail would look amazing too.
8. Shimmery Black Coffin Nails with Crystals
Like nails with sparkle? Then these are for you. The nails are black with silver shimmer over the top. Each nail has been finished off with a crystal. These are so chic and stylish and would be perfect for a special occasion or night out. You could try this design as an accent nail with just black polish on the other nails.
9. Glossy and Matte Black Nails
Our next nail idea is another matte and glossy combination. For this look most of the nails are glossy with two matte nails. The matte accent nails are trendy and just jazz up the manicure without being too bold. We love these black coffin nails and they would look amazing on anyone!
10. Black Coffin Nails with Gold Chrome
Next, we have an elegant and on trend design to show you. These nails are gold chrome and glossy black. Some of the nails are all gold chrome and the rest are black with a stunning gold design. This mani is super stylish and will wow. You can recreate a similar look with silver chrome too.
11. Long Matte Nails
Love the matte and glossy looks? Then this idea is for you. For this one most of the nails are matte with one glossy nail. The glossy nail has a subtle shimmer over the top. This is a chic and gorgeous nail idea. It is classy but super stylish too.
12. Black and White Nails with Glitter
Our next idea is full of glitz and glamour. These nails are matte black with stylish accent nails. One of the accent nails has a silver stripe design and the rest are glitter. Two are black and silver ombre glitter while the other nail is black with silver glitter. We love this look, it would be perfect for NYE and the holiday season.
13. Black Matte Nails with Glitter
Next, we have another glittery look. These nails are matte with two shimmery accent nails. The glitter has a mermaid vibe it to because of the subtle shades. This is a beautiful manicure idea and you can recreate something similar with any glitter color.
14. Black Coffin Nails with Silver Art
Looking for nails that will wow? Then you need to check these out. All of the nails are glossy black but each one has a different design. The thumb nails is plain while the rest all have silver or gems. We love the crystal nails, especially the cuticle design, it is so stunning and stylish. You can buy gems online to create a similar look and you can try this design or add your own sparkling patterns.
15. Chic Black, White and Gold Nails
3D flowers look amazing on nails. Don't just take our word for it, check out this manicure. This look features matte black nails, white nails and a gold glitter accent nail. Most of the nails have gems and some have flowers. Flowers like these are easy to apply and can be bought online. Try the whole look or just the black nails with flowers of your choice.
16. Long Coffin Nails with Trendy Swirls
Our next nail idea is glam and trendy! Most of the nails are black but there is two accent nails. One accent nail has a marble look and the other has beautiful golden swirls. It reminds us of a Greek Goddess, so is perfect for the ladies who want to stand out, be noticed and look stylish.
17. Glitter and Matte Coffin Nails
If you need nails that sparkle in style, then this next look is for you. This manicure features matte nails, glossy nails and one glitter accent nail. We love the black nails as they have a silver stripe which jazzes up the color and creates a trendy look. A manicure like this is edgy but is elegant and chic too.
18. Black Coffin Nails with Rainbow Art
Add a splash of color to your look with nails like these! These nails are black with two rainbow accent nails. The rainbow art looks metallic and probably foils were used, but you can create a rainbow look using different colored polishes too, the dry brush technique would look amazing. Try colors like these or your own vibrant combination.
19. Trendy Silver and Black Coffin Nails
Give your nails a trendy makeover with a design like this. This manicure features black nails with silver foil accent nails. Silver foil looks so chic and stylish. You can find plenty of tutorials online to help you achieve the silver look and you can buy the nail foils online. Try the silver or go for glam gold. Either way, your nails will look fabulous.
20. Black Ombre Coffin Nails
As black goes with everything, you can really experiment and have fun with your nail art. Here is a great example. Here we have black nails with two accent designs. One is black ombre with gems and the other features silver, holographic discs. This is funky and stylish idea. Try this look or try a different ombre combination or try polka dots instead of the discs.
21. Black Coffin Acrylic Nails
The last idea we have to show you are these glam coffin nails. These gorgeous nails are black with marble and rhinestone accent nails. We love these nails because marble art and crystals are must-have looks and they compliment each other perfectly. You can recreate with any marble and crystal patterns and you can find marble tutorials online.
We hope you have found a stylish nail idea to try!