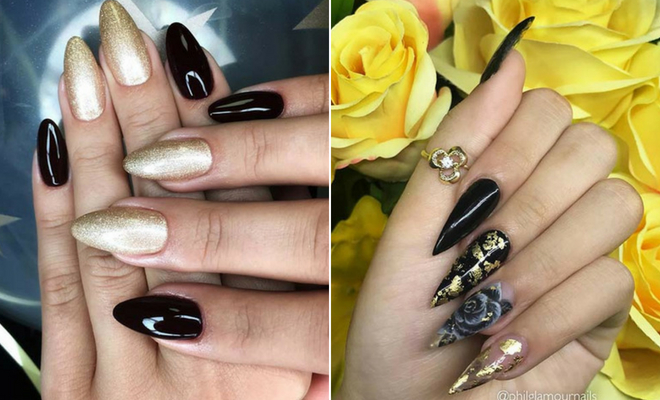 Instagram
Beauty
21 Beautiful Black and Gold Nail Designs
By
|
Looking for new nail art? Then you are in the right place! We have found 21 black and gold nails that you will love. Black and gold compliment each other beautifully and create glamorous nails. We love this color combination and think you will too. There is an idea for everyone, from stripes, glitter to stunning gold foil. Take a look, each design can be attempted at home or you can take the image to your nail salon.
1. Simple Black and Gold Nails
Our first nail idea is this gorgeous black manicure with two gold accent nails. This is an easy design to recreate and it will look stylish on any nail length and shape. You can choose similar nail polishes or maybe choose a matte black or gold glitter.
2. Black, Gold and White Nail Design
Black and gold is a chic combination. These colors look great with other shades too. Here we have a design idea that includes white polish. As you can see, the three colors create a gorgeous manicure. You can recreate a similar design like featured or you can take one design and mix up the colors or come up with your own. Maybe you can use the polka dots in stripes in just black and gold too.
3. Black Nails with a Flash of Gold
Next, we have a black manicure that has a flash of gold across each nail. We love this design idea because it is simple and stylish. You can create a similar look at home by painting a gold stripe on each nail with gold polish or to get a lighter finish, maybe try a spray on polish. Just make sure you cover up the black polish that you do not want to be gold.
4. Chic Black Nails with Gold Glitter
Cuticle nail designs are super trendy. Our next idea shows how to create this look with black and gold. The nails have been painted black with a sweep of gold on each cuticle. This is such a beautiful design idea. Nails like this would be perfect for a night out, party or other special event.
5. Black and Gold Stiletto Nails
We love this next nail idea! The long stiletto nails have been painted in matte black, gold glitter and a metallic shade that reminds us of mermaids. This combination is so stylish and chic. If you want to make a trendy statement then this is the manicure for you. You can also use glossy black and gold polish with no glitter to recreate a similar look.
6. Black Nails with Bling
Bling up your black manicure with a gold nail stud. The black nails featured have an accent nail with an animal stud. There are so many gold nail studs you can buy online, in any shape and design. A simple but glam look like this will suit any nail length and shape.
7. Black and Gold Chevron Nails
You can also add silver to your gold and black manicure. Here we have a chevron idea with black, gold and silver stripes. This is a fun and stylish design. The look was created with IsaDora nail polish in Silver Flakes, Gold Flakes and Dark truffles. Chevrons can be created with tape, but for this manicure a chevron stencil from Twinkled T was used.
8. Stylish Gold Nails with Black Accent Nail
Looking for a unique manicure? Then this next idea is for you! Here we have clear nails with a gold foil design, there is also a black matte accent nail. We love this idea because it is chic and statement making. You can recreate a similar look or take inspiration from the elements to create your own gold foil and black design. Glossy black can be used too.
9. Black and Gold Glitter Nails
Next, we have a cute black and gold idea. These nails are matte black with gold glitter designs. Some nails have gold cuticles, another nail has a gold heart and there is a gold accent nail. The heart is pretty and elegant. You can create the heart with a toothpick or stencil.
10. Matte Black and Gold Nails
Matte black nails look so chic and elegant. Here we have a stunning example of how you can pair matte black and gold together. These nails are long and black with two accent nails. The accent nails are black and frosted with a gold glitter design. You can recreate the frosted look with a grey polish and then put your black design over the top.