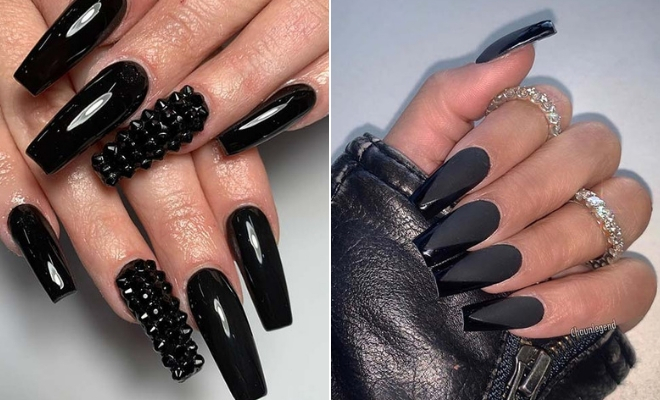 Instagram
Beauty
23 Black Acrylic Nails You Need to Try Immediately
By
|
11. Edgy Black Nails
We love this next nail idea, it looks so edgy and stylish! This mani features glossy and long black nails. There is also one accent nail that is embellished with black studs. The black studs look so fierce and glam. This is one of our favorite looks and you can buy black studs online. This design is best suited to longer nails.
12. Black Nails with Glitter Nail Art
Black is a dark color but if you prefer more shiny shades, then you could try a design like this one. For this look, some nails are matte black and some of the nails are covered in sparkly silver glitter. It is such a cool mani that gives you the best of both worlds. You get to wear chic black and trendy bright colors, too. Recreate a similar look or you can try your own black and bold design.
13. Matte Black Nails with Glossy Tips
The next nail design mixes two different nail textures together. Here we have long matte black nails. Each nail is also decorated with a glossy tip design. These are v tips because they have a v shape. As you can see, the different textures look amazing together. You can try a similar look or switch the textures. Have glossy nails with matte tips. Either way, your nails will wow everyone.
14. White Marble Nail Design
Next, we have another bold nail idea. These black acrylic nails are coffin shaped and they have three different nail designs. Some nails are glossy black, two are glitter black and there is also a popular marble nail design. We love the white marble effect because it really makes the black design pop. Try a similar look to this or opt for all black design. You can learn how to do the marble effect online.
15. Badass Nail Design
Love ombre nail designs? If so, you need to check out this next idea. The nails are either matte black, sparkly or ombre. There are two ombre designs that include black and silver and black and nude. It is a chic and glam mani that is perfect for a more special occasion. It would be great for Christmas and NYE. Try the whole look or use one design on all nails.
16. Elegant Flower Nail Art
Another nail design that looks beautiful with black is flowers. This next idea shows how to wear floral art in style. These nails are long and glossy black. The accent nails have a pop of nude and are decorated with sparkly rhinestones and white 3D flowers. We love the white flower, it looks so elegant with the black. Recreate this mani or use flowers on all nails. Flowers can be hand-painted or you can buy nail stickers.
17. Nude Nails with Black Tips and Rhinestones
Earlier in the post we shared a mani that featured nude nails with black tips. If you loved that idea, then you need to see this one too. For this look, the nails are nude with stylish black tips. Tiny rhinestones have also been added. As you can see, the added sparkle just makes the nails look extra glam. Create a similar look or you can use different tip shapes.
18. Super Glam Black Mani
The next nail idea is super glam! Most of the nails have a different design that includes glitter, matte color, rhinestones and more. It is a very bold and glitzy mani that would be perfect for parties and special occasions. Try a similar look or you can use just one of two of the designs on your nails. It can also be created on any longer or shorter nail shape.
19. Black to Red Ombre Nails
Red is another color that looks amazing with black. Don't just take our word for it, check out this next idea. These nails start black and then the color blends into a rich red shade. As you can see, the red and black look stunning together. This mani is perfect for the fall and winter. Dark reds are best for this so avoid the more vibrant shades.
20. Trendy Marble Art
Next, we have more trendy nail art to show you. Here we have black acrylic nails with a white marble design over the top. We love the light marble with the black color, it looks so chic. You can recreate this look or have the marble art as an accent nail. You can find easy to follow marble tutorials online.
21. Easy Black Acrylic Nails
If you want your nails to wow everyone, then choose a design like this. This easy yet stunning nail design features black glitter, matte black and glossy black shades. It such a glam and trendy idea. This is another mani that can be recreated or you can try one or two of the designs on all nails. We love this look, it will be amazing for any occasion.
22. Beautiful Mani with Black Roses
Looking for more unique and bold nail art? If so, this is for you. These nails are stilleto shaped. Some are nude and black, one nail is sparkly and the last nail is covered in 3D black roses. The roses looks stunning and they have a Gothic vibe. It is a gorgeous mani that will suit everyone.
23. Matte Black Nails with a Glossy Accent Nail
The last nail idea that we have to show you is edgy and trendy. For this look, the nails are long and a coffin shape. Most of the nails are matte and one is glossy. We love the different textures and this design really makes the nails stand out. Recreate this or try mostly glossy with one matte nail. Either design will look amazing on all nail lengths and shapes.
We hope you have been inspired by these black acrylic nails.