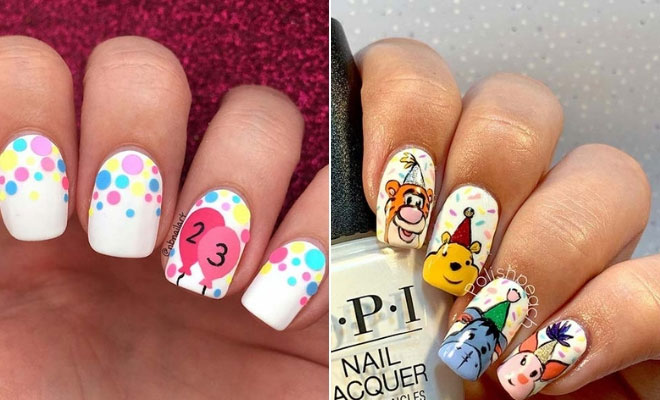 Instagram
Beauty
21 Super Cute Birthday Nails You Have to Try
By
|
11. Cute Birthday Nails
This next idea is one of our favorites because it is so fun and unique! Most of the nails have a different design which includes sprinkles, pink glitter and even bling so the nail looks like a disco ball. Nails like these are perfect for those who love to dance, party and enjoy sweet treats! Recreate the whole look or try just one or two of the designs.
12. Cute and Colorful Nails
Next, we have a cute and colorful nail idea to show you. For this look, all of the nails are light and each one is decorated with bright stripes. It reminds us of the birthday candle nail art that we featured earlier. So, it is great if you loved that idea too. This is a chic and pretty nail design that will suit everyone.
13. Glitzy and Glam Nail Idea
Want a manicure that makes you look glitzy and glamorous on your special day? If so, this idea could be perfect for you! Here we have coffin shaped nails that start nude and then change into a dark and sparkly pink towards the tips. It is a gorgeous and cute design that will look amazing for any birthday celebrations.
14. Nails Inspired By Your Birthday Month
Celebrate the month you were born with a nail design like this! Here we have December inspired nails. The nails are light with the word December elegantly wrote on three nails. There is also a cute cake design too. We think this would be perfect for December birthdays! You can recreate a similar look for any month just try to choose colors and designs associated with that time of year.
15. White Birthday Nails with Sprinkles
The next idea is another one perfect for those who love birthday cake and treats! These nails are painted white and feature a colorful sprinkle design. You can hand-paint the sprinkles with a thin brush so the art will be quite simple to recreate. This is a fun and cute look that will help you celebrate your birthday in style.
16. Birthday Nail Art with Balloons and the Age
Earlier in the post we featured a nail idea with balloons and the age. If you loved that idea, then you may like this one too. Here we have another birthday look with balloons. The nails are painted light blue and some of them have bunting nail art, one nail has balloons and the other nail has the age. All of this was hand-painted but you can by stencils online if you need to. You can check out what polishes were used to create the look on the page below.
17. Stylish Stars
Shine like the star you are with this next nail idea. Here we have nude nails and each one is decorated with colorful stars! Some stars are painted on the nails and some are like sequins. You can buy stars for your nails online and you can also buy stencils too. This is a fun and easy to wear look that will suit everyone.
18. Balloon Birthday Nails
Next, we have more bold balloon nail art. For this look, the nails are a light shade with colorful balloons. This is a fun and unique idea that is perfect for birthday celebrations. You can buy balloon stencils or you can hand-paint them. Recreate this or choose any colors that you like for the balloons.
19. Winnie the Pooh Nails with a Birthday Theme
This next idea is perfect for anyone who loves Winne the Pooh! Here we have light nails with confetti and each nail features a different character. All of the favorites are there from Tigger to Piglet. They are all wearing cute party hats too. This is such a unique idea! You can buy Winne the Pooh stencils and stickers online to help you recreate a similar look.
20. Pretty Pastel Birthday Nails
Love the glam nail ideas that will help you to celebrate your birthday in style? If so, you need to check out this manicure. These stylish stiletto nails are painted in beautiful pastel shades. We love this idea because the nails look so magical and pretty. You can keep the nails simple like this or add some gems. You could even add a unicorn horn design to so the nails have a mystical unicorn look.
21. Cute and Fun Ice Cream Nail Art
The last birthday nail idea that we have to show is another one with a sweet design. This time the nails are inspired by ice cream. Three of the nails are nude with pink drips and sprinkles. The other visible nail has an ice cream cone design. This is a cute and quirky nail idea that is perfect for anyone who loves birthday ice cream!
We hope you have been inspired by these birthday nails!