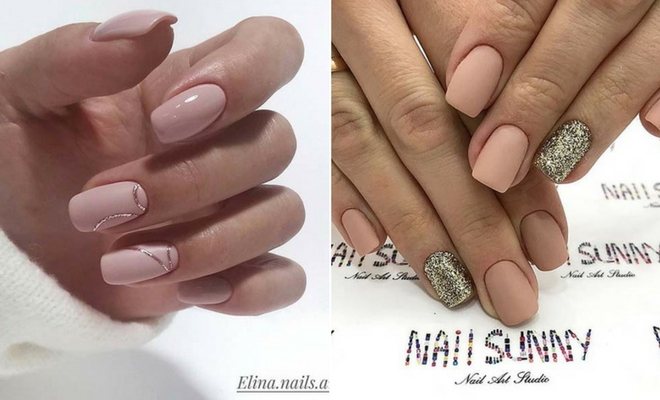 Instagram
Beauty
43 Beautiful Prom Nails for Your Big Night
By
|
21. Elegant Silver Glitter Nails
Our next prom nail idea features a natural nail polish with a light sprinkle of glitter over the top. This is a beautiful look that will suit anyone with any nail length. You can recreate this look with other glitter colors to. Maybe try silver and gold for a trendy mixed metal look.
22. Chic Nails with Rose Gold
Rose gold is a very popular color choice, especially for special occasions. Not only do these next nails have rose gold but also have a marbled effect. The two styles suit each perfectly. You can create a marble and rose gold design on each nail or add some other colors to like the manicure featured.
23. Iridescent and Rose Gold Nails
Next on our list are these iridescent nails. Iridescent nails have a color on them that changes when you look at them in different angles. This idea features color changing nails and has combined them with rose gold and pink. We love this stunning and creative design!
24. Beautiful Prom Nails with Sparkle
Next, we have a beautiful nail idea to show you. These nails are light pink with one crystal accent nail. The accent nail features lots of gems in different colors, shapes and sizes. You can buy rhinestones online and you can easily apply them with nail glue and a topcoat polish. Pink nail colors like this one can easily be found online too.
25. Matte and Chrome Nails
Chrome is a super stylish nail look and this next idea shows how to wear it in style! Our next pick features chrome and matte nail art. Most of the nails are rose gold chrome and matte black with one accent nail – a black matte nail with gorgeous rhinestones in matching chrome color. This is a beautiful and unique way to wear chrome. You can recreate the whole look in any color of your choice.
26. Elegant French Ombre Nails
Looking for elegant and trendy nails? Then this idea is for you. These long nails are French ombre with two accent designs. French ombre is stylish look that has the nude nail color and white tips like the French manicure but the colors are blended to create ombre. There are two accent nails with shiny rhinestones. These nails will be glam for the occasion, but will show off your unique style too.
27. Trendy Black Nails with Glitter and Marble
Black is an elegant color so it is perfect for your prom manicure. You can choose to have simple black nails or you can add stylish nail art just like this next look. This nail idea features glossy black nails with two accent designs. One of the accent nails has marble art while the other is covered in glitter. This is such a trendy look and you can find marble tutorials online. Recreate the whole look or just try the black with marble or glitter instead of both.
28. French Ombre with Rhinestones and Glitter
Our next idea is another French ombre look. The nails are long and coffin shaped with a beautiful ombre design. There is one accent nail to which is covered in stunning rhinestones. This is a glam look that is perfect for the prom! You can choose to have a similar design on coffin nails or choose a different nail shape. This would look gorgeous on shorter nails too.
29. Nude & Gold Glitter Nails
Look pretty in nude at the prom with nails like these! This manicure features light nude nails and two of the nails have a glitter design. This is a glam and cute look that's super easy to create.
30. Long White Nails with Rhinestones
White is a chic and elegant color so it would be a beautiful choice for the prom. These white nails are a stunning example of what you could wear. The nails are glossy white with a sparkly crystal accent nail. This is a gorgeous design that will give you a glitzy and glamorous look. White goes with any other color to so the nails will compliment your dress.