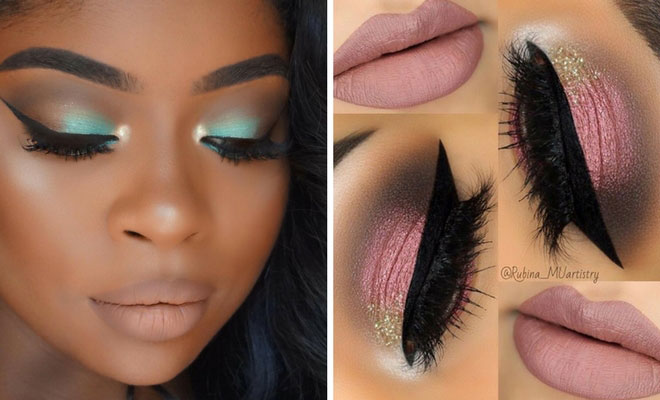 Instagram
Beauty
61 Insanely Beautiful Makeup Ideas for Prom
By
|
21. Soft Glittery Eye Makeup for Green Eyes
Alternatively, cool things down a touch with this more nude and natural shimmery eye look, just the slightest addition of a light peach tone along the lower lash line. You'll be amazed at how much difference that tiny flick of colour on the lower lash line can change the tone of your makeup, and when blended properly, can really soften any look.
Products used: ABH Modern Renaissance Palette – Warm Taupe (Crease), CoulourPop Cosmetics 'Nillionaire' (lid), and Tarte Clay Paint Eyeliner.
22. Orange Eye Makeup
Prom is a fun occasion so consider using bright makeup colors. Here we have a beautiful, orange makeup look. The orange shade is stunning and vibrant but it is also soft and romantic. It is the perfect idea for anyone who wants to look glam but show off their unique style too.
Products used: Huda Beauty Precious stones 'Topaz' Palette, Huda Beauty Overachiever Concealer, Motives Cosmetics LBD Gel Liner, Benefit Cosmetics Brow Pencil and Brow Gel, Mac Cosmetics Soft Ochre Paint Pot and Desio Eyes Lenses.
23. Romantic Red Prom Makeup Idea
Add some romance to your prom makeup by choosing a red color palette. Here is a stunning example. The eyes are a beautiful red color with a black eyeliner flick and the lips are a similar red shade. It is a pretty and statement making look that will definitely make you steal the spotlight!
Products used: Makeup Forever Official Ultra HD Foundation, Tarte Cosmetics Shape Tape Concealer, Mac Cosmetics Studio Fix Powder, Guerlain Terracotta Bronzer, Benefit Cosmetics Precisely, My Brow Pencils (Numbers 3 & 5), Anastasia Beverly Hills Clear Brow Gel, Violet Voss Pro Eyeshadow Palette, Aom Cosmetics Extreme Art Eyeliner Pen, The Balm Cosmetics Mr. Write (Now) Eyeliner – Brian (lower waterline), Maybelline Colossal Big Shot Mascara, Velour Lashes Official Silk Lashes and Girlactik Demure Matte Lip Paint.
24. Glam, Glittery Eyes
Prom is the perfect time to wear glitter! Sparkly makeup suits the special occasion perfectly and it will glam up your look. There are many ways to add glitter to your makeup and our next idea is a beautiful example. The eyes feature stunning sparkles with a black liner flick and long lashes. This is a chic and elegant idea that will look amazing on anyone!
Products used: Kylie Cosmetics Bronze Extended Palette, Heaven and Hannah Glitter in Paris, Milk Makeup Gel Liner and Lilly Lashes Sydney.
25. Vibrant Prom Makeup Idea
Next, we have another vibrant makeup idea to share with you. The eyes are a vibrant blue color and the lips are bright pink. This is a fun and bold idea that is perfect for the ladies who like to make a statement. A light blue shade like featured would look amazing in a dress too, so you can even color match your eye makeup to your dress.
Products used: Eyeris Beauty Athena Lashes, Motives Cosmetics Tiramisu, Bitter Chocolate & Creme Fresh Eyeshadows (crease & brow bone), Light Translucent Power & Setting Spray, Benefit Cosmetics Precisely My Brow Pencil & Gimme Brow (Number 5) & Ready Set Brow Gel, Hot Makeup Professional Hot Candy Eyeshadow in Mermaid Eyes, Nyx Cosmetics Black Gel Eyeliner & Black Matte Liquid Liner, Tarte Cosmetics Lights Camera Lashes Mascara, Urban Decay Cosmetics Heavy Metal Glitter Eyeliner and RoseMatter by Jeffree Star Cosmetics.
26. Black Sparkly Smokey Eyes
Love smokey eyes but want to glam the look up for the prom? Then check out this eye makeup! The eyes have a beautiful dark color blend with glitter over the top. It is a glitzy idea that will make you look like an elegant rock chick that is ready to party.
Products used: Kat Von D Smoke Eye Contour & Glimmer Palette, Metal Crush Highlighter, rxy Cosmetics Black star glitter, Marc Jacobs Beauty Iced Glitter Gel Crayon, Lilly Lashes Erika lashes and Benefit Cosmetics Precisely Brow Pencil 4&5.
27. Gold Glitter Eyes and Purple Lips
Make the most of the special occasion and choose makeup that you may not usually wear. It is the perfect time to try different looks like glitzy eye makeup and bold lip color. Here is a great example. The eyes are covered in gold glitter with an eyeliner flick and the lips are a stunning purple shade. This is a bold and stylish makeup look that will make you stand out from the crowd.
Products used: Huda Beauty Liquid Matte in Material Girl, Iconic London Sculpt & Boost Eyebrow Cushion in Deep, Anastasia Beverly Hills Soft Glam Palette, Violet Voss Don't Leaf Me Glitter, Fenty Beauty Flyliner Eyeliner, ilo cosmetics Becka Lashes and Doll 10 Beauty HydraLux Smoothing in Light Medium.
28. Bold Blue Eyeliner
Our next idea features bold blue eyeliner! The eyes have a neutral eyeshadow blend with a flash of blue on the lower lash line. This is a stunning idea because you look elegant but have a stylish splash of color to. Recreate this look or use an eyeliner on the lower lash line that color matches your dress.
Products used: Anastasia Beverly Hills Dipbrow Pomade in Dark Brown, ABH Amrezy Highlighter, Kylie Cosmetics Bronze Extended Eyeshadow Palette (citrine, quartz, hematite, bronzite), Huda Beauty Lashes in Farah, Mac Cosmetics Eye Kohl in Teddy and LA Girl Cosmetics Glide Eyeliner in Royal Blue.
29. Smokey Eyeliner Makeup Idea
If all the glitter and bright colors is not your thing, then check out this makeup idea. Here we have super stylish smokey winged eyes! With this look your eyes look smokey, trendy and unique. It is a simple and amazing look that will suit everyone. Pair with a nude lip color or go bold with a dark shade.
Products used: All products are SOSU by Suzanne Jackson and include: Hot Fire Palette, shades: Smoked, Copperlight, Embers and Naked, Highlighter Kit Palette, shade: Unicorn Dust and Vogue Lashes.
30. Pop of Purple
Next, we have another bright and beautiful makeup idea. The eyes have a neutral blend that turns light purple and there is a dark purple eye liner flick too. This is such a creative idea because a liquid lipstick was used to create the flick. A purple look like this will be stunning for the prom, it would look amazing with silver glitter too.
Products used: Anastasia Beverly Hills Norvina Palette, ABH Liquid Lipstick in Violet as eyeliner, Eylure Vegas Nay Lashes, Benefit Cosmetic Goof Proof Brow Pencil and Brow Gel.