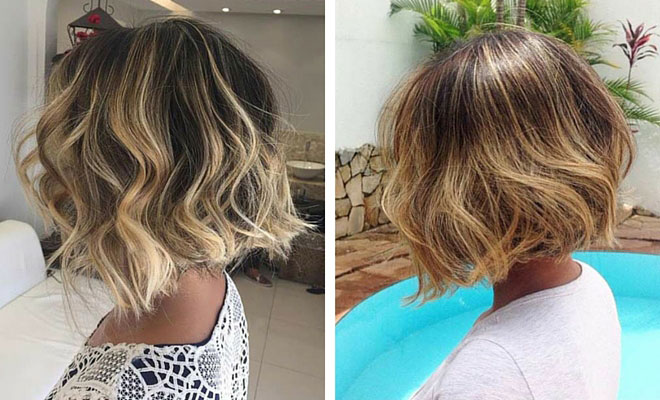 Instagram
Beauty
31 Cool Balayage Ideas for Short Hair
By
|
11. Choppy Light Brown Bob + Blonde Highlights
Hilary Duff recently lopped off her long blonde locks and opted for a short and simple balayage for short hair like this one. Play around a little with looks and accessories you wouldn't normally play around with and you'll have a good idea of how cute and girlie as well as sophisticated and classy these balayage ideas for short hair can look.
12. Ice Blonde Balayage Highlights
Even Khloe Kardashian went under the knife. Well, scissors really. Hers now falls to about shoulder-skimming length, and she's added some super blonde balayage highlights into the mix to summer things up. It's a great tip and one that has clearly been followed in this amazing look which obviously, we can't get enough of.
13. Bronde Bob with Front Blonde Highlights
If you've not heard of 'bronde', you've been living under a rock. No seriously… Where have you been? All the celebs have been rocking the bronde look – Jennifer Lopez, Chrissy Tiegen pre and post baby, Margot Robbie… Shall we go on? It's meant to look sun-kissed, like you've spent the summer at the beach and your dark brown hair has been bleached naturally by the sun while you've been having a whale of a time. We can all dream, right?
14. Caramel & Blonde Highlights
You can throw long hair up into a ponytail but even still, long hair is high maintenance. Short hair is much easier to maintain, usually just requiring a quick wash and blow-dry before you leave the house. Finger-tousled waves are very easy to create in the morning, and a little wax or product will see you right through the day. If it's a five minute style you're looking for, this caramel and blonde highlights on a short and choppy bob is definitely the right one to go for.
15. Blonde Balayage Bob + Dark Root
Who said roots were bad? We never said that, did you? In fact, those dark roots look pretty good in this blonde balayage bob and we're half tempted to go for the chop just because of it. Roots are a big thing this season, and it's a trend that's set to stay. It would be an awful shame to let that great convenience go to waste. Ten weeks between salon trips and counting…
16. Golden Caramel Highlights
If you have a nice collarbone, or delicate facial features, or you love the length of your neck, a short cut can be very flattering, especially if you opt for layers that frame the face too. When you have long hair, many of your most beautiful facial features are often overlooked, so it might be time to try a little something different to see if you can't find a new hairstyle you'll love a little more.
17. Blonde Balayage Lowlights
If you want a look that is super simple, why not this one? Natural hair but with the simple addition of blonde balayage highlights to switch the look around entirely. It's a beginner's way in, if you like, a beautifully easy and simple hairstyle that you could even do on your own at home (or with the help of a friend).
18. Blonde, Face-Framing Highlights
The lightest of highlights have been saved for the face-framing layers here and there's a good reason for that – it's light reflective and will therefore make your face appear brighter and bubblier. In short, it'll work wonders for your complexion. If you don't believe us, give it a try for yourself. Or take a look at celebrity photos and spot how many of them adopt the same trick.
19. Light Brown Lowlights on Dark Hair
The best thing about short hair is that you can totally rock bedhead hair – hair that looks as if it might have been slept in. You might have spent fifteen minutes styling your hair this morning or it might be the same hair you woke up with. No one would ever know but everyone's doing it and it looks super cool so it doesn't matter.
20. Lob Cut + Blonde Balayage Ombre
Jessica Alba is a big fan of bonding her natural brunette hair with bronde and blonde high and lowlights to create an ombre and balayage blend that every woman around the world lusts after. In fact, Jessica Alba also went for the chop with a cut that looks a little similar to this one. If it's good enough for the beautiful Hollywood actress, it's good enough for us… Right?