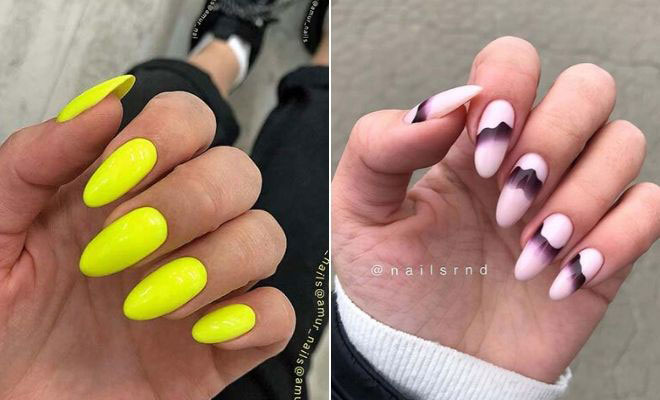 23 Creative Nail Designs for Almond Acrylic Nails
There are so many different nail shapes available. Some of the popular ones are stiletto and coffin. But one that is classy, easy to wear and stylish is almond. Almond nails are not pointy like stiletto but are not completely round either. They just have a beautiful balance of the two which creates an elegant shape that is not sharp so won't have your eye out. We have 23 amazing nail designs that would be perfect for almond acrylic nails. If you didn't love the nail shape before, you will after this. Take a look!
1. Matte Grey Almond Acrylic Nails
The first nail idea is so trendy and chic. Here we have almond nails that are painted in a matte grey shade. We love this color because it is so easy to wear and it can be dressed up or down to suit any occasion. Keep it simple like this or you can add rhinestones or glitter for a more bold and glitzy look.
2. Chic Floral Nail Art
Next, we have a cute nail idea to show you. These almond acrylic nails are glossy nude with black and white flower art. These flowers look so stylish and pretty. This mani is perfect for the summer. You can find tutorials for flower art online or you can use flower stickers. Any color flowers will look amazing with a nude base.
3. Neon Yellow Nails
Neon nails have become a must-have look and here is how to wear one of the bright colors in style. Here we have neon yellow almond acrylic nails. These nails are so fun and bright and the color is perfect for the summer and festivals. Try a similar look or you can use any neon shade. You could even try a few colors for one mani.
4. Elegant Nail Idea
The next nail idea is so elegant! These nails are a long almond shape and are painted in a soft and light pink shade. This mani is stunning and it can be glammed up or down to suit any occasion. You can wear these nails every day or for a special event such as a wedding or the prom. If these are too long, you can opt for a shorter version.
5. Glam Acrylic Almond Nails
Glam up your nails with a design like this one. Here we have light nails with a soft and subtle marble effect. Each nail is also jazzed up with gold foil. The marble art looks stunning with the gold foil. Mani-Q Sheer Pink 101, Gold Foil, Mission Control Fizz, Mani-Q Top Coat, YN Micro Detailer Brush and the Gel Sculptor brush were used to create this mani and you can see a tutorial on the nail artist's page.
6. Glitzy Marble and Ombre Mani
If you do like the marble art, then you should check out this mani too. This design is a little bolder. Two nails have pink ombre, one nail is sparkly pink and the last has beautiful pink marble art. The nail art is trendy and the glitter adds glam. This is a fun nail idea that will be perfect for the summer.
7. Summery Nail Art
Speaking of summer, next we have a summery nail idea to show you. For this look, most of the nails are either bright yellow, white or nude. There are also two accent nails using these colors with an added black botanical design. It is a stunning mani and it looks so fresh and vibrant ready for the summer. You can change up the colors for this mani to suit any season.
8. Unique and Trendy Nail Art
This next nail design is so trendy and quite unique. Here we have light pink almond nails with a purple design in the center. It almost looks like ink so it is a very creative and artistic design. If you are looking for statement making nails that are unusual, then this mani is for you. You can recreate the design in any color.
9. Cute Pink Bunny Nail Design
We love this next nail idea, it is so cute! For this look, some nails are pink and one is white with sparkly bunny ears. The colors and bunny art are perfect for the spring. This would be a fun Easter mani. You can find nail art tutorials that show you how create bunny ears online. The ears can be created in any color and they can be created in gloss or matte polish.
10. Trendy Almond Acrylic Nails
Next, we have more trendy art to show you. These nails are all light with different art on each nail. There are trendy geometric shapes and stripes. We love the color palette used in this, the black and white look so chic. You can hand-paint shapes like these or use stencils.
11. Glam Matte Black Nails
The next nail idea is so glam! This mani features matte black nails. All of them are plain except for two. The two accent nails are decorated with a large rhinestone or a gold chain. We love the accessories and the color is stunning. This mani is a must-have for a party or night out.
12. Leopard and Check Nail Art
If you like to wear cute and stylish nail art, then this idea is for you. Two nails are a matte shade and the other nails have two trendy patterns. One nail is covered in leopard print and one has a black and white check pattern. Recreate the whole the mani or you can try one or two designs on all nails. You can find tutorials for the nail art on the page below.
13. Pretty Almond Acrylic Nails
These almond acrylic nails are so pretty! For this look, each nail is painted in a different light and stylish shade. Two nails are decorated with rhinestones too. The colors are beautiful and all compliment each other while the rhinestones add glamour. It is a fun and bright look that is perfect for the spring and summer.
14. White and Pink Mani
Love pink? If so, check out this nail idea. Here we have long almond acrylic nails. Half of each nail is white and the half towards the tips has bright nail art. The nail art includes check patterns and flowers. It is a gorgeous mani and it is so pretty. You can recreate this or try the nail art in a different color. A yellow version would be so summery!
15. Striped Nail Art
Next, we have a cool and trendy mani. Each nail is matte nude and each one has a striped pattern. The striped art features one black stripe with a colorful one. This is a fun and stylish design. You can recreate a similar look with a stencil or nail tape and there are tutorials for stripe nails online.
16. Cute and Colorful Nails
The next nail idea is so colorful and fun! For this look, some of the almond nails are blue and two have rainbow style art. The nails have rings of vibrant colors. This is a gorgeous nail design and it will be perfect for the summer and festivals. You can hand-paint this pattern or use a stencil and it can be recreated in any color of your choice.
17. Edgy Skeleton Nail Art
Give your nails an edge with nail art like this. The nails are black and each one is adorned with different skeleton patterns. This is a trendy and fun nail idea. You can buy skeleton nail stickers for your nails online. This mani will be great for Halloween or if you love spooky things all year round.
18. Bold Bright Almond Acrylic Nails
If you love bright and bold colors, then this mani is for you. Each almond nail is covered in a vibrant coral color with gorgeous nail art on one of the nails. The nail art, vivid color and gold foil look stunning together. You can buy gold foils online to recreate the look or the coral on its own would look amazing too.
19. Classic French Mani
Maybe all the bright colors and trendy art is not for you? Looking for something more chic and classic? If so, check this out. Here we have pretty almond acrylic nails and each one has elegant French tips. This is a gorgeous mani and it will suit everyone. It can be glammed up or down to suit any occasion.
20. Stylish Red Nails
This next nail idea is another one of our favorites. All of the nails are a classic bright red and each one has a foil effect. We love the red and it just looks amazing with this nail shape. You can use any red shade. Brighter reds are better for the spring and summer while the darker richer tones are great for the fall and winter.
21. Smokey Nail Art
Next, we have another unique and trendy look to show you. This time the nails on one hand are all light and simple. While the other hand uses the same color but there is also bright smokey style nail art. It is a stunning design and the colors look amazing together. You can recreate this magical mani in any color.
22. Wild Leopard Nails
Give your nails a wild makeover with a leopard design like this one. The nails are nude with orange ombre tips. Each nail also has black leopard print art. Leopard print is quite simple to create. You can paint the pattern with thin brush or you can use a stencil or nail pen. There are tutorials online that can show you.
23. Geometric Tips
The last nail idea is trendy and chic. For this look, the nails are a shorter almond length. These nails are nude with added geometric shapes towards the tips. You can create this pattern with nail tape as a guide. We love the colors because they are stylish and classy but you can use brighter colors for a bolder mani.
We hope you love these almond acrylic nails and have found a stylish design to try!