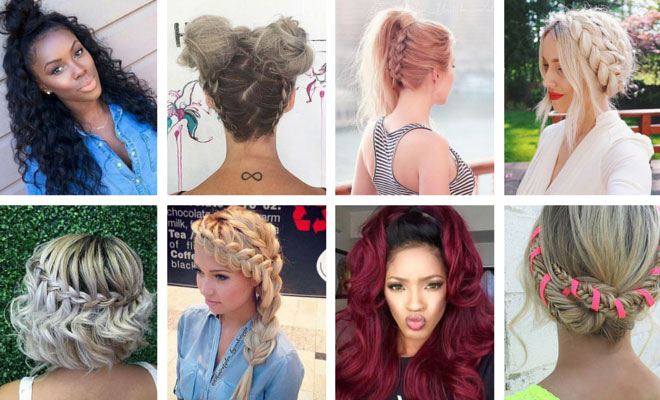 Beauty
50 Incredibly Cute Hairstyles for Every Occasion
By
|
41. Ponytail Half Updo
This half up ponytail will keep your hair out of your face and amp up your everyday look. The style works on any hair length. It's so simple and perfect for busy mornings.
42. Simple, Messy High Ponytail
If you love texture and high volume, this messy high ponytail is for you. A teasing comb and a texturizing spray are must-haves for this look.
43. Fishtail Braids Crown
A few spritz's of  dry shampoo or texturizing spray can give you volume and texture in no time! Fishtail braid two sections from the front, pull them back, and pin.
44. Hair Bow Half Updo
Is there a cuter way to style your hair than this? We don't think so. Start by doing a classic half up, half down ponytail but don't pull the hair all the way through an elastic, just create a loop. Split the loop into two sections.  Spread each section and secure with bobby pins. The last step is to create the middle part of your hair bow. Create an opening between those two little puffs, grab the remained hair of your half ponytail, and pull it through the bottom. Secure with bobby pins.
45. Accent Dutch Braid
When your bangs don't cooperate – braid them!  Big and messy Dutch braids are a huge hit this year. This style will keep your bangs out of your face and give you an angelic look!
46. Fishtail Half Updo
Loosely fishtail braid the top section of you hair to get this lovely half updo. You can also recreate it with a French (picture #16) or Dutch braid.
47. Bun Updo + Fresh Flowers
Redheads don't even need a hairstyle – their hair is already beautiful on its own. For days when you want your hair up, we recommend this messy but super romantic bun.
48. Fishtail & French Milkmaid Braid
Unleash your inner hair stylist with this stunning updo. The style is soft and trendy – and, best of all, super-easy to recreate.
49. Kinky Curls + Medium Hair
Are you tired of your straight boring hair? Get tight, kinky and natural-looking curls using a curling wand ranging from 13 mm – 19 mm. Women with medium length hair can achieve this playful hairstyle in less than 15 minutes! Crazy!
50. Headband Updo Tutorial for Medium Hair
Here's another cute hairstyle for a medium length hair. This one is super elegant and super easy to do. A tight headband is the only thing you need to recreate it. Follow the steps above and let us know how you like it!