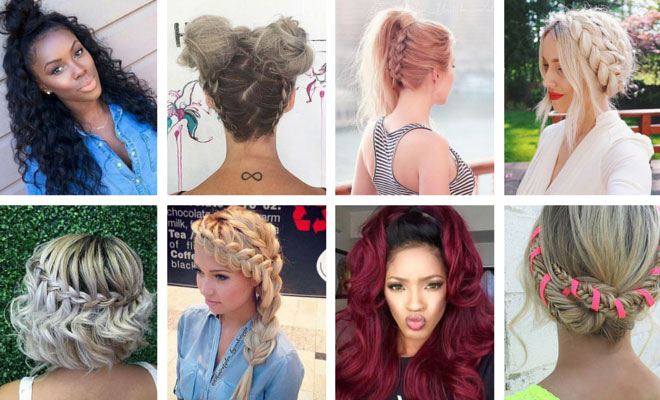 Beauty
50 Incredibly Cute Hairstyles for Every Occasion
By
|
31. Twisted Faux French Braid
This chunky twisted braid with butterflies is sure to amaze everyone. The look is so girly and unique. For special occasions, you can replace the colorful butterflies with rhinestone or pearl bobby pins.
32. Curls + Braids Half Updo
Curls and braids are a must-try pairing. This style looks like you've put a lot of effort into it but it's really simple to master. Also, the look is a great way to disguise greasy strands. The first thing you want to do is part your hair on the side. Next grab a section of hair and start braiding towards the back of your head. Secure the braid then curl the rest of your hair.
33. Braided Half Updo
Braided hairstyles are our favorite – so simple and cute! This style is for women with long hair. Create a French braid on each side of your head and one in the back of your head. Gather the braids together and you'll have an angelic half updo!
34. Fishtail Braid Half Updo
You can start with your hair in any texture – straight, wavy or curly. Separate out the top section of your hair and gently tease for volume. Split the hair into two equal sections and create a fishtail braid. Finish the look with a cute bow.
35. French Braid Hairstyle for Long Hair
Go simple with a long French braid! For this look – the longer the hair, the better. To achieve the style, loosely French braid hair in the back. For maximum volume, apply a volumizing spray and tease the crown area.
36. Braided Top Knot Half Updo
The first step is to section of the hair, split it into three strands and begin a Dutch braid. Secure the braid with a hair elastic and create a small, messy bun. To create these romantic curls, use a big curling wand. Finish the look with a hairspray.
37. High Ponytail + Braid + Scarf
Here's another cute hair idea for those who can't chose between a ponytail and a braid. To amp up the look, wrap a headscarf up into a headband.
38. Twisted Half Updo
To achieve this salon-quality hairstyle at home, you only need a couple of hair elastics. To create the look, start off by teasing the crown to create thicker-looking hair. Next, take a section of hair at the front of  your head and twist it backwards away from your face. Repeat on the opposite side and secure the twists together with a hair elastic. Twist until you run out of hair.
39. Waterfall Braid + Short Hair
If your hair is too short to style, give this waterfall braid a try! Braids look great at every hair length.
40. Curls + Flower Wreath
A 2-inch curling iron will do the trick for curls like these. For an ultimate boho-chic look, dress up your effortless curls with a flower crown. This unique hair accessory will make you feel like a fairy tale princess!