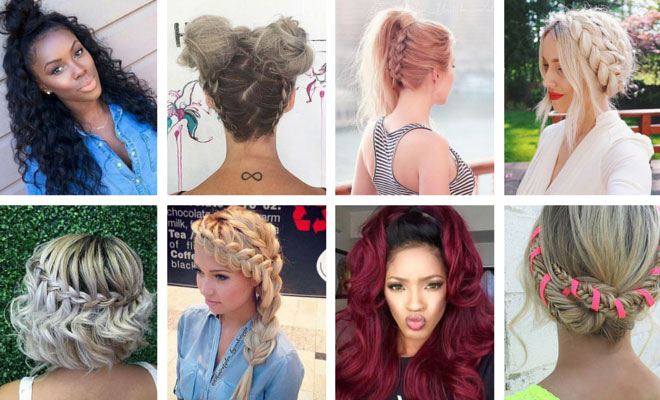 Beauty
50 Incredibly Cute Hairstyles for Every Occasion
By
|
11. Pull-Through Braid Half Updo
Wondering what to do with your hair? This braided half updo is a must-try. Here's how you can recreate this look –  Begin by creating a half up, half down ponytail. Secure it with an elastic. Put another elastic a couple inches down from the first ponytail base. Create a hole between those two bases, take a section of hair below that and pull it through the hole. Again, secure with an elastic. Repeat until you get the desired length. Wrap the ponytail base with a one-inch section of hair to hide it. Finish the look by pulling the braid apart to make it bigger and thicker.
12. Half Up, Half Down Ponytail
Half up, half down ponytail is one of the easiest hairstyles you can do in 5 minutes. To get this big voluminous look, prep hair with a texturizing spray and curl it with a 2″ curling iron. When the hair has cooled, gently brush out the curls.
13. Messy Fishtail Braid Pigtails
There is no cuter hairstyle than pigtails! The look is so simple, anyone can recreate it. The key to pulling of pigtails with confidence? Keep them messy, wear them low, and always leave loose strands in front to frame your face. Pigtails look even more chic when you cover the elastic with  a section of hair.
14. Twisted Low Ponytail
A low ponytail won't ever look basic if you add a bobby pin design to it. This season is all about exposing bobby pins and trying different designs, like a triangle, or chevron pattern.  You can also play with different colored pins — if you don't have any, you can easily color them using a nail polish. Great idea, right?
15. Messy High Ponytail + Braids
Put some sass in your ponytail with loose, messy braids. Start by braiding a small section of hair at the front part of your hairline. The braid will create a headband effect. Then create a high ponytail and braid the tail loosely. Pull out a few wispy pieces at the front to frame the face.
16. French Braid Half Updo
Soon enough, this half updo will become your favorite 'running late' look. This is one of those easy hairstyles that you can actually do in three minutes. A fishtail half updo with soft waves would be another cute hair idea that you can try. Play with different braid styles and textures.
17. Fishtail Half Crown
This fishtail crown look can really make a plain outfit into something special. The style works for medium-length to long hair. To re-create it, braid a small section of hair on each side of your head, then secure the braids together with an elastic at the center in the back.
18. Upside Down Braid Bun
Here's another 'upside-down braid' style that has a romantic feel to it. Surprisingly, this updo is easy to create. For this style, you will need a bun maker, few bobby pins and a hair band.  Flip your head upside down, take three small sections of the hair along the nape of your neck and begin to Dutch braid. Secure with a hair band. Next, leave a strand of hair out from the ponytail and slide a bun maker over the bigger section of the ponytail.  Evenly spread the hair over the bun maker. Split that bottom strand of the hair into two sections, take one section from the top and start making a braid. Your arms might get tired while doing this on yourself so make sure to take small breaks.
19. Waterfall Braid Half Up Crown
Don't you just love this waterfall crown? It looks stunning but slightly complicated. Make sure to check Missy Sue's blog or Youtube channel for the tutorial on this look.
20. Messy Top Knot
Messy top knots are one of the most easiest and cutest hairstyles. They are very versatile. An oversized flower or floral headband would instantly transform this updo into a boho-chic look and make it even more beautiful. If you opt for this look, make sure your hair is freshly washed.