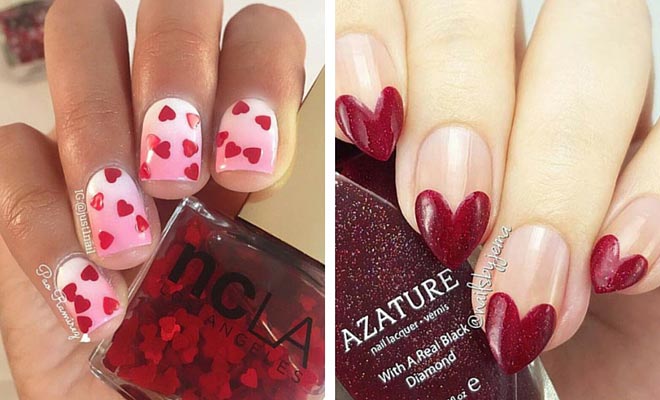 Instagram
Beauty
35 Cute Valentine's Day Nail Art Designs
By
|
21. Red & Gold Look
This nail design is sure to make you swoon! Red and gold are classic Valentine's Day colors.
Products used: Polish M 'Autumn's Palette' and OPI 'Paint My Moji-toes Red'.
22. Negative Space Nails
Keep things simple and subtle with this light pink mani.
Products used: Tuesday in Love 'Cotton Candy' + Top Coat.
23. Easy & Cute Design
The negative space heart is a beautiful and subtle touch. Make your pink mani pop with a touch of sparkly silver.
Products used: Kiara Sky 'Rag Doll' and 'Sterling'.
24. Pink, Grey & White Design
We absolutely love the variety that's going on each nail here. The stripes, the hearts, the simple XOX nail – they all combine to make the perfect mani for Valentine's Day.
Products used: Barielle 'U-Concrete-Me' and Sinful Colors 'Soul Matte'.
25. Sparkly & Colorful Nails
Apply two coats of light pink polish for a cute background and let it dry. Top it off with a glittery shade. Paint on colorful hearts using a thin brush and -voilà!
26. Adorable & Easy
In hurry? Add hearts to a couple of fingers instead of all five. The light pink shade is Cuccio Colour 'Pinky Swear'.
27. Colorful Hearts Accent Nail
Colorful hearts – you could put them on every nail, just a few, or only on one (accent) nail. Either way, it will look super cute on Valentine's Day.
Products used: Lime Crime 'Parfait Day'.
28. Cute Heart Design
Paint your nails baby pink and let the polish totally dry. Draw hearts using a thin brush and dark pink polish, and bicycle using a black polish or acrylic paint. Top the hearts with one coat of a sequin nail polish.
Products used: Zoya 'Dot' + acrylic paint
29. Bright Ombre Heart Nails
You don't have to go to a nail salon to get this gorgeous look!
30. Easy Heart Nail Design
To get this cute manicure, paint two coats of dark nude polish and let it dry. Add sparkly polka dots using a dotting tool. Next, draw a big red heart on the accent nail and few small ones on the other nails to make the design Valentine's Day appropriate.
Products used: Models Own 'Pink Fizz' and 'Vintage Pink'.
31. Fun & Colorful
Paint your nails white and let them dry. Using a thin brush, paint green, blue, orange, pink, yellow and purple hearts and dots.
Products used: Barry M 'Cotton + Speedy Quick Dry Nail Paint (for the colorful hearts).
32. Simple Red Nail Design
All you have to do is paint your nails red and place a gold heart necklace on your middle finger nail. We are in love with this simple design!
Products used: Sinful Colors 'Gogo Girl' and Revlon 'Confident'.
33. Cute Design for Short Nails
Apply two coats of your favorite pink polish and let it dry. Top your pink nails with the ncLA 'Heart Attack' nail polish. Yes, it's that simple!
34. Dark Design
Polka dots make everything more fun so you definitely can't go wrong with adding a few for your Valentine's Day nails. If you don't like the dark shade, you could also do white or nude color.
35. Red & Silver Heart Toe Design
Celebrate the season of love with this cute Valentine's Day toe nail design.