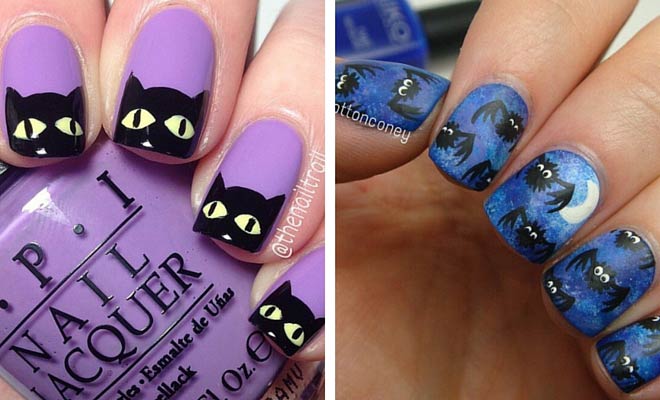 Beauty
35 Cute and Spooky Nail Art Ideas for Halloween
By
|
21. Simple Blood Dripping Nails
To recreate this nail design, you will need: a white nail polish, a red nail polish and a handful of wooden toothpicks.
22. Scary Pumpkins
Spook up your nails with these scary pumpkins! We love the expressions.
23. Cute Design
This nail design is a great choice for those who can't choose between spiders and ghosts.
24. Black & Purple Spider Design
If you're looking for a manicure that's cute and easy to do, then this one is for you!
25. Brain Nail Design
This design might look gross to most people, but we think it's pretty cool and fun.
26. Cool Black & Orange Design
Who says Halloween nails can't be bright and playful, too?
27. Ombre Candy Corn Nails
Fun and subtle way to show off your Halloween spirit without being too over the top!
28. Gory Blood Nails
Want to creep out your friends and family? Update a basic french manicure with fake blood.
29. Black & Orange Jack O'lantern Design
A black and orange manicure is the best way to get in the spooky spirit for Halloween, right?
30. Orange Jack O'lantern Nails
Transform your nails into cheeky Jack-o'-lanterns using only two products – an orange nail polish and black acrylic paint. The base nail polish is Ulta3 "Atomic OJ".
31. Ghosts in the Night
This nail design is absolutely spooktacular!
32. Stripes + Dripping Blood Nails
Try your hand at these striped, Beetlejuice nails!
33. Jack O'Lantern Accent Nail
Take your classic manicure to a whole new level with a cute Jack-o'-lantern accent nail.
34. Easy Spider Web Nails
Even a nail art newbie can re-create this simple look!
35. Candy Corn Design
Another cute design for all candy corn addicts!