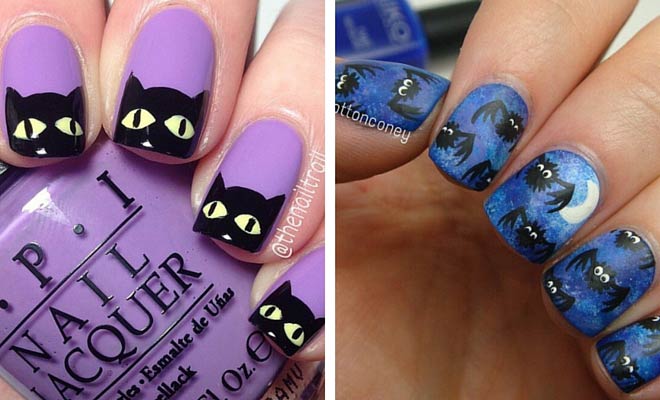 Beauty
35 Cute and Spooky Nail Art Ideas for Halloween
By
|
11. Ghosts – Boo!
Update your dark glitter nails with a few white ghosts. Boo! Products used: OPI "Swimsuit…Nailed It", L.A. Girl Rockstar "Groupie" and Ulta3 "Black Satin". Ghosts were done with acrylic paint.
12. Jack & Sally Nails
Not all Halloween nail designs have to be all about ghosts, spiders and pumpkins.
13. Cute Pumpkins
Products used: Revlon "Lime Basil", Orly "Mayhem Mentality", and L'Oreal "The Queen's Ambition". Start by applying a black glitter base coat. Next, add pumpkins using a medium sized dotting tool and let them dry. Apply stems with a detail brush and finish with a top coat.
14. Jason Voorhees + Blood Splatter
Halloween isn't Halloween without 'Friday the 13th' movie. Give your blood-splatter nails a creepy upgrade with a Jason Voorhees mask. Products used: OPI "Cinnamon Sweet", "My Boyfriend Scales Walls" and "Alpine Snow".
15. Bleeding Eyes
Long, matte, and oh-so-spooky – this manicure has it all! The base color is OPI "Don't Pretzel My Buttons". Tutorial for this look is here.
16. RIP Matte Nails
We like to think that Morticia Addams would definitely rock this manicure.
17. 'Crime Scene' Nails
This Halloween, turn your nails into a crime scene!
18. Vampire Nail Design
Products used: Madam Glam "Red Dress", Loaded Lacquer "No Shirt" and Loaded Lacquer "Cuts Like a Knife".
19. Textured Candy Corn Nails
If candy corn is your favorite Halloween treat, make sure to give this nail design a try! It looks so real, we almost want to eat it.
20. Black & White Matte Design
Paint each nail a different Halloween staple: one spooky skull, one black cats, one bones, and one bats. Top it off with a matte top coat for a cool, shine-free finish.