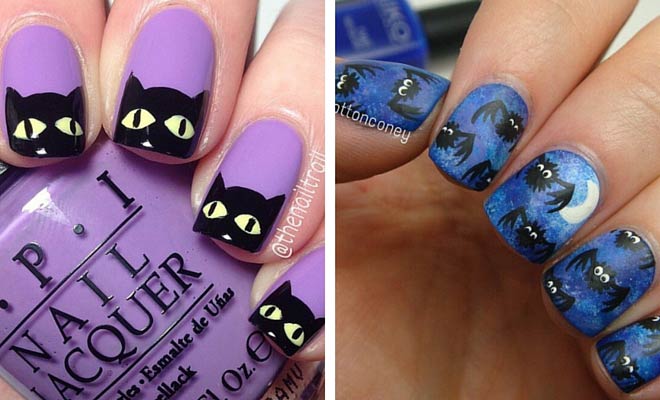 Beauty
35 Cute and Spooky Nail Art Ideas for Halloween
By
|
It is finally October and you know what that means – lots and lots of Halloween decorations and costumes. But what better way to celebrate Halloween than with a stylish nail design, right? Nothing says "Halloween" quite like cute Jack-o'-lanterns, scary ghosts or tasty candy corns on your nails.
Our list  of 35 cute and spooky designs will inspire you to transform your nails into mini costumes. Happy painting!
1. Black Bats
Products used: Kiko Cosmetics in Ink Blue (shade 335), black and white acrylic paint and random shades of dark blue, white and purple.
Step 1: Start with a base color. Use a shade of your choice.
Step 2: Next, lightly sponge on some random darker and lighter blues, purples and white to create the look of a cloudy night sky.
Step 3: Add the moon using white acrylic paint.
Step 4: With black acrylic paint, add a round circle. This is the body of the bat. Keep in mind that we're adding the fluffy shape in the next step so it'll get a little bigger.
Step 5: Create a fluffy effect by doing small brush strokes all around the circle.
Step 6: Then create the wings and the eyes.
Step 7: Let it dry and finish with a matte top coat.
2. Cute Ghosts Design
The bright background makes this nail design look absolutely adorable and not scary at all!
3. Candy Corn Nails
Blacks, whites and oranges are classic and popular choices for Halloween. Products used for the design: Salon Perfect "Sugar Cube", "Traffic Cone" and "Oil Slick".
4. Blood Splatter Nails
Get into the Halloween spirit with these blood-splatter nails. The design looks awesome, plus it's super easy to do. Apply two coats of white nail polish and let it dry completely. Next, take a plastic plate and put a few drops of a red polish onto the plate. Take a coffee straw and dip it into the red polish on one end. Blow through the straw very quickly to get that desired splatter effect. Repeat the process on the other nails. Finish with a top coat.
5. Pumpkin Accent Nail
Keep it simple and accent a single nail with a Jack-o'-lantern decal. Products used: Colores de Carol "Sweet&Spooky" + nail decal.
6. Black Cats
Is it bad luck to wear this nail art? We don't think so!
7. Spider Web Nails
Transform your nails into silky spider web using OPI's Alpine Snow and Black Onyx.
8. Ghosts + Fingerprint Accent Nail
The fingerprint accent nail was created using a nail stamping plate. The base orange polish is Orly "Melt your Popsicle".
9. Bloodshot Eyes Design
This 'bloodshot eyes' design will compliment any costume! It's so darn cute (and scary) that we had to include it on our list.
10. Pumpkin Nail Design
This lovely nail design screams Halloween! A matte finish is a great way to spice up your manicure.