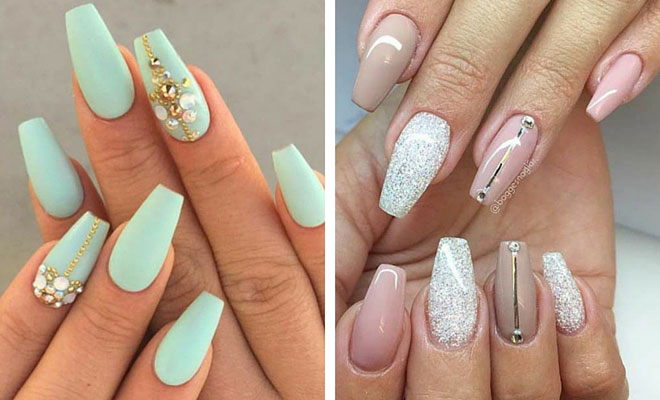 Beauty
31 Trendy Nail Art Ideas for Coffin Nails
By
|
21. Nude Pink Coffin Nails with Rhinestones
For the days when you can't make your mind up, nude is the perfect nail. It goes with everything. It doesn't matter how you wear your makeup that day, or what outfit you have thrown together, your nude nails will always go and this nude-pink shade is perfect for making that pearly shade pop. The rhinestones also help of course.
22. Burgundy Matte Nails with Black Details
We told you negative space nails were going to be big and here's another example, mixing glossy burgundy, matte burgundy, and a feature nail, left nude but with black detailing.
23. Nude Coffin Nails with Silver Shattered Glass
Did you ever see shattered glass nails? Or broken glass nails as they are also otherwise known? Well, remember we told you that nude coffin nails were the perfect base? This is why… Just by adding one feature nail with those silvery shattered glass, holographic pieces, you have a brand new design, a brand new look, a brand new way of spicing things up.
24. Purple Ombre & Negative Space Coffin Nails
These nails are amazing for all the right reasons. Firstly, that purple and white combo, especially with the black outer line, is absolutely fantastic. You could do the same with red for bloody Halloween nails too! But the whole look is brought together brilliantly, negative space with black as the detailing, that beautiful matte purple which has been used to create that flashy ombre. It's just a great look from start to finish. Definitely on the lust-list.
25. Matte Ombre + Glitter Accent Nail
Coffin nails, unlike the creepy name, don't need to look Halloween-esque. You can counteract the sharp shape with beautiful features such as the little hint of glitter and the natural smooth ombre effect. You could wear this glossy or matte and it would look fantastic either way. Great nails for work too – discreet enough to call your own.
26. Pink and Nude Coffin Nails
If you love Mac nudes then you'll love these nudes. That peachy pink, nude and glittery combo is perfect for any occasions. Wear the nudes to work, mix it up with the pinky tones for when you're feeling fresh and funky, add a couple of embellishments and that wonderful glitter pop for the Friday night funk. Start on Monday and end up with a masterpiece on Friday. What a great idea!
27. Bold Black Design
If you're going for a bold shape such as these amazing coffin nails, you'll need a bold style to counteract them. Go big or go home, right?
Opt for a two-tone nail to really make a statement. This bold black design has just the right amount of white lining to bring it all to life.
28. Matte Purple nails
Just because you have the room and shape to play around with intricate and explosive designs, doesn't mean you have to. We love the simplicity of the one-colour matte purple, and those rhinestones and decals stop them looking exactly the same as the nails you had last week. One color nails also make it easier to touch up at home if you get chips or smudges so there's no need to keep rushing to the nail salon.
29. Blue Glitter
It's the blue tips we want to focus on with these amazing coffin nails. The blue glitter tips in chevron design helps to elongate the nails and make them appear longer and thinner. The tapering effect is a very clever trick and when used with this light-defecting blue glitter, gives you a simple look that makes a big statement. Think of the different colored glitters you could use for this look.
30. Matte Burgundy + Cool Accent Nails
See, here we are again with those cool chevron nails. You've got the space to play around with a more complicated design so why not play around a bit? Use the black and white chevron as a cool background for those decals, and keep the rest of the nails simple and matte burgundy so that it doesn't look too overdone. It's just the right amount of bling – not too little, not too much.
31. Pink & Grey Design
Who wants muted and boring anyway? For those days you don't want to be the same as everyone else, go big and go sparkly, just like these amazing pink and grey designs. The pink and silver-glitter ombre nail is our particular favorite and it all reminds us of Barbie a little – girlie, feminine and super cute. We think these coffin nails would make great nails for a special occasion… You know like Valentine's Day or your anniversary perhaps?
These 31 trendy nail art ideas for coffin nails are brilliant but we know there are a hundred and one ways they can be tweaked to achieve a completely different and brand new look. When you want unique nails, think outside the box. Mix color combinations you wouldn't normally try just to be brave and see how it looks. Would you have thought of using pinks with silvers and muted greys? No, but the look was fabulous anyway, wasn't it? Get creative, get inventive, we want to see your coffin nail creations!