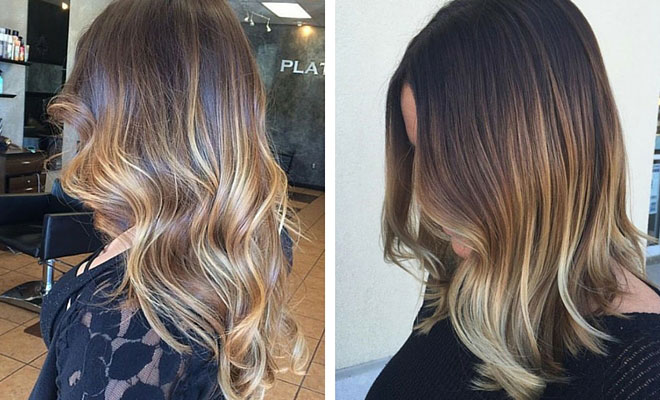 Instagram
Beauty
31 Balayage Highlight Ideas to Copy Now
By
|
11. Honey Blonde + Natural Root
The thing we love most about these balayage highlight ideas is that the way they are positioned means the natural root grow-out won't be obvious or 'ugly'. The worst thing about going lighter than your natural color are those pesky roots but with a look like this, no one would be able to tell what's root and what's dye anyway. That's the beauty of it – making growing out your roots both pretty and flattering!
In order to recreate this look you'll need to ask your stylist to leave your roots naturally dark (or go a shade or two darker than your natural colour) and blend the balayage highlights down to the ends, giving you a lighter gradient at the bottom. You can use a medium-barrelled curling tong to achieve those bouncy waves and because they're loose curls, they'll look just as great slightly fallen out at the end of the day as they did freshly done at the beginning.
12. Caramel & Honey Blonde Highlights
We love chocolate and we couldn't help but think this hair looked a little bit like the best bar of chocolate we've ever seen in our life.
Although we wouldn't want to eat this look, we'd certainly fancy rocking it and if you want to too, you'll need to speak to your stylist about caramel and honey blonde highlights, handprinted from about ear level to the ends, playing around with lighter shades as you travel further down.
13. Caramel Highlights
For a super flattering look incorporating these beautiful balayage highlight ideas, go for the lob or long bob as it is otherwise known. It gives you the best of both worlds, length enough to play around with colors and shades whilst still being short enough to be considered low-maintenance.
We all know how much hassle and hard work long hair can be. Give the extensions a rest and wear yours easy, light and loose for a while. Your hair and your scalp will thank you for it!
14. Golden Caramel Highlights
Just because you can go a little nuts with color doesn't mean you need to and this look is a perfect example of that. It's still bold, bright and absolutely beautiful to look at, but at the same time, it's not completely out-there, with brash colors and bossy tones.
It's a light blending trick that you need to employ here. The look must be subtly added so that it's not 'streaks' and in fact, the majority of the blending work is basically invisible. You can't see where one color starts and the next begins but somehow, both colors are in there!
15. Honey Beige Highlights
If you fancy going blonder but not too blonde, instead of dying the entire head of hair, use a clever balayage highlight trick instead.
Have that beautiful gradient of color in the bulk of your hair but just around the face, those light and feathery face-framing layers, you should add more of that blended style. Because the layers are framing the face, you'll get a good idea of what you'll look like if you were to dye all your hair a much lighter color and it's also very flattering, bringing highlighting properties.
16. Light, Face Framing Highlights
This is a more exaggerated version of the look we are trying to show you here – how just a few tendrils around the face could make the world of difference to your 'do.
It's still subtle but slightly bolder than some we've shown you, and you can even play around with this look the other way around too, having darker face framing balayage highlights if you're usually a light-haired kind of girl.
17. Golden Blonde Highlights on Dark Hair
Of course, when you have the option to go a little crazier than you usually would and still get away with it, why wouldn't you?
That's what we love about these golden blonde highlights on dark hair – it's a rocky, I don't care, grunge kind of look, one that works perfectly for summer festival time.
18. Soft Caramel and Blonde Highlights
By working together two looks, balayage highlight ideas and ombre gradients, you can achieve a look like this one, toning the hair from an otherwise dull brown shade to one that's filled with tone and shade.
Even though the hair is still relatively short, there's plenty to play around with, showing you just how clever and versatile this look really is. There's a reason it's going to be the hottest trend of 2016 after all!
19. Gold, Caramel and Mocha Highlights
We all love a good cup of coffee and we also all love these gold, caramel and mocha highlights. The intoxicating twisted blend of varying shades of blonde and bronde (brown-blonde) create a look that will get everyone staring for all the right reasons.
A low maintenance hair design that looks this great, doesn't take forever to style AND you can leave it a few weeks before hair appointments too? Now those right there are #hairgoals!
20. Copper + Caramel Highlights on Dark Hair
Although these caramel balayage highlight ideas look complicated and hard work, they're actually easier than many of the other hair designs you'll have gone for over the years, choosing a more hand-painted method over foils which are fiddly, hard work and take far more time than we'd like to give up.
Using the eyes as a guide, the beautiful caramel and copper highlights that you can see are blended onto the hair in a random and swept style, lightly applying the brighter and paler tones towards the ends. Those bouncy, curly layers really help to jazz things up and more than that, the curls help to show off every aspect of your new color job, something you just don't get to achieve so easily with straight hair.