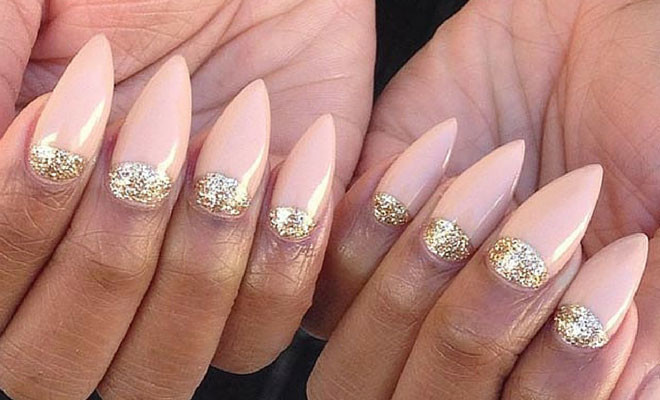 Instagram
Beauty
50 Creative Stiletto Nail Designs
By
|
31. Glam Black and Gold Stiletto Nails
The next nail idea we have to show you is super glam! Each nail has a different design and there is a little of everything from glitter to gems. It is a stunning look that would be perfect for a special occasion. Recreate the whole manicure or just one or two of the designs. Nail art like this is best suited to longer nails.
32. Bright Matte Blue Nail Idea
Looking for a bright and stylish nail design for the summer? If so, this is perfect for you. These stiletto nails have been painted in a beautiful light blue. There are also three gems on one nail too. It is a chic and vibrant look! You can recreate something similar yourself with any blue nail polish and a matte top coat.
33. Nude Nails with Rhinestones
Nude stiletto nails are so chic and this next idea shows how to wear nude nail color in style. Here we have glossy nude nails with two accent designs. The accent nails are covered in pretty rhinestones. It is a glam and sparkly look that will suit everyone. You can buy gems like these online and stick them on your nails with nail glue.
34. Grey Nails with Cute White Hearts
Next, we have a cute stiletto nail design to show you. All of the nails are painted in a light grey color and each one is decorated with a pretty white heart. To recreate the look yourself, you can use any grey and white nail colors. You can either hand-paint the hearts or use a stencil. Something like this would be perfect for Valentine's Day or date night.
35. Trendy Leopard Print Nails
Love to wear nails that are trendy and statement making? If so, you need to check out this design. Some of the nails are painted glossy black, one is matte black with a cool cut out design and the last nail has stunning leopard print art. The wild leopard print and black nails look so edgy and stylish together. There are tutorials online to show you how to create leopard print art and cut outs.
36. Vibrant Rainbow Design
Add vibrant color to your look with nails like these! Here we have stiletto nails that have a rainbow gradient design. The nails begin with pink and green and end in pink and purple. We love this because when the hands are together, both sets of nails carry on the pattern. Recreate this or try your own rainbow gradient with different colors.
37. Mermaid Stiletto Nails
The next nail idea we have to show you is mermazing! Each nail has a different design but they all use black, blue and green shades which gives them a magical mermaid vibe. It is a beautiful nail design and the gems and glitter are stunning. Try the whole look or choose just one or two of the designs that you like.
38. Neon Orange Ombre Nails
Ombre is a must-have nail look and this next idea shows a super stylish way to wear the trend. The stiletto nails are very long and they start nude and then blend into neon orange midway. Neon orange is the perfect choice for the summer because it is fun and vibrant! You can try the orange look or choose any neon color.
39. Gorgeous Gold and Nude Nails
Love the nude nail ideas? Then this is for you. Most of the nails are painted in a light nude shade. Three of the nails have gold designs too. One is completely covered in gold glitter, the next has a gold chevron and the last nail has two gold gems. It is a very glam look and it would be perfect for a party. Recreate each design or just choose one.
40. Black to Dark Red Ombre
If all the light and bright nail designs are not for you, then you can go for something dark like this. These stiletto nails are painted black and then the black changes into a rich red color. It is such an edgy and vampy look. Nails like these will make a fierce statement and can be worn for any occasion.